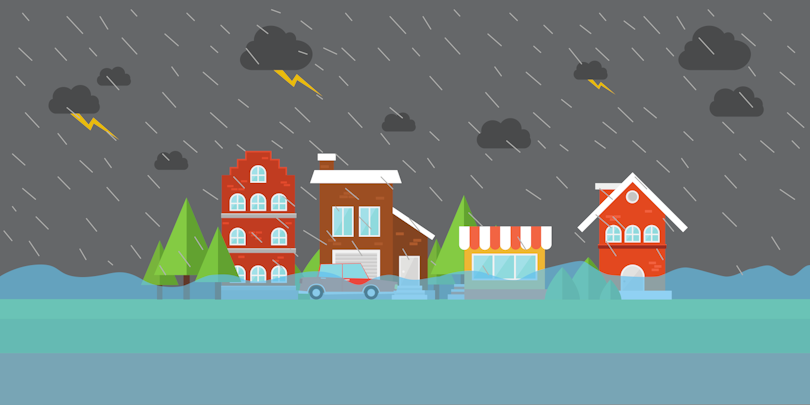 HOA insurance is an insurance policy that covers damage and expenses related to injuries that occur on shared property. It is purchased by your homeowners association with the help of your HOA fees.
The specifics of what your HOA insurance covers depends on the policy your HOA bought and, most importantly, whether you live in a:
Single-family home
Townhouse
Condominium
HOA insurance is separate from home insurance, but the two types of policies do have some features in common. If you live in an HOA, understanding how HOA insurance works and whether it overlaps with your own insurance could help you save money.
JUMP TO SECTION
🏡 Sell or Buy a Home with Clever and Save Thousands!
Enter your zip code to see if Clever has a partner agent in your area!
What is HOA insurance?
HOA insurance is an insurance policy purchased by your HOA to cover expenses related to structural damage, injuries, and a few other types of claims. Also called a master policy, HOA insurance is purchased by the HOA and paid for with your regular HOA fees.
The fact that your fees go toward your HOA's master policy may sound annoying — and yes, insurance is one reason why your fees may seem a bit high — but HOA insurance does protect you in the long run.
» More: What Do HOA Fees Cover? (and Are They Worth it)
For example, if your HOA is hit by a storm that causes damage to its clubhouse, the HOA's master policy will typically cover some or even all of the costs for repairing it. Without insurance, your HOA would need to issue a special assessment, which is a one-time fee that members like you must pay to cover unexpected expenses.
Because of that risk, most HOAs carry insurance, but not all do. Whether or not your HOA does depends on its Covenants, Conditions, and Restrictions (CC&Rs) — which are the rules governing how the HOA is run — and the state you live in.
Many HOAs' CC&Rs require the HOA to take out insurance to protect it against costly repairs and litigation. Likewise, many states require HOAs to have a minimum amount of insurance, although they may make an exception for some types of insurance that may be too expensive.
Insurance laws vary by state. While most states require condominium associations to carry insurance, far fewer require all types of HOAs to do so. Plus, a handful don't have any insurance requirements for any types of HOAs. That could potentially leave HOA members facing steep special assessments if the HOA has to pay for a costly repair or a claim made against it.
Even if your HOA does carry insurance, what that insurance actually covers will vary a lot depending on your HOA's specific policy. Whether you live in a subdivision or condominium will also have a big impact on how much you're covered for and whether you need more or less coverage with your own home insurance.
What does HOA insurance cover in a subdivision?
If you live in a subdivision that consists mostly of single-family homes, your HOA insurance will at the very least cover damage to shared property and personal injuries that occur on common property.
Many HOAs also carry directors and officers (D&O) coverage, which covers the HOA for losses in case of financial mismanagement or negligence by the board.
Other types of insurance coverage that your HOA's policy may include are:
| | |
| --- | --- |
| Social host liability | If your HOA has venues that it rents out for events where alcohol is served, social host liability is a good idea. It covers claims made against the HOA for injuries related to alcohol consumption. |
| Discrimination claims | If your HOA is sued for discrimination, the costs can be quite high. Discrimination claims coverage helps cover those costs. |
| Workers compensation | HOAs that hire employees will need to provide workers compensation just like any other business. Some HOAs also carry workers compensation for third-party vendors. |
| Employee dishonesty bond | While a D&O policy covers claims related to financial mismanagement by the board, it doesn't usually extend to employees. For that, your HOA will need an employee dishonesty bond, which covers the cost of theft and loss by employees. |
| Garagekeepers coverage | HOAs that operate a garage for guest parking may have garagekeepers coverage. This covers both the HOA and the driver in case of damage to the vehicle while it is parked in the garage. |
Property Damage
Property damage is included in pretty much every HOA insurance policy. However, you should check your HOA's specific policy to see what is covered and what isn't.
Generally, property damage coverage is limited to shared property. In the context of an HOA, this includes facilities and areas like:
Clubhouses
Recreational facilities
Private roads
Sidewalks
Parks
Playgrounds
Barbecue pits
Additionally, if your HOA has a village center with cafes, restaurants, and other businesses, your HOA insurance may cover damage to these places.
The property damage claims covered by HOA insurance vary a lot, but they often include claims related to:
Theft
Wind
Fire
Riots
Storms
Vandalism
Negligence
Usually property damage doesn't cover your own private home, but there are exceptions. For example, if your patio is damaged by the HOA's landscapers, the HOA master policy may cover the cost of repairs.
Also, if you live in a townhome, your HOA insurance will probably cover damage to the roof, shared walls, and possibly the exterior walls and fixtures. Again, this will depend on the policy that your HOA purchased.
Personal injury
Personal injury is the other type of coverage that comes standard with just about every HOA insurance policy. This covers liability claims related to injuries that happen on shared property, such as:
Slip and falls
Dog bites
Playground injuries
While rare, the policy sometimes covers injuries that occur on private property if the HOA is found liable. For example, if your HOA is responsible for clearing your driveway of snow and ice and salting it but fails to do so, it may be liable if somebody slips and injures themselves. In this case, HOA insurance may cover the cost of the claim even though the injury occurred on private property.
Generally, personal injury policies only cover residents and invited guests. HOAs are usually far less liable if a trespasser is injured on shared property. However, this will again vary.
For example, the HOA may be liable for injuries to a child who is neither a resident nor a guest if the HOA's amenities — like a playground or skatepark — could entice the child into the HOA. The extent to which HOAs are liable for injuries to "child trespassers" varies by state.
What does HOA insurance not cover?
HOA insurance is often limited to shared property and common areas. If you live in a single-family home, your property is generally not covered by HOA insurance. As we mentioned above, if you live in a townhome, then some parts of your structure — like the roof and shared walls — may be covered.
Regardless of whether you live in a single-family home or townhouse, HOA insurance usually won't cover injuries that happen on your own property. Again, the exception to this rule is if the injury is at least partly caused by the HOA's actions or inactions.
Finally, watch out for exclusions in your HOA's policy. Even if the policy covers your home, it may not cover all hazards. The most common exclusions are for flooding, sinkholes, and earthquakes, so if you live in areas where these are risks — and floods are the most common natural disaster in the U.S. — you should look into getting supplemental insurance for them.
What does condo association insurance cover?
Condo association insurance tends to be more extensive than HOA insurance in subdivisions. This is because condominiums often have more shared areas — like hallways, stairwells, and elevators — that are usually absent from communities that mostly consist of single-family homes and townhomes.
As a result, condo association insurance comes in three types, with each type covering different structures in property damage claims.
Bare walls-in

The most basic condo association insurance coverage.
Covers damage only to the exterior structure of the building and to common areas.

Walls-in

The most common type of condo association insurance.
Covers everything that bare walls-in covers, plus the walls of the individual units, including the plumbing, drywall, wiring, insulation, and framing.
May also cover floors, ceilings, cabinets, and countertops so long as they have not been modified.

All-in

The most extensive type of condo association insurance
Covers everything walls-in covers, plus modifications, appliances, security equipment, and ventilation.
Condo association insurance, just like HOA insurance in subdivisions, also covers personal injury claims that happen in common areas. That includes injuries that occur in or on:
Hallways
Lobbies
Stairs
Parks
Recreational facilities
Elevators
Sidewalks
Private roads
What does condo association insurance not cover?
With the exception of all-in coverage, most condo association insurance won't cover damage to:
Modifications
Appliances
Built-in fixtures
Ventilation
Security equipment
Additionally, injuries that occur in your own unit will generally not be covered by your condo association's policy. There may, however, be exceptions in cases where the condo association is liable for the injury in some way.
Also, most condo association insurance won't cover damage to your personal contents, like furniture, electronics, and clothing. For this you will need to take out your own condo insurance, which is called an HO-6 policy. An HO-6 policy will also typically cover the loss of use of your apartment, plus the cost of claims in excess of what your condo association's insurance covers.
Just as in regular HOA insurance policies, watch out for exclusions in both your condo association insurance and in your HO-6 policy. Again, the most common exclusions are for earthquakes, floods, and sinkholes. For these, you may need to buy supplemental insurance.
Does an HOA cover home insurance?
Generally your HOA insurance won't cover home insurance. As we mentioned above, if you live in a single-family home, then any damage to your personal property is usually your own responsibility. If you live in a townhome, shared parts of the structure may be covered, but generally nothing inside the units.
Only if you live in a condo will your condo association's HOA insurance possibly cover damage to the structure of your individual unit.
While most HOA insurance won't cover your home, you will find that many HOAs do require members to have their own home insurance. This is because one of the jobs of your HOA is to try to maintain property values. If a member doesn't have enough insurance to repair property damage to their own home, property values for the entire community could decline.
Since home insurance is also a requirement for most mortgage lenders, this requirement by your HOA may not create much hassle for you.
FAQs
Do HOA fees cover insurance?
Yes, a portion of your fees cover HOA insurance.
What if my HOA doesn't have enough insurance?
If the HOA's insurance isn't enough to cover the cost of damage or liability claims, then it will usually issue a special assessment. This is a one-time fee that is split among HOA members to cover unexpected costs. If you have your own home or condo insurance, your policy may help cover these costs.
Why is my HOA requiring me to get home insurance if they already provide HOA insurance?
Home insurance and HOA insurance are different. Home insurance covers your private property while HOA insurance covers shared structures and areas. Many HOAs and mortgage lenders require homeowners to purchase home insurance before joining an HOA.
What if my home insurance overlaps with my HOA insurance?
Some overlap in coverage is possible, especially in condominiums. If this happens and you need to make a claim, notify both your HOA and your own insurer. They will determine which policy will cover the damage. Generally, you should try to get the HOA to cover claims before using your own insurance to avoid an increase in premiums.
Will HOA insurance cover injuries that occur on my property?
Probably not. You are usually liable for injuries that occur on your private property. The exception is if the HOA's actions or inactions contributed to the injury. For example, if the HOA is responsible for salting driveways, but someone slips and falls in your driveway because of a lack of salt, the HOA may be held liable.
Is my HOA required to have HOA insurance?
Most are, but not all. Your HOA's Covenants, Conditions, and Restrictions (CC&Rs) will say whether or not the HOA must carry insurance. Most states require condo associations to have insurance and a growing number are requiring it for all HOAs.