If you're looking to flip your first home in Utah, everything from finding the right investment property to determining which renovations to make is enough to make you feel in over your head. But with the right resources and guidance, first-time flippers can turn a decent profit.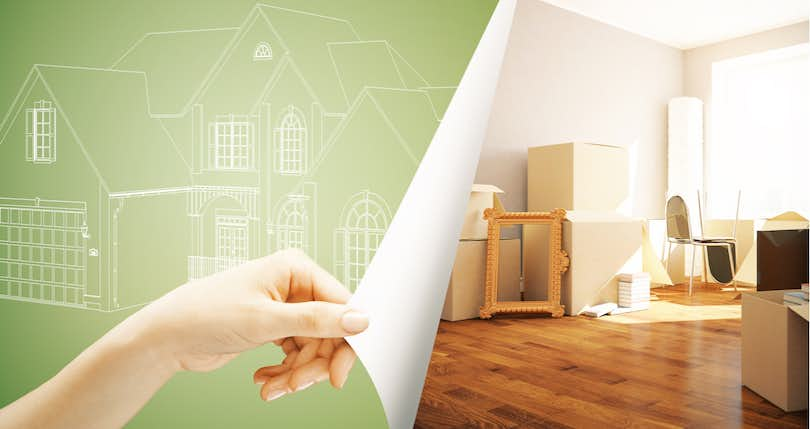 House flipping has never been more popular large in part to popular television shows, and many investors, new and seasoned, are diving in. What most people don't realize, however, is how much goes into choosing a home to flip and selecting which renovations to make.
But a hot real estate market, low housing inventory, and rent prices on the rise have led to lower returns for flippers than in previous years. Here's what you need to know about flipping homes in Utah and everything to consider to ensure you don't fall victim to a lower-than-average profit.
2019 Utah Housing Market Analysis
According to Zillow, the median home value in Utah is $338,700. Median home values throughout Utah have been higher than the national average for the past several years due to its rapid population growth.
Over the past year alone, home values in Utah have gone up an incredible 14%. Overall, the Utah real estate market is in a great place when it comes to home values, but these numbers do fluctuate by city.
For example, in a popular area like Salt Lake City, the median home value is higher than Utah's average, falling at $363,800. In other areas, like Logan, median home values come in lower at $262,900. In popular tourist destinations, like Park City, median home prices climb to a staggering $829,639.
Current rent prices for your local market should also be considered when deciding if it's the right time to buy a fixer-upper to flip, because some buyers may be looking to purchase a rental investment property. The median rent price in Utah is $1,495, and a local real estate agent can help you compare local rent prices for your area to determine if now is the right time to sell to a potential investor.
How to Tell if a Utah Property is a Good Investment
The first step to finding a good investment property in any state is to look for the cheapest house in the best possible area. You'll typically want to look for older homes as their selling prices will fall far below the average. The first thing you'll want to identify for older homes is if the house is structurally sound.
To determine if a house, old or newer, is a good investment, you'll need to consider the costs of renovations and repairs. For buyers, this means having a proper home inspection done to avoid any hidden repairs that could creep up later in the remodeling process, like mold, cracked foundations, or outdated electrical systems. These types of issues are red flags for your wallet, and homes with these problems should be avoided if you're looking to turn a decent profit as these repairs can drain you financially.
You'll also want to work with a local, Utah real estate agent to draw up a comparative market analysis to find out what other homes in the area have sold for, how big they are, and what all was included in the listing. This will help you forecast what your selling cost could be and what renovations you'll need to make to keep up with other homes in the area.
A strong focus should be put in finding a home that may only need some cosmetic updates or quick refreshers. New hardware, cabinets, yard work, and basic window treatments are usually pretty inexpensive but can create a big value add. Homes that need pricey repairs like a new roof should be avoided, as this will eat into your profit down the road.
Go into the buying process with a clear picture of how much you can afford to make in repairs, which repairs you want to avoid at all costs, and how much you're willing to spend on the sales price all-in. To avoid any surprises down the road in your budget, estimate adding 20% to the final cost. Also, avoid over-valuing a home by putting too much into your renovation budget to dodge situations in which you might not get your money back.
Where many buyers go wrong in determining the final cost, is by forgetting to factor in the cost of building permits. These permits can cost up to several thousand dollars depending on the area you're buying in, and should absolutely be included in the total cost to help determine your true renovation budget.
Another common mistake often made by new flippers is buying a house in foreclosure online sight unseen. Because online photos and an address only tell part of the story, sellers could be doctoring photos or leaving out huge details like structural problems. You, or your real estate agent, should always visit a property in person before making a decision to buy.
Properties located in tourist destinations are typically considered good investments in Utah, as buyers looking to purchase vacation homes or relocate after retiring can usually afford higher sale prices. It's also important to consider that some buyers in popular vacation cities may be looking to buy a home they can list on vacation home rental sites, like Airbnb. Making renovations that include additional sleeping quarters and bathrooms could have a huge impact on your return for these types of buyers.
With so many factors to consider and market research to be done, home flippers, especially first-time flippers, should work with a local real estate agent to identify a good investment.
How to Turn a Profit When Flipping a Utah House
Buyers should consider a 360 view of a project to figure out how to turn a profit on a fixer-upper. This should be inclusive of all necessary repairs, what renovations need to be done to match or beat other homes in the area, and the average flip completion time of six months.
Flippers can analyze how much they can afford to spend and to lose on a deal with a simple calculation. This calculation, called the 70% rule, states that buyers pay no more than 70% of the after-repair value of a property, minus the repair costs that are needed.
When looking in Salt Lake City, one of Utah's most popular areas, you can expect that a home you're looking at will be valued at $363,800 on average. For this home, let's say it needs a standard amount of $40,000 in repairs and updates. According to the 70% rule, you should pay no more than $214,600 for it.
For homes in less expensive, but still popular areas like Logan, you should pay no more than $144,030 with the same amount of repairs.
To avoid overpaying and determine how much work you should put into a renovation, work with a real estate agent who can negotiate repair costs in the final selling price for you.
Paying Cash vs. Taking Out a Loan
When looking for ways to finance your flip, you may be wondering if it's better to take out a loan or pay in cash. Both are good options but there are some disadvantages to taking out a loan.
Flipping a house is financially risky enough without the addition of debt interest. This interest ultimately cuts into your profit, especially in cases where your renovations take longer than anticipated and interest starts to add up.
Buyers who finance their flip with loans are also more likely to lower the selling price if they can't get the house sold, again cutting into profit. Cash flippers have the flexibility to wait out a slower market to avoid lowering the sales price.
For buyers who can't afford the cash up front, there are smart loan options to take for financing your flip. Traditional loans typically aren't the best option for a flip, especially for first-time investors.
While buyers can use Home Equity Lines of Credit (HELOCs), Home Equity Loans, and traditional mortgages to finance a flip, it's important you know your finances front and back to avoid a negative ROI in the end after interest piles up. Traditional home loans are usually calculated over 15 or 30 years, which isn't sensible for a flipper who is only taking on a short-term project. If taking out a more traditional loan to finance your flip, discuss an option with no prepayment penalty so you have the flexibility to pay off the loan whenever you're ready after the sale.
Be aware that lenders are going to compare the property value against the loan you're asking for that includes renovation costs. Conventional lenders tend to keep the loan amount request to home value ratio below 80%, and will only consider the home's current appraisal value, not its after repair value. This should be factored in when considering which renovations to make if you're reliant on a lender to flip your purchase.
5 Best Cities in Utah for House Flippers in 2019
Salt Lake City
If you are looking for the number one city to flip a house in within the state of Utah, look no further than Salt Lake City. Salt Lake City is considered one of the top cities in the U.S. to flip a home in and has seen some of the largest price increases over the last several years alongside steady demand. You can expect home values and sales prices will continue to go up in Salt Lake City.
Provo
Provo is another ideal city to flip in, as home values are above the state's average and are forecasted to stay higher than the national average over the next several years. Ogen is another great city to consider as it's gaining popularity and values keep rising at a high rate of almost 16%.
Park City
Park City home values are high, about three times the state's average, and aren't expected to go down in the future. Park City is a great place to flip if you can afford it as buyers looking for vacation homes in the area, whether for themselves to rent on vacation rental sites, can afford steeper selling prices.
St. George
St. George also offers proximity to great vacation spots, like the famous Zion National Park, which increases its value. Flips are also more affordable to finance in St. George if you're looking to buy in a hot tourist spot but can't afford the prices Park City offers.
Next Steps for Utah House Flippers
New and inexperienced flippers should always work with a local agent to find the right investment property. Clever Partner Agents offer Clever Cash Back to qualified buyers, with the potential to receive 0.5% of the purchase price back after closing on homes over $150,000.
When it comes time to sell, your Partner Agent will work for a fraction of the commission cost of standard real estate agents, again keeping more money in your pocket from your flip profit.
To get started, find a Clever Partner Agent in your Utah city.
Related Articles
You May Also Like