✍️ Editor's note: We strive to provide objective, independent advice. When you decide to use a product or service we link to, we may earn a commission. Learn more.
Flipping houses is an option for investors who are looking to turn a profit from their passion in real estate. Flipping houses can be a challenging process, but can also be rewarding considering the high-profit margins. Here is everything you need to know to successfully flip houses in Florida.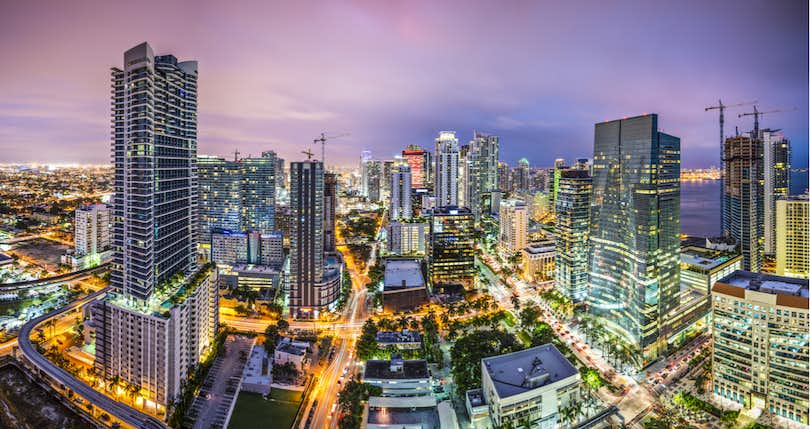 If you've never heard of flipping houses, it's when investors will purchase a house in need of renovations or major upgrades and will turn around and sell the home for a profit once it's the work is finished. What makes a house a "flip" is when you buy it with the intention of reselling in a short amount of time.
The typical time that it takes from buying the home, flipping it, and selling it is usually as little as a few months or can be as long as a year. Investors will like to try to complete this entire process as quick as possible to avoid ending up with a lower ROI (return on investment). Here are just a few of the considerations you need to take into account if you're thinking about investing in a flip house.
2022 Florida Housing Market Analysis
In Florida, the average home value is $367,175. Home values in Florida have gone up 31% over the past year, and it's predicted they are expected to rise further in the next year.
Some of the cities in Florida vary greatly in price so you'll need to take that into consideration as well. For example, in Naples, the median home value is $546,165 while in Pensacola, homes are valued around $233,357.
How to find a Florida house to flip
1. Use real estate investment software
One of the biggest challenges of flipping homes in Florida is finding great deals. But the DealMachine app is one tool that can really help you.
DealMachine's real estate software helps Florida investors find and research distressed homes (think: pre-foreclosures, foreclosures, short sales, etc), and get in touch with owners fast via batch skip tracing and direct mail campaigns.
Its driving for dollars app is fast and easy to use. When you're driving around town and spot a home that could be a great deal, you can send the owner direct mail through the app for huge time savings (no post office visits required).
Download the DealMachine app to find undervalued properties as you drive. The company offers a 7-day free trial and $15 in free credits that can be used towards marketing (like sending out direct mail to homeowners).
2. Partner with an investor-friendly realtor
Partnering with an investor-friendly realtor is the best way to ensure a favorable, easy home purchase.
Agents have expertise in Florida's variety of markets, understand real estate laws and practices specific to the state, and can provide access to lesser-known neighborhoods and properties that just may be your dream investment.
Clever's real estate agents can guide you through Florida's real estate market and make your house hunting journey a breeze - and eligible buyers can get back 0.5% of their home's purchase price after closing, potentially saving you thousands on your home purchase.
How to Tell if a Florida Property is a Good Investment
When you're looking for an investment property, there are some key considerations that need to go into assessing a prospective investment. To start, you'll want to look find the cheapest house possible in a great neighborhood. Some of the best cities in Florida are The Crossings, Naples, and St. Petersburg. They have thriving economies, a wide array of activities, and draw in many vacationers throughout the year. Qualities like these are what will make your property thrive in the market.
One of the other important factors to take into account is whether or not the property you're buying is in a major hurricane area. This will mean seeing if it's a flood zone and is prone to high wind destruction. Florida is known for being the hot spot for hurricanes, but some areas see less destruction than others most years.
Also, most investors will recommend following the 1% rule investment strategy, which is you should be able to rent the house out for at least 1% of the purchase price. You should also check the county appraisal value to determine if you will be making a profit off the home. This information is easily accessible on the county appraisal district website.
How to Turn a Profit When Flipping a Florida House
To ensure that your investment property turns a profit, you'll want to follow a few general guidelines. The first thing you'll want to do is make sure your finances are in check. Having great will come in handy if you're going to be taking out a loan if you don't have the upfront cash for all the expenses associated with buying a house.
One of the most important rules is to follow the 70% rule. This rule states that investors should pay no more than 70% of the after repair value (ARV) of a property minus the cost of the repairs needed. For example, if a house's ARV is $200,000 and needs $40,000 in repairs, you should not pay more than $100,000 for the house.
You will also want to avoid racking up your credit cards by saving up enough cash before starting your project. Most lenders require a down payment of around 20-25% and in cases like these, paying those down payments will save you a lot of money. Flipping houses can turn a profit, but you also want to make sure you are also making smart financial decisions.
Another important factor for making a profit from your flip is picking a house in the right location. Location is known to be one of the key qualities people look for when buying a house. Are there great schools and activities for families? Will they have to worry about crime rates if they live close to a large city? Investors will always stress that it's important to invest in the worst house in the best neighborhood.
Paying Cash vs. Taking Out a Loan
There are many different options you can choose when deciding how to finance your flip. However, some of them come with disadvantages and it's important to do proper research before choosing which financing option is best for you.
If you don't have enough of the upfront cash saved up, you will most likely need to take out a loan. The problem with this method is that typically a traditional home loan is not going to be the best option for your new flip project. These types of loans take longer to close and you will still need to pay closing costs even if they advertise having low fees and interest rates.
One of the more frequent issues investors who use loans run into is not getting approved quick enough. Lenders always perform an extensive check on your finances and if anything negative stands out to them, this could further delay the loan process. This process can be especially frustrating if you are planning on buying a foreclosure or short sale home.
A safer option is to save up and pay cash so you can avoid paying interest fees during the renovation process and wait out the market until you can sell for a higher amount. Let's take a look at an example of what can happen if you take out a loan to fund your flip. Typically, you will need to take into account some unexpected repairs and possible delays that make the project take longer than expected.
Selling Price: $200,000
Purchase Loan: $150,0000
Renovation Loan: $30,000
Estimated Interest Paid Over Six Months: $2,240
Repairs: $2,000
Closing Costs: $15,000
Your Profit: $760
As we can see, a profit of $760 is not going to be worth the long months of hard work. However, as long as you understand the potential financial implications of home loans and you properly finance during the flipping process, home loans can be a great tool to use to get into the house flipping industry. Your main goal should be to make sure you are getting a profitable ROI (return on investment).
5 Best Cities in Florida for House Flippers in 2022
Once you know how you plan to finance your flip, it's time to find the best cities in Florida that will bring you a higher ROI (return on investment).
1. Naples
In Naples, the median home value is $546,165. They have seen a 47% rise in home values over the last year. Naples is one of many cities in Florida that attracts visitors all year round to enjoy its beautiful weather.
2. Hialeah
Hialeah median home values are currently $399,496 and have gone up 20.7% over the past year. They are expected to rise another 5% in the next year, which is very promising for investors. The average home is listed for under 100 days before it is sold, which is a great scale for would-be flippers.
3. Saint Petersburg
In Saint Petersburg, the median home value is $335,021. Saint Petersburg home values have gone up 26.9% over the last year and will be expected to rise further. The median price of homes currently listed in Saint Petersburg is $279,900 while the median price of homes that sold is $216,400. Homes in Saint Petersburg are only on the market for around 87 days and have been as low as 66 days.
4. Tallahassee
Right now the market in Tallahassee is a hot seller's market. The median home value is $254,068. Tallahassee home values have gone up 19.2% over the past year and it's predicted they will rise further within the next year.
5. Pensacola
Pensacola is another hot seller's market in Florida. The median home value is $233,357 and has gone up 30% in the past year. Homes in Pensacola receive 4 offers on average and sell in around 43 days, according to Redfin.
Next Steps for Florida House Flippers
Whether you are just getting started or have been flipping houses for a while, we always recommend that you work with an experienced agent. Clever can help find you one that fits exactly what you are looking for. When it comes time to sell your new flip, Clever Partner Agents work for a fraction of the typical commission rate, helping you maintain the highest possible margin on your flip while also bringing in a great price and ensuring the sale goes through without a hitch.
Related Articles
You May Also Like