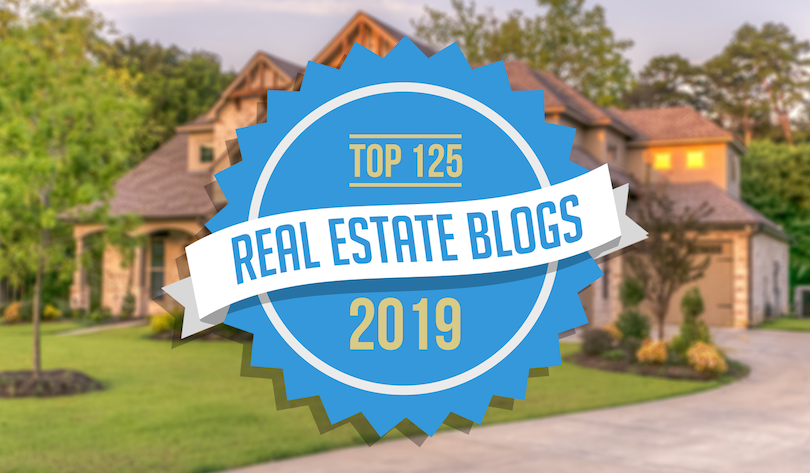 If you're thinking about getting into real estate, there's no better place to learn than from experienced investors, landlords, flippers, and homeowners. They can educate you on what it takes to be successful and what mistakes you should avoid, saving you time and money.
We've compiled a list of the top 100 real estate blogs that cover general real estate, investing, flipping homes, and home improvement. These publications can be a valuable resource if you're new to real estate, or looking to expand your knowledge.
We'll be updating this list regularly. If you've got a blog or publication that should make it on the list, shoot an email to [email protected].
Top 125 Real Estate Blogs
RealEstate.com provides you with all the tools needed to purchase your dream home. Their articles cover a variety of topics, including how to find your next home, understanding credit scores, and more!
Warner Robins real estate blog is authored by Anita Clark, is family focused, and aims to help you better understand the real estate process. It's mostly focused on Warner Robins, GA, but the information found inside is applicable in any real estate market.
Rochester's Real Estate Blog is authored by Kyle Hiscock, a top Rochester NY real estate agent looking to share his experience and insights with the community. Whether you live in Rochester, NY or San Francisco, CA, Kyle offers up advice to make sure you're confident buying your next dream home or looking to sell.
Inman is one of the leading real estate new sources for agents, brokers, real estate executive, and just about anyone else looking to keep up to date on all things in the real estate arena. For those looking to stay a leg up on the competition, Inman has all the insights and analysis you need.
Maximum Real Estate Exposure is from Bill Gassett of RE/MAX Executive Realty, who has more three decades of experience in real estate. That experience is put to great use in his blog, where he has countless articles covering topics like ways to move when relocating, how to choose the right offer when selling a home, or what is dual agency and why you should avoid it.
Miller Samuel is the authority in real estate economy, providing in-depth analysis of current trends in both commercial and residential real estate markets in the form of interviews, infographics, and high-level commentary.
Epic Real Estate is the perfect blog for those new to the real estate investing along with seasoned veterans. Providing content in the form of podcasts and articles, founder Matt Theriualt uses his experience to inform readers on creating multiple streams of income, increasing cash flow, the benefits of real estate investing.
Eye on Housing is a blog from the National Associate of Home Builders that focuses on discussing real estate economics and housing policy. It features tons of news articles and opinion pieces about the current happenings in real estate.
The Light Side of Real Estate, as its name suggests, has a bit of a different spin, with a mix of content ranging from "14 Skinny Houses That Really Need to Eat A Sandwich" to "8 Mistakes First-Time Home Sellers Make & How to Avoid Them." Whether you're looking for some real estate humor or looking to sell your home, you'll find it all on the Light Side of Real Estate.
Property Cluster is a fantastic resource for both newcomers to real estate and those looking to get into the commercial space, with a dedicated section for real estate investing.
Zillow Porchlight covers marketing trends, real estate advice, and even features a special "Houses of the Week" section, highlighting unique properties that are sure to stand out and can offer inspiration to potential sellers.
Active Rain is a community of real estate professionals that connect, share, and learn how to grow their businesses. They have blogs covering real estate best practices, industry trends, sales and marketing, technology, mortgage/finance and more, all of which feature articles and commentary from real estate professionals.
Rentprep helps landlords feel more confident to select good tenants, with both their blog and screening service! Their blog covers all aspects of property management and is sure to help you gain the tips and tricks you've been looking for.
Ideal REI explores a variety of topics including real estate investing, crowdfunding, and financial independence. Most importantly, founder Eric Bowlin makes it a point to weave his personal experiences into almost all of the articles he writes.
REAL Trends has been an industry leader in the residential brokerage space since 1987. The REAL Trends blog is where you'll find the most up-to-date information on brokerage valuations, mergers and acquisitions, technology, marketing, new laws and regulations, agent and broker success stories and more.
BoomTown takes the latest real estate trends a step further, providing real estate professionals with a wealth of knowledge around lead generation, conversion, and marketing. If you're looking to elevate your real estate business to the next level, you're in the right place.
The Placester Real Estate Academy Blog is an absolute must for real estate professionals looking to build a better business. Covering everything from branding to social media to monthly marketing trends, Placester provides veterans and novices alike with actionable steps for business growth.
Geek Estate is a wonderful resource for real estate professionals interested in learning more about growing their business through smart and effective use of technology and marketing.
RISMedia is considered one of the residential real estate industry's top sources for real estate news and information. RISMedia's Housecall blog delivers a constant stream of the latest in real estate, from home improvement best practices to in-depth market analysis. Whatever your real estate question, odds are you'll find the answer on Housecall.
At the Realest Blog, you'll find a wide array of articles and topics in the real estate. Whether you are buying, selling, renting, or already own, you can find tips to help you through it all, right here.
Agent Image is a blog for real estate agents to keep them informed on how technology is impacting their careers, and how they can stay ahead of the competition.
HousingWire is an authority on all things related to mortgage and housing markets in the U.S. If you're looking to stay up to date on new, commentary, and analysis in the mortgage banking and financial markets, look no further.
The RENTCafé Blog is a trusted source of information on everything apartment-related. Their studies convey relevant stats combined with eye-grabbing visuals about the pulse of the local markets as well as the national and state level dynamics, while the lifestyle stories on the blog offer an extensive supply of pro tips for renting.
Propertyshark focuses on industry news, market trends, and affordability across the country. If you're evaluating various cities or investments, this is a great resource.
Realtytimes focuses on first time home buyers and sellers, as well as homeowners doing renovations. They also offer tips on staging, finding a safe neighborhood, and other topics.
Minnesota Real Estate Journal is more than just a real estate blog. It also features news articles covering real estate news in Minnesota and nationwide!
ReJournals is a leading source for everything commercial real estate in the midwest. If you're thinking of investing in the Midwest, this is a good place to start.
Redfin is a traditional real estate portal much like Zillow. Their blog is incredibly comprehensive, covering real estate news & analytics, tips & tricks, and much more.
Realtor.com is best known for its database of traditional real estate agents, but it also features an incredibly robust blog section with the tagline "Your Home For All Things Real Estate."
The Real Daily publishes daily about all things real estate, including marketing, technology, market trends, and tips for agents.
The Cornerstone Home Lending Blog strives to provide readers, home-buyers, homeowners, and industry professionals alike with accurate and practical information to assist during the home buying process, no matter their role in the process.
The Close provides actionable real estate strategies from experienced industry professionals with an emphasis on closing more real estate deals. They cover real estate marketing, lead generation, technology, and team building strategies from the perspective of working agents and brokers who want to take their business to the next level.
Imagine Your House includes a mix of real-life stories, practical tips for buyers, sellers, and agents alike, and commentary/insights on the latest in industry trends from founder Lynn Pineda.
The Apartment List Rentonomics blog is the go-to source for knowledge about the rental market, offering up top research, analysis, tips, and tricks for all the latest trends in the housing rental industry.
The Truth About Mortgage, written by Colin Robertson, is a constantly updated mortgage blog filled with tips, advice, and the latest industry news. Learn how mortgages work so you can empower yourself and negotiate a better rate!
1000watt is a marketing and web design agency that helps real estate brokerages, mortgage companies, title companies, and MLS services build better brands and market their services. They also have an incredibly informative blog focused on branding and marketing in the real estate industry.
Agent Image is a leading web design agency for real estate agents. Their blog provides everything real estate professional need to know about creating websites that actually generate leads and support business goals. Great resource for agents looking to manage their online presence.
Bloodhound Realty takes a no-nonsense approach to the real estate industry. They're "committed to excellence that will flush the bums, the co-men and the crybabies out of the real estate industry." Expect candid advice from these industry pros.
The Business Journal features op eds, national news, and the latest real estate technology trends. When a local story demands national attention, they'll syndicate from their local publications as well. It's a great way to stay on-top of the latest real estate news.
Easy Agent Pro is a website development resource for real estate agents looking to generate leads online. Their blog is dedicated the helping real estate professional develop their online presence and land more clients.
Flaggship
Flaggship is run by Josh Flagg Vlogg, a luxury real estate agent located in Beverly Hills. Real estate agents looking to develop a personal brand that stands out from the crowd need to read Josh's blog.
Homes for Heroes is an invaluable home buying resource for firefighters, EMS, law enforcement, military, healthcare, and teaching professionals. They provide information on home buying programs that help heroes purchase their dream homes.
The Keller Williams Blog is all about real estate technology, marketing, and training. Being the world's largest real estate franchise, the company is dedicated to being the leading resource for real estate professionals.
The Property Manager blog is exactly what it sounds like: a resource for property managers to make the most of their investment. Common topics include property maintenance, dealing with difficult tenants, and growing your portfolio.
While the focus of the Sacramento Appraisal Blog is the Sacramento area, the lessons Ryan Lundquist share on housing appraisals can be applied to everyone. With over 16 years of appraisal experience, Ryan's blog is an invaluable resource to learn about home appraisals.
🏡 Sell or Buy a Home with Clever and Save Thousands!
Enter your zip code to see if Clever has a partner agent in your area!
Real Estate Investing Blogs
Millennial Money, founded by Grant Sabatier, began with the journey of one millennials quest for financial freedom. Four Million readers later and Grant now shares his expertise and experience across a wide range of topics including, investing, real estate, side hustling, and more!
Chad (aka Coach) Carson has been investing in real estate full-time since 2003. He's a teacher by heart, and his blog is filled with incredible insights that can't be missed.
Industry veteran Rob Hahn discusses various topics in real estate marketing, technology, and industry trends, with an emphasis on creating content for the real estate masses, expert and beginner alike.
A Student of the Real Estate Game was started by Joe Stampone as a platform to share his views on real estate careers, entrepreneurship, investing, and technology/innovation.
LendingOne was created to focus on the customer first and foremost, and it shows with their comprehensive blog. They cover all aspects of real estate, including how to invest, what to look for when doing fix and flips, and more.
LendEdu is primarily focused on students, but their blog and news sections discuss everything real estate. Stop by to learn more about different kinds of homeowner's insurance or various types of housing loans.
FortuneBuilders features in-house systems, tools, an educational platform, and coaching programs to help accelerate new and existing real estate investment businesses.
BiggerPockets is more than just a blog about investing in real estate. They also have a full community of over a million members ready to help you invest, and answer any questions you might have.
EquityMultiple is committed to making commercial real estate more accessible for individual investors. From commercial real estate beginner's guides to understanding real estate taxes, EquityMultiple is a terrific resource for any investor.
Fundrise removes the barrier to entry to real estate investing with crowdfunded real estate investments. Their blog covers both real estate investing 101 for beginners and advanced investing with in-depth market analysis and insights. No matter your current REI chops, Fundrise has the content to turn you into the savviest of investors.
RealtyShares is a curated online marketplace that allows accredited investors to directly invest in real estate projects across the US. On their blog, you can learn the ins and outs of real estate investing, plus related news and trends.
Patch of Land writes about real estate financing for flips and flipping homes. This makes sense, as they offer one of the first platforms that allow consumers to issue hard money loans to experienced flippers.
Invest Four More focuses on using rental property, flips, and wholesaling to build meaningful wealth. Blog Author Mark Ferguson's philosophy centers around building a life you love through real estate investing.
Rental Rookie breaks down the process of buying rental property, making it easy for anyone to understand. They cover finding deals, analyzing property, financing, and finally, property management.
REIClub features countless real estate investment articles and blog posts, hundreds of investor videos, real estate clubs, discussion forums, and investor resources. Whether you're in the beginning stages of your real estate journey or an expert in the space, you'll find the resources needed to expand your real estate IQ at REIClub.
Just Ask Ben Why offers multiple strategies for no money down investing and how to use leverage to make your money work harder for you.
Fit Small Business core focus is business, however, the "Finance" section of their blog deserves a shoutout, covering many real estate topics including loans, how to maximize your earnings, and more.
REI 360's offers useful tools, ongoing training, and a place to network with other like-minded real estate investors.
Ohio Cashflow covers everything you need to invest for cash flow, with an emphasis on quality over quantity in regards to property selection and investors. Whether you're looking to start your real estate investment journey or want to learn the basics, Ohio Cashflow is a great place to start.
Smarter Landlording helps teach you how to become a successful real estate investor, offering tips and advice for wealth generation.
Afford Anything focuses on success stories, helping you understand what they did and how you can apply it to your own real estate journey.
The Joe Crump blog covers real estate investing and automation, with tons of articles, podcasts, and educational resources including an mentorship program.
Jake and Gino features motivating articles that help investors of all experience levels to overcome challenges and find opportunity wealth generation.
The Land Geek podcast hosted by Mark Podolsky covers the gambit for land real estate investing. Consistently publishing since 2014, Mark's podcast is dedicated to educating the internet in all things land investing.
Revestor is aimed at those just starting their real estate journey. They discuss what to consider when deciding between short and long-term investments, what to look out for when scouting properties, and more.
Mashvisor is your source for analysis of specific real estate markets and the top places for traditional and Airbnb investments.
The Simple Dollar's Founder Trent Hamm started his journey with the mission to get out of debt for good. His quest for financial freedom and subsequent success lead to the beginning of The Simple Dollar. Whether you're looking for investing tips or the ins-and-outs of personal finance, The Simple Dollar has the answers.
TheBawldGuy has countless blog posts features videos, audio interviews, investment opportunities, and information on events they hold for investors.
Cash Flow Diary is an educational site ran by Jorge Newbery. The blog is broken into four main categories, with the most extensive one being the Real Estate section. It covers investing, the business side of real estate, different kinds of properties, and more.
Mobile Home Investing focuses more on those wanting to learn more about investing in mobile home properties. They offer countless podcasts, Q&A's, how-to guides, and more on their blog.
Although this publication doesn't focus specifically on Real Estate Investing, Making Sense of Cents' slogan is "Earn More. Save More. Live More." Their posts not only highlight strategies for financial freedom, but also inspirational success stories of their readers.
Michael Blank is an educational site focused on investing in apartments and multi-family units. With more than 100 individual articles and podcasts to choose from, there's something for everyone.
Listen Money Matters labels themselves as the "ultimate personal finance resource," and they succeed in that endeavor. The website offers advice and strategies on creating additional revenue streams, with an in-depth guide on becoming an active real estate investor. In addition, founders Andrew Fiebert and Thomas Frank make it their mission to practice what they preach and report back on their successes, and equally important, their failures.
RentPost features articles discussing real estate from a property management perspective. They aim to both tenants and landlords alike, with countless informative articles.
Kevin Bupp is a real estate expert, and entrepreneur whose blog covers everything from commercial real estate to investing, and everywhere in between. Kevin focuses on mobile home park investing.
Real Estate In Your Twenties
Real Estate In Your Twenties offers tips and strategies to maximize your wealth generating potential through real estate investing.
Allen Buchanan is a commercial real estate broker, author, and speaker. He's an expert in the commercial real estate industry, and he distills his knowledge into his blog.
If you're looking to get into commercial real estate investing, America's Commercial Real Estate Show is the site to visit. The blog features a weekly video and podcast that invites economists, analysts, and industry leaders to share their insights. Lots of knowledge packed into each episode.
Yardi is a property management software for real estate investors, and The Balance Sheet is where they provide tips for investors. Their blog covers topic from property management basics to using social media to find the perfect tenants.
CREOnline is an excellent blog for first-time investors looking to get into real estate. They provide tips on how to find and close your first deals. If you're not sure if real estate investing is right for you, you'll need to check out CREOnline.
Edwin, owner of I Am 1 Percent, has one goal in mind: to make it into the 1% of income earners in America. He shares investing advise that every real estate investor needs to know, and he's incredibly focused on value-driven real estate investing.
Jason Fox is a real estate veteran with over 15 years of industry knowledge. He's passionate about teaching real estate professionals how to market their businesses online using SEO, social media, and viral marketing tactics. Must-read for anyone looking to grow their online presence.
If you're thinking about buying land to build a house, LandThink is the perfect blog to read. Learn how buying land is different than most property, and become a land investing expert.
While technically not a blog, Multi-Housing News is a must-read for staying current with real estate investor news. Leaders in the multi-housing industry weigh in on key issues, helping investors make informed decisions. This publication provides in-depth analysis, commentary, and case studies.
Norada Real Estate Investments "takes the guess work out of real estate investing." They research the hottest real estate markets for investors and provide in-depth analysis on markets every investor needs to know about.
REtisper provides real-world guidance for real estate investors looking for financial freedom. Seth Williams runs the blog and podcast, and he distills his knowledge into easily digestible tips for beginners and industry vets.
🏡 Sell or Buy a Home with Clever and Save Thousands!
Enter your zip code to see if Clever has a partner agent in your area!
Home Flipping Blogs
Properties Online features a blog that's a bit different, helping you identify trends in the real estate market. Those wanting to start flipping will find lots of insightful articles to get started with.
Anchor Loans focus and expertise is hard money lending for the fix-and-flip investors. Their articles cover a variety of topics when it comes to financing your next purchase through private investors, it's the perfect place to level up your REI game.
Flippin On The Side founders created the blog to "give people the tools they need to achieve financial freedom to fulfill their life-long dreams, but to also help others join in on the love and restoration happening in the communities all around them." Check them out for in-depth articles on flipping homes or tips for staging, or on their HGTV show Boise Boys.
Flipfunding was created for real estate investors, by real estate investors. Their blog teaches you how to use 1031 Exchanges, how to stage properties, and more!
Rehab Financial Group provides readers with articles that cover the flipping process from start to finish. Whether you've already done a couple flips and are looking for ways to increase value before they sell, or looking to embark on your first flip, look no further.
The House Flipping HQ blog founded by experienced real estate investor Justin Williams, include a podcast series, seminars, and blog posts in order to help you flip homes and maximize your returns.
Bachelorette Pad Flip
Bachelorette Pad Flip's founder Jenn is a realtor by day and a flipper by night. If you're looking to up your flipping game or give your own home an upgrade you'll find inspiration for your next small renovation project or full scale remodel.
Copper Dot Interiors, founded by interior designer, house flipper, and self-proclaimed DIY addict, offers up a wide array of home design, interior decorating, and a plethora of other DIY projects. In addition, you'll find in-depth blog posts documenting, start to finish, each stage in Karen's current flipping endeavors.
House Flipping School is an education program with a very helpful blog! It features multiple lists of things to watch out for and consider when flipping a property and offers many ways to help maximize your profits.
Flipping Junkie was started by Danny and Melissa Johnson, where they share their experience through podcasts and webinars, educating their audience on the successes and failures in flipping homes.
Dave Ramsey breaks down house-flipping into five simple steps. This blog is incredibly helpful information from a very experienced investor.
Jean Chatzky discusses how to properly flip your homes. Jean is the financial editor of NBC's Today Show, an award-winning personal finance journalist, AARP's personal finance ambassador and host of the podcast HerMoney with Jean Chatzky on iTunes.
This Old House is aimed at the hands-on individual who likes to do things themselves. They also offer advice on why things typically go poorly, how to prevent accidents, and what to look for when purchasing.
Fixters is from a team of house flippers who have a different perspective on flipping houses. Their blog offers advice and different strategies, but they also talk about their own projects. This gives incredibly valuable insight to those wanting to learn more.
Flipping Smart provides tons of ways to make sure you're getting a good deal when making an offer on an investment property.
Julia Sweeten is an internet sensation who's been featured on places like HGTV Magazine, Huffington Post, Entertainment Weekly, and The Today Show. The blog features gorgeous homes that have been remodeled, as well as must-know flipper insider knowledge.
🏡 Sell or Buy a Home with Clever and Save Thousands!
Enter your zip code to see if Clever has a partner agent in your area!
Renovation Blogs
Landlordology provides some truly amazing educational tools and resources for landlords, property managers, and renters. These include educational articles, definitive landlord guides, practical tips, useful tools, software and services, state rental laws and regulations, and podcasts.
Cozy is centered around rental properties, with tons of great articles aimed at both landlords and their tenants. Whether you're looking to save on rent, or you're managing your first rental property, Cozy is the perfect place to start.
The Tenant Advisor is a bit different than the rest of the blogs on this list, as it focuses on commercial real estate, specifically healthcare properties.
Remodelaholic focuses on using old things in new, creative ways to reuse old building supplies from other projects. Their articles offer tons of suggestions, along with things to keep an eye out for.
Old Town Home is from a couple who offer a comprehensive DIY renovation guide, along with some strategies to go with it.
1800 Foundation specialize in foundations, so their blog naturally focuses on informative articles about foundations, as well as other common structural features like sewer lines, basements, and more.
Retro Renovation helps you find the products and resources you need to help remodel, renovate, and decorate your house in an authentic mid-century style.
The Inspired Room is a decorating and design blog focused on doing more on a budget. You don't have to spend a lot to make your home look good!
Renovation Find discusses addresses strategies on renovating your house from top to bottom, including the foundation.
Houzz offers a different take from most real estate blogs, offering articles on ways to stay organized, renovation tips, and more.
Home Adore features a blog specializing in architecture and interior design. Their mission is to find the hottest properties and give the widest exposure possible to talented architects and interior designers.
Funky Junk Interiors features guides about how to use thrift shops and nature to find new, creative ways of redecorating your house.
Freshome offers numerous renovation ideas for those wanting to create a more luxurious experience.
Spruce And Pine documents the mission of one couple looking bring homes back from the grave. The blog takes the reader into the couple's current renovation project or flip, and details every step of the way!
BobVilaAcademy is from the legendary Bob Vila. Although he's been off-air for many years, he still empowers people by teaching them home-building skills through his online classes, Bob Vila Academy. This home-improvement maven also shares his expert advice through his blog, offering solutions to both complicated and simple home problems.
Ugly Duckling Houses is Sarah Fogle's repository of DIY knowledge she has acquired over the years. The blog started after Sarah did numerous projects on her own, learning home-building skills along the way and eventually sharing stories of her house's many faces and phases of transformation. Ugly Duckling House focuses on DIY renovation projects and home decor.
MDI West features an active blog about the best practices of fixing and flipping homes. You'll find plenty of articles, including, how-to guides, investing tips, and common pitfalls!
Better Homes and Garden covers a range of topics, from home renovation to making offers on a home. They do regular Q&A with industry experts and maintain an active community on the blog.
The Home Warranty blog is dedicated to home safety, maintenance, home decor, lawn care, and of course, home warranties. There are useful tips galore for homeowners and real estate pros.
Homes.com provides home buyers, sellers, and real estate professionals with tips and tricks to understand the housing market. This blog has everything from first-time home buyer's guides to local market reports.
Last on the list, but certainly not least, we've added yours truly. The Clever Real Estate blog aims to educate on all the ways you can save in the real estate business. From saving on agent commissions to buying your first home, we've got you covered.
🏡 Sell or Buy a Home with Clever and Save Thousands!
Enter your zip code to see if Clever has a partner agent in your area!
Related Articles
You May Also Like