The best time to buy a house is when it feels like the right time for you. Otherwise, there are a few guiding principles that will help you decide when to pull the trigger on one of the biggest decisions in your life.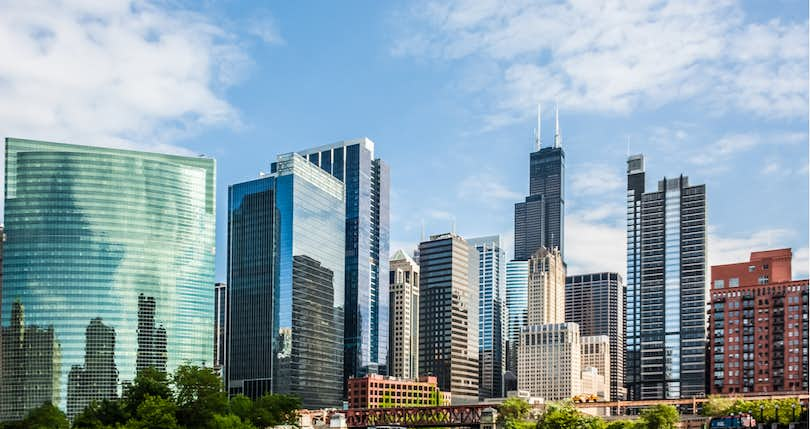 Buying a house is a stressful and emotional process. You'll likely have to spend weeks touring properties, fill out hundreds of forms, and invest a large chunk of your savings to secure the right house.
One way to make buying a house easier is starting the process at the right time. In Chicago, housing inventory, mortgage rates, and market trends vary from month to month.
For example, this year listing prices for homes in Illinois were lowest in January. On average, homes were $36,849 less expensive. While in September — the month with the highest prices — the listing prices were $22,208 more than the annual average.
In truth, the best time to buy a house really depends on your priorities and situation. Read on to find out which time of year will give you the most options and the biggest savings when buying a house in Chicago.
If you're interested in buying a home, the first step in the home buying journey is to find an experienced realtor who's an expert in your local market. The right agent can help you find the best house for your budget and priorities - and negotiate a winning offer so you don't miss out on your dream home.
The easiest way to find a great local realtor is to use a free service like Clever Real Estate. Clever matches home buyers like you with top agents in your area so you can compare your options and choose a realtor who's the right fit for you.
You can interview multiple agents until you find the perfect fit, or walk away at any time - Clever's service is 100% free with no obligation. Fill out the form below to instantly request hand-picked agent matches now!
💰 Buy with a top agent, earn cash back!
Buy your dream home with a top local realtor from a trusted brand like Keller Williams or RE/MAX. Keep more money in your pocket by earning cash back on eligible purchases.
Enter your zip code to request hand-picked agent matches in minutes. Compare your options until you find the perfect fit, or walk away with no obligation. Try Clever's free service today!
Best Time of Year to Buy in Chicago
As the city awakes from winter and flowers start to bloom, so does the listings. The new listings in Chicago create the toughest competition during the months of March, April (the highest), and May. This is a great time because of the spike in inventory after the slower winter months. The downside is higher prices, and the sellers are less willing to negotiate or give in to other concessions.
This presents a dilemma for the home buyer, by waiting the competition won't be as much a factor, prices may drop and sellers are more motivated. However, you may also miss out on the home of your dreams. Of course, when you add the concern of finding the right agent, current interest rates, lending options, and your personal financial situation, and it all can become overwhelming.
The Best Places to Buy a Home in Chicago
Chicago is home to 2.68 million people and it's no wonder the city continues to grow. Chicago is a beautiful city: it has great food, incredible festivals, and more culture and art than most countries. Each year thousands of people decide to live there. With so many awesome choices, finding the perfect home for you may not be the easiest task to accomplish.
So, we put together a short list of the best neighborhoods to make your decision a little easier.
4 Ways to Get a Great Deal On a Home in Chicago
Find a Great Chicago Real Estate Agent
A buyer's agent partners with you in the search for your next home. Their added value includes insight on homes that are priced right, and lenders with the best interest rates and terms. They're also experts on various types of financing options available to you. These are just a few of the reasons you shouldn't go through the process alone.
Assess Your Needs and Lay Out Your Goals
This is the time you want to work with your agent to discuss your particular desires. Not only is location a prime concern, but if you have small children, area parks and neighborhood schools are also important. Perhaps you plan to get a dog, so you'll need easy access to a dog park, and maybe a fenced yard. Your agent will help you decide how much house you can afford based on your budget and financial situation.
Find Lender and Secure Financing
Unless you plan to buy your home with cash, you'll need to apply for a mortgage. For most home buyers in Chicago, interest rates are among the biggest factors when choosing a lender. Doing a little upfront research and comparing options to find the best rates could save you tens of thousands of dollars over the life of your loan.
For example, in Illinois a typical house is worth $218,000. Assuming a 20% down payment, if you took out a 30-year mortgage for 3.5%, your monthly payment would be $778. But if you shopped around and found a 3% mortgage, your monthly payment would drop to about $735.
Getting a mortgage is a big decision – and it pays to shop around! Keep shopping until you find a lender with competitive rates who also understands your goals. Don't get pressured into taking on a bigger loan than you're comfortable with – work with a lender who explains what you're really signing up for.» Get instantly matched with a lender who works in your area.
Negotiate for the Best Possible Price
After seeing a number of houses and finding that perfect one, the real excitement begins. Once you locate the home of your choice, the agent helps you submit an offer, then after the inspection, they will negotiate on your behalf to get you the best deal possible.
We get it. Buying a home is a big deal and you want the purchase of your next house to be as stress free as possible.
Clever connects you with a top-rated local agent who will give you a no-obligation consultation and answer all of your questions. Contact us today.
You May Also Like