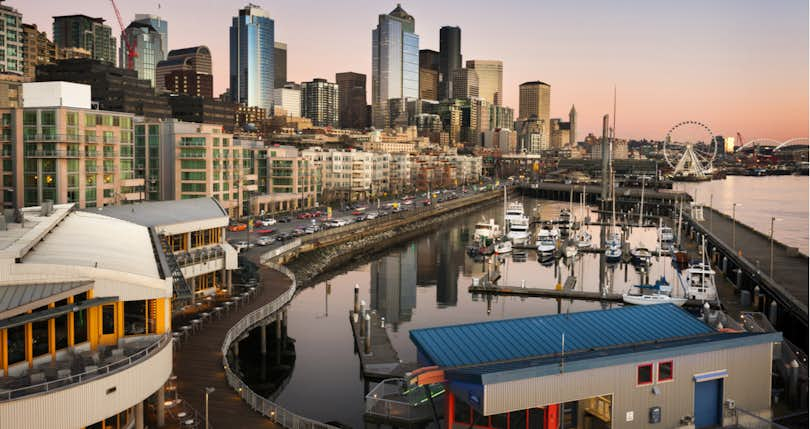 Seattle is a great place to live and thousands of people move there every year. The area is beautiful, surrounded by mountains and water. Even better, wineries, ski slopes, and hiking trails are less than an hour away.
All this natural beauty and fun has led to a predictable result — a desirable area becomes an expensive place to live very quickly. Currently, the median home value in Seattle is $713,600.
Fortunately, there are ways to live in Seattle without breaking the bank. To help you save money when purchasing a home, we've compiled five of the most affordable places to live in Seattle.
Another way to save? Work with a top real estate agent who knows how to negotiate and score you a lower sale price.
At Clever Real Estate, we can match you with agents in any area you're interested in — even multiple areas at the same time. You can interview as many agents as you like until you find the perfect place to call home — all at no cost or obligation to you.
Most affordable places in Seattle
Can you put "affordable" and "Seattle" in the same sentence? Yes, you definitely can. It takes a little extra legwork, but you can find high-quality affordable housing in various neighborhoods in Seattle. Here are the five most affordable places to live.
1. Kenmore
One neighborhood with homes in the $400,000 range is Kenmore, and it's a great community for families. It's easy to commute to Seattle, Bellevue, and Redmond. You'll find beautiful biking trails and excellent schools in this suburban neighborhood.
72% of residents own their homes, and the area is one of the best suburbs in the entire state of Washington. It's a safe area with great diversity and good nightlife and housing options. You'll also find a lot of restaurants and coffee shops and the inviting beauty of St. Edwards State Park.
2. Redmond
Redmond is a major draw to young professionals and families working in the Seattle tech industry. It's very close to Amazon, Microsoft, Monolith, Nintendo, and Valve and boasts convenient public transportation directly to downtown as well.
It has highly-rated schools and dozens of parks. The median home value is $579,400, which is more affordable than many areas near Seattle. Redmond has incredible views of the Cascade mountains and is known as the Bicycle Capital of the Northwest.
You won't regret house hunting in Redmond, especially if you work at one of the major employers in the area.
3. Pinehurst
Pinehurst is highly rated when it comes to schools, family friendliness, nightlife, and diversity. It offers a more urban feel than many other affordable neighborhoods, and the median home value is $373,911. It's a great area for young professionals as well, with an excellent commute to downtown Seattle.
Residents point out that while home prices are on the rise, it's still better than other areas near downtown. There are a lot of shopping options and restaurants nearby as well. To find your dream home in this area, work closely with your realtor and don't be afraid to negotiate.
Even after you've found a more affordable place to live in Seattle, moving there can be expensive. By working with a Clever Partner Agent, you'll have an expert in your corner and you may be able to take advantage of Clever Cash Back.
When you buy a home with a Clever agent, you might be eligible for up to cash back to use on anything you want, no strings attached.
Use this free money to help you move (or splurge on a great housewarming gift for yourself).
» SAVE: Learn more about what you can save with Clever Cash Back!
4. Mount Baker
On the east side of Seattle you'll find the neighborhood of Mount Baker. It's a great place for families and has excellent schools. It's diverse and has great nightlife options as well.
Around 66% of residents own their homes and the area feels more urban than suburban. Median home values are around $592,931 and you'll be very close to the lake. The closer you are to the lake, the more expensive homes get, but even in the western part of the neighborhood you'll be close to the water.
You'll find a wide variety of restaurants, with soul food next door to a Jewish bakery. The residents are friendly and you have easy access to light rail and bus routes.
5. High Point
Rounding out our top five is a neighborhood in West Seattle that's conveniently located and affordable. High Point used to be a difficult area over a decade ago but has become a thriving community. The median home value is $379,329, and about half of the residents own their homes and half rent. It's a family-friendly area with a variety of parks and is very diverse.
Schools are excellently rated as well. You'll have to travel a bit to find much in the way of shopping and dining but people are friendly and there are lots of green spaces.
If you enjoy being at the highest point in the city and reaping the benefits of a successful revitalization, ask your local realtor about homes in High Point.
How a good agent can make your home purchase more affordable
If you're just researching affordable places to live, you might wonder why you need a real estate agent. They're the ones that help you once you've already decided on a house, right?
Not necessarily. The truth is, it's never too early to start looking for an agent. In fact, talking to a realtor early on in the process can help you narrow down your options much faster than doing research on your own.
A real estate agent's job is to know everything about their local area. They'll find the best deals in desirable neighborhoods — and might just help you snag your dream home for an affordable price. Let a Clever agent help you discover your options today — all while you enjoy cash back!
💰 Buy with a top agent, earn cash back!
Buy your dream home with a top local realtor from a trusted brand like Keller Williams or RE/MAX. Keep more money in your pocket by earning cash back on eligible purchases.
Enter your zip code to request hand-picked agent matches in minutes. Compare your options until you find the perfect fit, or walk away with no obligation. Try Clever's free service today!
Related articles