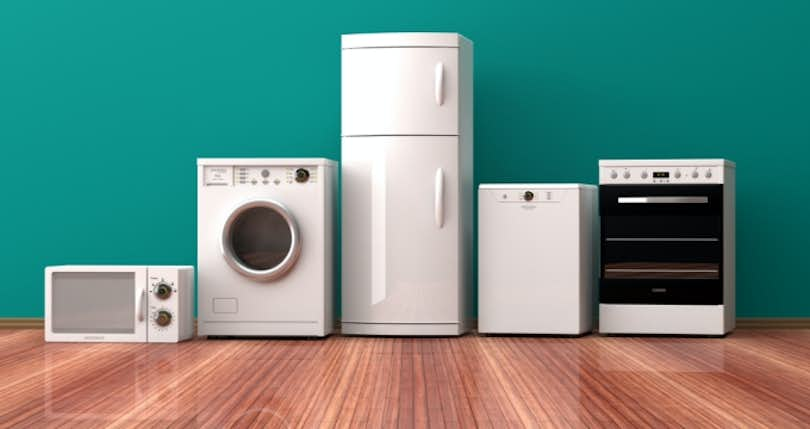 If you're planning to sell your home, you may be wondering whether you should upgrade your appliances before putting it on the market.
If your appliances are only a few years old and in good working order, you probably won't need to replace them before selling your house.
But there are some cases in which an appliance upgrade could help you sell your home faster — and for more money.
This guide will help you decide whether an appliance upgrade could be a worthwhile investment or a waste of money. We'll also outline typical costs and expected returns for some of the most common appliance upgrades and home improvement projects.
👋 Get a free comparative market analysis!
Match with top-rated agents from brand-name brokerages, like Keller Williams and RE/MAX, and request a free CMA today! Sellers will save thousands in realtor commissions with pre-negotiated 1.5% listing fees.
Clever's service is 100% free with zero obligation. Interview as many agents as you like until you find the perfect fit — or walk away at any time.
Will new appliances increase your home's value?
According to data from Consumer Reports, a remodeled kitchen — including new appliances, countertops, and flooring — can increase your home's sale price by 3% to 7%.
But that doesn't mean upgrading your kitchen before listing will always be a smart investment. After all, new appliances aren't cheap.
According to Angie's List, you should budget $650 to $2,000 for a new stove, while a new refrigerator can cost anywhere from $900 to $8,000. Were you to go all out and replace everything, chances are you'd fail to recoup even a 7% bump to your sales price.
| | |
| --- | --- |
| New appliance | Typical price range |
| Dishwasher | $400-$700 |
| Range/Oven | $650-$2,000 |
| Refrigerator | $900-$8,000 |
| Clothes Dryer | $400-$1,000 |
| Washing Machine | $700-$1,000 |
Source: Angie's List
In fact, there's a good chance you'll end up in the red. According to the National Association of Realtors (NAR) Research Group, sellers who upgrade their kitchens recover only 52% of the cost, on average.
There may be other home improvements you should focus on instead that could provide a better return on your investment. For example, the NAR found that installing new wood flooring can help you recoup 106% of the project's cost.
Should you include your appliances in the sale of your home?
It's also worth pointing out that, although larger appliances typically convey with a house (i.e., they're included in the sale), it's not mandatory.
So if you're really in love with your touch-screen refrigerator, there's no law that states you can't take it with you when you move. Just make sure that the sale contract specifies the appliances don't convey.
However, in most U.S. markets, a lack of kitchen appliances altogether could make it difficult to sell your house for the price you want.
In addition, many lenders won't approve a mortgage on a house if there is no oven installed. Take these considerations into account — and consult your real estate agent — before deciding to leave an empty kitchen behind.
Key questions to ask before buying new appliances
As you may have guessed, the question of whether to upgrade your kitchen appliances has no cut-and-dried answer.
There are several cases in which doing so could increase your home's value. But there are also situations in which it could be a waste of money.
Ask yourself the following questions to decide if upgrading your appliances before selling your home is necessary — or even beneficial.
1. Do you have the money for new appliances?
Many of us just don't have thousands of dollars to spend on new appliances — especially for those preparing to buy a new house and move.
If you simply can't afford new appliances, this should be a moot point. As we'll discuss shortly, there are plenty of improvements you can make that can increase your home's appeal without breaking the bank.
However, keep in mind that outdated appliances could lengthen the time your house is on the market. In real estate, time is money. By staying on the market a few extra months, your house could end up costing you more money in property taxes and utilities than you could have spent by purchasing new appliances on sale.
Upgrading appliances is a considerable investment with no guaranteed returns. Before you take the plunge, you should consult with an experienced local agent who understands your market — in particular, what matters most to local buyers.
2. How much are you planning to sell your house for?
Take into consideration your home's price range and what sort of buyer you want to attract.
If you're looking to sell a lower-cost home — and targeting first-time home buyers or middle-income families — you might want to consider making upgrades so that the home is move-in ready.
"First-time home buyers are often looking at cheaper homes and have less liquid cash on hand," says licensed real estate agent and Clever CEO Ben Mizes. "Including well-functioning appliances doesn't just make your home more appealing — it could be a make-or-break for them."
On the flipside, Mizes points out, if you're looking to attract a wealthier buyer, buying all-new appliances might be a waste of money.
"With more expensive homes, buyers will often ignore the appliances altogether, opting instead to renovate and buy exactly what they want for their dream kitchen."
If you're not sure how to price your home, we recommend talking to a real estate agent in your area. An experienced local agent can perform a comparative market analysis (CMA) on your property to help you determine its current market value. Get a free home valuation from an agent near you!
But if you just need a general idea of your home's value, you can compare pricing estimates from online home value estimators. These tools can help you determine the ballpark of what your home is worth.
💰 How much is your home worth?
Discover the true value of your home with our Home Value Estimator!
Find My Home's Value
3. Do the appliances actually work?
Regardless of your target price, unless you're selling a seriously distressed property "as is," you should make sure the appliances are at least functioning. If not, they should be replaced or fixed.
Keep in mind that, when you put your home up for sale, your state will likely require you to complete and sign a disclosure statement regarding the condition of the house and its contents.
Ensuring your appliances are in working order will keep that disclosure statement from looking like a warning label.
If you're handy, see if you can repair the appliance by yourself. You can find a wealth of how-to videos on YouTube covering everything from cleaning refrigerator coils to replacing the igniter on a gas cooktop.
If you're unwilling (or to go the DIY route, you can always hire a handyman or service technician to make the repairs. Call around for estimates first so you don't overpay for the work.
Unfortunately, there are some repairs for which even just ordering the replacement parts can be more expensive than buying a new appliance.
Angie's List reports that typical electrical kitchen appliance repairs can cost as much as $2,000. In a drastic scenario like that, you might as well just buy a new refrigerator or stove.
| | |
| --- | --- |
| Appliance | Cost of basic repairs |
| Dishwasher | $100-$300+ |
| Range/Oven | $110-$260+ |
| Refrigerator | $109-$325+ |
| Clothes Dryer | $130-$180+ |
| Washing Machine | $140-$300+ |
Source: Angie's List
Consider Home Repair Insurance
When your house is on the market, the last thing you want to worry about is fixing leaky faucets or repairing the dishwasher. That's where a home repair insurance policy can come to good use… and maybe even add value to your listing.
Home repair insurance — also known as a home warranty — covers the stuff your homeowner's policy typically doesn't. For example, you can use it for fixing or even replacing faulty appliances.
Because you can transfer your policy to your home buyer, it's also a great selling point. According to American Home Shield, 30% of home resales include a home warranty. Many sellers include such warranties to make their homes more appealing — and to avoid the buyers asking for repairs or replacements during the negotiating process.
4. How old are the appliances?
Although brand-new appliances can be a significant selling point for your home, they're not a requirement. For most buyers, appliances that are clean and functioning with plenty of life expectancy left will probably be good enough.
This table breaks down typical life expectancies for common household appliances. If one of your appliances is at, or past, its recommended age limit, you may want to consider replacing it.
| | |
| --- | --- |
| Appliance | Typical lifespan |
| Dishwasher | 9 years |
| Gas Oven | 10-18 years |
| Microwave Oven | 9 years |
| Range/Oven Hood | 14 years |
| Electric Range | 13-15 years |
| Gas Range | 15-17 years |
| Refrigerator | 9-13 years |
| Clothes Dryer | 13 years |
| Washing Machine | 5-15 years |
Source: International Association of Certified Home Inspectors
The key takeaway here is that you shouldn't just replace appliances for the sake of replacing them. If they're relatively new and in good working order, a little bit of 409 and elbow grease should do the trick.
The Appeal of the Time Capsule Kitchen
Believe it or not, there are situations in which an outdated kitchen might actually be a good thing.
There's a growing number of Americans who are interested in vintage kitchens and appliances. And for them, an intact mid-century kitchen — referred to as a "time capsule kitchen" — can be a selling point. In fact, there are real estate agents and websites that have made time capsules something of a specialty.
So if you're looking to sell Grandma's house, which looks like a Mad Men set, you might want to think twice before replacing the kitchen appliances. Just make sure that they're all spotlessly clean and in good working order.
And by the way, a vintage vibe can be a strong selling point for any home. According to data from Zillow, mentioning "mid-century" in their listings has shortened the time homes have spent on the market by more than 10 days.
5. Do the appliances match?
When it comes to appliances, unlike fashion, "matchy-matchy" is usually a good thing. Home buyers love appliances that are the same color, quality, and — if possible — brand. If you've got a stainless steel stove, a white refrigerator will stand out like a sore thumb.
6. Are the current appliances energy-efficient?
Energy-efficient appliances are more than just trendy — they could also save the homeowner money.
According to the government website energystar.gov, an energy-efficient home can save as much as 20% on utility bills. Unsurprisingly, energy-efficient appliances offer a ton of appeal for prospective buyers.
Replacing your old appliances with more eco-friendly ones can save you, the seller, money as well. That's because there are often rebates for purchasing appliances that carry the Energy-Star rating.
Rebates vary by state — you can search for available rebates by zip code on the Energy-Star website, or ask a salesperson where appliances are sold.
7. Will replacing the appliances cause other issues?
Embarking on any home improvement project can send you down a rabbit hole. Replacing a dishwasher yourself might sound like a good idea, but what if you destroy the kitchen floor in the process?
A seemingly minor job could turn into a major headache, not to mention the time and money you'll lose by delaying your listing for these extra repairs.
In addition, what if replacing an appliance makes everything else in the kitchen seem outdated and dingy? Can you afford to add new countertops and flooring to your budget too?
Be sure to consider the whole picture before making the big investment of upgrading your kitchen. Or better yet, talk to an experienced realtor who can tell you which pre-listing projects are worth investing in — and which to avoid.
8. How do you (and your appliances) stack up against other sellers in your area?
Real estate agents and sellers look at comparable home sales, or "comps," for short — i.e., recent sales data for similar homes in the same area — to determine a competitive and reasonable asking price for a home.
This same general approach can be useful when deliberating over what to repair or replace before listing. You can use free tools like Zillow and Realtor.com to do some competitive reconnaissance.
Look for active listings in your area that are similar to yours in terms of size, style, condition, price point, etc.
Check out the photos to size up the competition! Do most listings have recently renovated kitchens and baths? Do all of the appliances look brand new?
If there are five other houses in your neighborhood, just like yours, listed for a similar price, but they all have newer appliances and other more up-to-date features, you're going to be at a serious disadvantage.
You'll probably need to take the plunge and invest in those upgrades or lower your listing price to increase your home's appeal.
9. Are you in a seller's market?
If your neighborhood is experiencing a seller's market — that is, one in which demand is outpacing supply — having old appliances might not be an issue. As long as your listing price is not outrageous, homebuyers might be so excited to grab a great house in a desirable neighborhood that they don't care if you haven't upgraded your appliances.
Alternatives to replacing your appliances
If you simply can't afford to replace your appliances — or if doing so just doesn't seem to be a worthwhile investment, there are a few alternative avenues to explore:
Clean what you have: Never underestimate the power of a little elbow grease. Making sure your appliances (and the entire kitchen, for that matter) are spotless could give you enough visual appeal to charm a prospective homebuyer. Clear your countertops and take the magnets off the fridge — making your kitchen feel like a blank slate could help your home get sold.
Make smaller, cheaper updates: Rather than spending thousands of dollars on new appliances, spend a few hundred on DIY tile flooring or a stick-on backsplash. There are plenty of small "facelifts" you can do by yourself and for little money.
Be prepared to offer credit or reduce your asking price: In a buyer's market, you may end up getting less than you'd like for the home in return for not offering an updated kitchen. You could also consider offering repair credits to the buyer so that they can make the upgrades they want.
List your home "as is": If you lack the money — or desire — to make any changes to your home, you can consider listing it "as is." However, be aware of the risks of doing so. For one, you'll be expected to list your home for a price lower than its fair market value. Plus, potential buyers will assume there's something severely wrong with the home!
Final thoughts
It's obvious there's no one-size-fits-all answer when it comes to replacing your appliances before selling your home. Before making this big investment, there are many factors to consider, including your property's location, the condition of your current kitchen, and your budget.
Chances are, you won't need to take the drastic step of replacing every appliance or a total kitchen overhaul. As long as your house is priced correctly and has plenty of visual appeal, it will attract the right home buyer.
The best thing to do is to consult with a licensed real estate professional who understands your market.
» LEARN: Should you replace the roof before selling?
Related Articles
You May Also Like