A few strategic improvement projects can really boost your home's appeal — and put more money in your pocket when you close the sale. In terms of return on investment, replacing the doors on your house isn't always an open-and-shut case.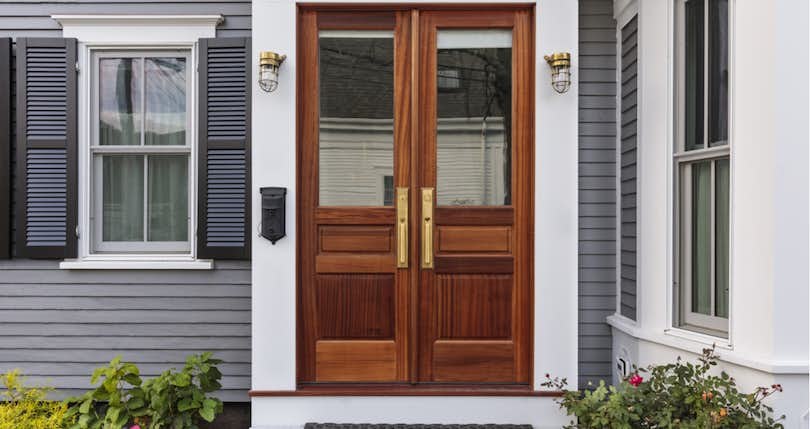 From remodelling your kitchen to planting flowers for curb appeal, there are plenty of improvement projects that require investment but will pay big dividends when it's time to put your home on the market.
If you're wondering whether replacing the doors in your home is a worthwhile endeavor, the answer is… it depends. The type of door matters, as does what buyers in your market desire in a house. Consider the following when deciding if replacement is a smart choice for your doors.
Interior Doors
Before you focus on how your interior doors look, make sure they work! In the vast majority of cases, potential buyers want to stay far, far away from home repairs, and something as basic as a creaky door will make them wonder what other, less obvious problems might be hiding in your house. Test all the doors inside your home, including sliding doors, to ensure none of them sticks or slams. Each one should smoothly open and close, and be free of dents, cracks, and holes.
Visually, it's true that panel or barn-style doors are more popular than flat, brown doors. New doors can range anywhere from $30 to $300. Depending on your home's price point, dropping a couple thousand dollars on new doors and trim might make sense. In other situations, a fresh coat of paint and some new hardware is a smarter investment. Whichever you decide, remember that uniformity is more appealing than a hodgepodge of styles.
If you're dithering on whether to replace or refinish your inside doors, work with your real estate agent on a competitive market analysis (CMA) to help you decide. When determining a home's value, a CMA compares one house to listings of houses in similar neighborhoods and in similar condition. By uncovering what features are popular with buyers, a CMA will help you focus on the most profitable home improvement projects.
Exterior Doors
It's what's on the inside that counts, unless you're talking about homes for sale. A house on the market only has a few seconds to make a great first impression, and a dated front door won't do you any favors. If you're planning on any door replacements, the exterior doors are likely your best bet. According to the National Association of Realtors' 2017 Remodeling Impact report, replacing front doors and garage doors adds a high rate of appeal to buyers and a decent amount of value to the home for resale. When it comes to front doors, material matters. A steel door is more appealing than a fiberglass one, with consumers viewing steel as more durable and energy efficient. The estimated cost of a steel front door replacement is $2,000, with the cost recovery estimated at $1,500, or a 75% return on investment. Replacement garage doors had an 87% ROI, with cost and cost recovery estimated at $2,300 and $2,000, respectively.
If you're not in a position to replace your front door, think of other creative ways to dress it up. For example, repaint the door with a bright, high-gloss paint, use strategically placed solar lights to draw the eyes toward it, or add a touch of class with potted plant arrangements.
The amount of work you put into your doors — and everything else — depends on local market trends and what buyers are looking for. An experienced real estate agent can guide you on which improvements will help your home sell faster and for a higher price. Get in touch with Clever today for a no-obligation consultation with top real estate agents in your area.
Related Articles
You May Also Like