Where are Redfin buyer rebates offered? | Am I eligible? | How much are Redfin buyer refunds? | Better alternatives
If you're planning to buy a home soon, you may have heard that you can save money with Redfin rebates for home buyers, known as the Redfin Refund. How do these Redfin rebates work and how much can you expect to save? Truthfully, the answer depends.
How much you can actually pocket from a Redfin buyer rebate will vary based on your location, your mortgage lender, and a host of other factors. And, eight U.S. states ban home buyer rebates and refunds entirely.
If you're counting on getting cash back when you buy a home, and live in an eligible state, look for a company that offers cash refunds versus commission rebates or credits like Redfin.
For example, Clever Real Estate matches you with top local agents AND offers cash back when you purchase a home.
» MORE: Buy with a top local agent and get cash back!
Where is the Redfin Refund offered?
To start, there are eight U.S. states that don't allow rebates from any real estate agent. These are Alaska, Kansas, Louisiana, Mississippi, Missouri, Oklahoma, Oregon, and Tennessee.
Further, to qualify for a Redfin buyer rebate, you must work directly with a Redfin agent. If they refer you to a Redfin Partner Agent, you cannot get a refund.
This is important because Redfin only operates in about 80 U.S. markets.
Outside of their normal coverage area, Redfin will connect you with a Partner Agent instead of a regular Redfin agent to help you buy a home. Redfin will also refer you to a Partner Agent if:
There aren't Redfin agents in your area
The current agents are busy
Your home is below their minimum price requirement
In these cases, you won't be able to work with a Redfin agent and won't be eligible for a Redfin buyer rebate.
Am I eligible for a Redfin Refund?
The Redfin Refund doesn't apply unless the buyer's agent commission is at least 1% or $6,500, whichever is higher. Because buyer's agents often receive a commission of 3%, you'd need to buy a home for at least $216,666 before you qualify for a refund.
Sometimes, Redfin agrees to receive only 2% as a buyer's commission. That means you'd need to buy a home that is $325,000 before the commission hits the threshold. In many areas, Redfin doesn't offer service on lower-priced properties at all.
That's a lot of house to buy, especially if you're a first-time buyer.
Lender approval
Further, home buyer rebates are subject to lender approval. If you receive a rebate before closing, it effectively reduces the overall purchase price of your home. Lenders use this number to calculate the loan-to-value ratio of your mortgage, so a rebate could impact your financing.
Because of this, some lenders may prohibit or limit how much of a rebate you qualify for. Always talk to your mortgage provider before moving forward on a purchase.
The bottom line is that Redfin rebates are tricky to qualify for, with multiple factors impacting your final savings.
Clever makes it simple. Eligible buyers will get money back when they buy. And since the cash back is paid out after closing, it won't impact your financing.
💰 Buy your dream home, qualify for cash back
Why leave extra money on the table? Clever connects you with top real estate agents in your area, plus puts cash back in your pocket.
With Clever:
 ✅ You'll work with a full-service realtor from a top broker
 ✅ You'll earn cash back on qualifying purchases
 ✅ It's free, with zero obligation — you can walk away at any time
Fill out the form below to get started!
How much is a Redfin buyer rebate?
Many Redfin listings show a specific refund amount for that home. Redfin claims that the average rebate is around $1,500, though it will depend on the price of the home and other factors.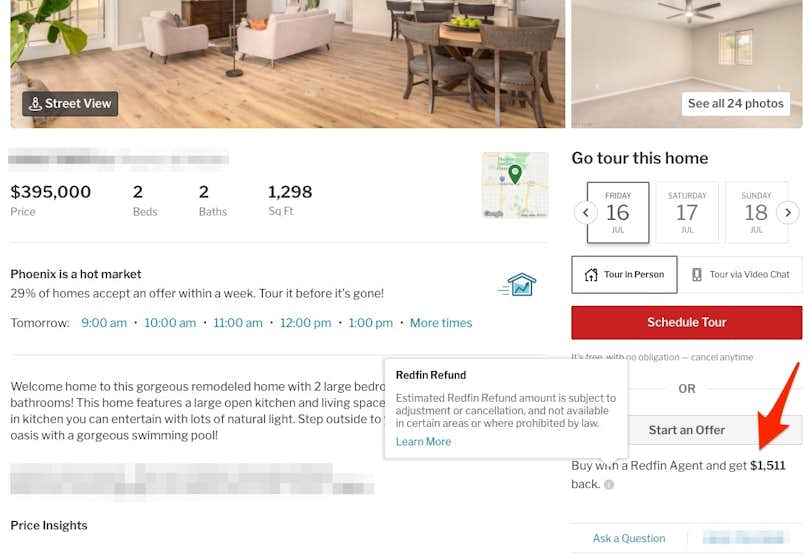 However, Redfin rebates are not guaranteed. In the fine print on Redfin's website, the company notes that refund amounts are subject to qualifications and may fluctuate according to a variety of factors.
That means there's no way to know exactly what refund you'll get if you use Redfin.
Find Redfin Refund alternatives
When you buy with a Clever partner agent in an eligible state, you'll get cash back. Unlike rebates, these refunds are guaranteed in full since they're paid out after closing.
👋 Next steps: Talk to an expert
If you're weighing your options for buying or selling a house, Clever can help!

Our fully-licensed concierge team is standing by to answer questions and provide free, objective advice on getting the best outcome with your sale or purchase.

Ready to get started?

Give us a call at 1-833-2-CLEVER or enter your info below. Our concierge team will be in touch shortly to help.

Remember, this service is 100% free and there's never any obligation.
Related articles
FAQ about Redfin buyer rebates
How much is the Redfin buyer refund?
According to Redfin, the average Redfin Refund is around $1,500. However, this amount will vary drastically based on your location, the price of the home, your mortgage terms, and other factors. And, you won't even be eligible for a rebate unless you're in one of Redfin's 80 U.S. markets. Learn more about home buyer rebates now.
Is Redfin good for buyers?
Redfin offers a variety of home buyer services, like a home estimate tool, rebates for eligible buyers, and more. However, most of these don't stack up against the competition if you're buying a home. Learn more about the buying process with Redfin now.