Closing on a home is the final step before you're handed the keys and the home is yours! Read on for a step-by-step guide on the closing process and tips to make sure the process runs smoothly.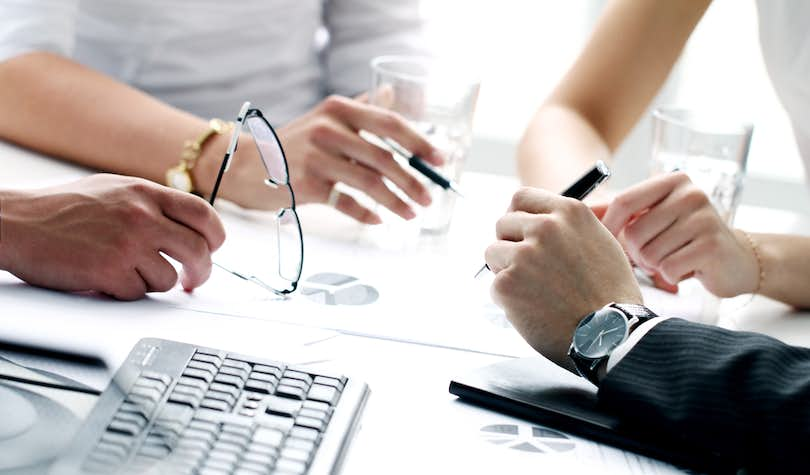 If you've never purchased a home before, the closing process can seem a bit complicated. There are several steps and they need to be completed in the correct order for the sale to go smoothly and the home to close on time. But it doesn't have to be that scary — an experienced real estate agent and a good title company can help lead you through closing and navigate any bumps in the road along the way. In the meantime, here's a brief overview of what to expect.
Open an escrow account
An escrow account is a financial account that a third party manages on behalf of a buyer or seller. This third party may be your title company and they hold all money related to the sale and your mortgage until the sale is final.
You'll need to establish an escrow account when you make an offer on the home. The first deposit made into escrow is usually your earnest money — the money you pay to show the seller than you're serious about buying their home.
If you back out of the deal at a later date, this earnest money will usually be transferred to the seller. But, if it falls through because of a major problem found during a home inspection or the home doesn't appraise high enough to appease your lender, you as the buyer will usually get your earnest money refunded. If the deal goes through, the earnest money will be applied to your purchase — but what happens in both instances may depend on the language in your offer.
How much you'll need to deposit in escrow for earnest money when making an offer varies, but plan for around 1% to 2% of the purchase price. If it's a buyer's market, you can usually get away with less. If it's a seller's market, you'll want to offer on the high end to secure the deal.
Purchase title insurance
Before your closing date, your title company will run the title of the property to ensure there are no liens or multiple mortgages on it. If it comes back with a clear title, this means there are no third-party claims on the property and that no problems will arise later from someone else trying to claim it as their own.
As a guarantee, the title company offers title insurance to both the buyer and their lender. This insurance protects both parties against any issues with the title during its transfer of ownership from the seller to the buyer. If an event did arise, the policy would cover the buyer's legal defense and compensation for the property.
For this reason, it is always recommended to purchase title insurance when buying a home. Although it can be quite expensive — in the range of a couple thousand dollars — title insurance is a one-time fee you'll pay at closing. It is customary for the seller to pay for the buyer's title insurance and the buyer to pay for their lender's title insurance, but this can vary by state.
Mortgage approval process
Unless you've been pre-approved for a mortgage, you'll want to apply for one as soon as possible after making an offer. Gathering all the proper paperwork and being approved for a loan can take two weeks or longer and you don't want to miss your closing date.
If you have time to apply for a loan prior to finding the right home, it will make the process much smoother. Pre-approval lets a seller know you're serious about buying and you won't have a problem closing in a month or less. Plus, you may be able to lock in your rate in case the market changes.
Schedule home inspections
Always, always, always get a home inspection for a house you're considering purchasing. While a home inspection could cost a few hundred dollars, it could save you tens of thousands if a major problem is found that you didn't know about or the seller didn't disclose — like an unstable foundation or termites.
Your real estate agent or lender should be able to recommend a good inspector, who will schedule a couple hours to walk through the property and provide you with a report noting anything that should be fixed, no matter how small. Depending on your area and your mortgage stipulations, you may also wish to have a termite or radon inspection. It's best if you're present for the inspection so the inspector can explain their notes afterwards and you can ask any questions about major repairs needed.
Funding escrow
Now that you've already set up your escrow account and deposited your earnest money, you'll deposit additional funds at closing. Your lender will likely require you to open another more long-term escrow account in which you'll pay prorated property tax payments and a full year's worth of your homeowner's insurance premium.
Since your monthly mortgage payment usually also includes some amount for insurance and taxes beyond just your principal and interest, this amount will stay in escrow until your lender makes these payments when they become due. This ensures these bills will be paid and protects your lender's investment.
Paper signing
There's one last thing to do before you're officially a homeowner — sign a mountain of paperwork! We suggest doing one final walkthrough of the property the day before your closing to ensure its condition has not changed since your inspections and the last time you viewed it.
Then, you'll likely sign the papers at your title company or a lawyer's office. Usually, the seller and buyer each have their own appointment time so you won't be sitting in the same room. The seller will sign their paperwork first, and then you'll sign yours with a notary, your agent, and maybe your lender present.
Take your time in reading the paperwork thoroughly, including your closing disclosure form, and make sure you understand the terms correctly. Ask questions if you need to. After you hand over your check and finish signing on the dotted line, you'll be handed the keys to your new home and can start moving in!