The Pacific Northwest is home to some of the greatest outdoor activities, and one of the best places to live is the state of Washington. A strong economy, plenty of fun things to do, and no state income tax makes Washington a great place to live and enjoy life to the full.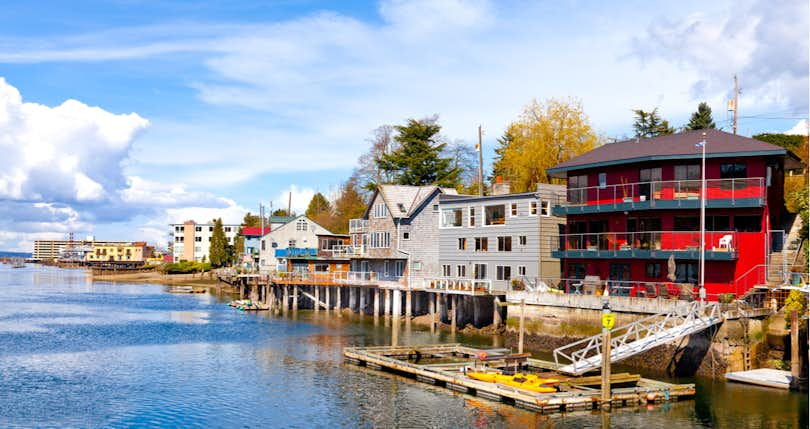 Everything you need to know about moving to Washington starts with uncovering some of the hidden gems of the great state. Although it is the least religious state in the US, it has plenty of Christmas holiday spirit. Washington has the fourth largest amount of holiday music downloads. Perhaps they can't get enough of the song "White Christmas" made famous by Washington-born Bing Crosby.
If having an apple means a healthy body, then the residents of Washington should be the healthiest of all. Because the state of Washington produces more apples than any other. In fact, over 58% of all apples grown in the U.S. are grown there. Home to more than 7 million residents, here you'll find a diversity of geography, and people, along with modern cities, and incredible wilderness areas.
»FIND: Top Real Estate Agents in Washington
Top 4 Reasons to Move to Washington
It's a great place for the adventurer in you: Washington is home to five mountains and each one offers a unique hiking experience. For the sea life lovers, you're only a quick trip away from a whale watching tour.
Washington is listed as one of the best places to live: Some of the reasons for the designation include: a recent positive job growth rate of 1.80%. And the average commute time is less than 30 minutes.
Regardless of your lifestyle, you'll feel right at home: That's because everyone is so welcoming and open. It's also a great place for dining out and enjoying a show.
The housing market is on the grow: The median home value in Washington is $385,40 and the values have gone up 6.6% over the past year. Experts believe the trend will continue with a 4.7% growth rate this year.
Quality of Life
Let's face it, no matter where you live, we all want the same basic things to enhance the quality of our life. A nice home to call our own, strong relationships with friends and family, and a rewarding environment. Washington provides essential ingredients to help you live your best life.
The culture of creativity, a mild climate, and the highly educated workforce are just a few of the reasons many people move to Washington. The state is known for transforming the world through innovations such as the personal computer and is home to companies like Starbucks, Apple, SpaceX, and Microsoft. These industry leaders understand and perpetuate the state's rich innovative history. This melting pot of brilliant people is attractive to those who prefer to go against the status quo, think outside of the box, and have a winning-can-do attitude.
Economic Outlook
Washington jobs have experienced a strong growth trend of 1.8% over last year. It marked the highest growth rate of any other state for the second year in a row. And for the next 10 years, job growth is predicted to be over 39%, much higher than the national average of 33.5%. The minimum wage is currently $12 an hour, and the average income of a Washington resident is $31,233 a year. Washington is one of the few states in which the minimum wage follows inflation, therefore, it will eventually reach $15 an hour.
In a recent report, Washington recorded a year over year job growth rate in December of 2018 of 3%, and Seattle's job growth accounted for 63% of the state's net increase. Other than logging, every major industrial sector added jobs. The unemployment rate of 4.4% is the lowest in the state.
Housing Market Forecast for 2019
The average household income is just under $67,000, which is helping to contribute to the growing housing market. The median home value in Washington is $385,400. Recent home values have increased by 6.6% over the past year. The median price of homes currently listed is $399,000 and homes are selling at a median price of $364,000. The state is also attractive to real estate investors because the median cost to rent is $1950 a month.
Seattle is home to about 60% of the residents living in Washington, and there are plenty of places to buy a home and work in the evergreen state. So if you feel the cost of living is too high in Seattle, here are a few other options with quick access into the metro area:
Everett, Washington is just 25 miles north of Seattle and is the seventh largest city in the state. The cost of living there is about 43% cheaper and the median home prices are about $370,000.
Gig Harbor is a charming little town with a population of over 7,000, however, the commute to Seattle is just under an hour. The beautiful coastal town is surrounded by views of a rippling harbor and vast mountains, An average one bedroom apartment will cost you only $873 a month. Much lower than $1,145 in Seattle.
Tacoma, Washington is a great place to settle down if you desire all the beauty of Seattle, without the hefty price tag. Not only is it a lot cheaper, but it is also less congested. The average home sells there for about $311,400.
So What Should You Do Next?
Now that you've decided your next adventure includes moving to Washington, we suggest partnering with a local agent to help get the ball rolling. Regardless of the areas of Washington you're most interested in, Clever can help.
Clever Partner Agents can help you by advising you on the best areas to search for a home based on your wish list and budget concerns. We partner with top-rated agents from major brands and regional brokerages like Century 21, REMAX, and Keller Williams. These agents will use their expertise to help you from start to finish.
Their services include searching for homes within your price range and desired locations, offering the best strategy for making offers, and if needed recommend financing options.
We can help you take the stress out of buying a home. Contact us today with all your questions.
Related Articles