There are many differences between modular and stick-built homes. Exploring the pros and cons of each can help you better understand which type of home is best for your lifestyle and budget. Learn more about these different home types and how an agent can assist with this decision.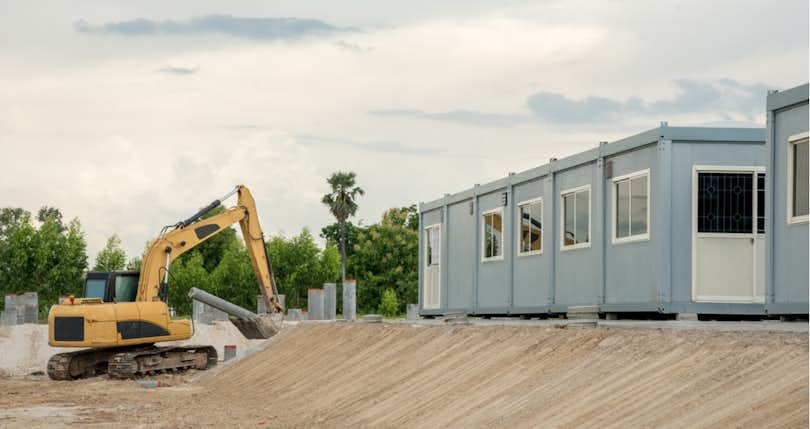 When deciding on the type of home you want to buy, it's important to weigh the pros and cons of different housing types. The housing you opt for can have many bearings on your future from financial concerns to reselling.
Two main types of residential housing include both modular and stick-built homes. These home types are often debated by buyers who want to be sure they're making the best decision. Since there are many benefits and drawbacks of each type of home, you should carefully consider each before making a commitment.
What's the deal with modular and stick-built homes?
Learn more about different types of homes from a Clever Partner Agent.
Modular Homes: Benefits
Modular homes, also known as prefabricated homes, have come a long way in the past few decades. Initially only constructed as mobile homes, today's modular homes now have a variety of customizations available and come in a broad range of sizes, styles, and options.
Benefit 1: Price
Since modular homes are not built on the lot they'll eventually be placed on, they're much cheaper than stick built homes. They can be built quickly and efficiently, in climate-controlled warehouses that often have in-house inspectors.
Benefit 2: More Financing Options
Unlike traditional, stick-built homes, when purchasing a modular home, you have even more financing options available. Buyers can choose from typical home financing options or apply for manufacturing and, sometimes, even construction loans to cover the home cost.
And, since the home price is much lower than stick-built homes, there are often fewer hang-ups during the application process and a larger demographic of buyers can be more easily approved.
Benefit 3: Top-Notch Construction
When purchasing a modular home, you won't have to worry about the condition of your home. Although inspections are performed, your home will be brand new, with high quality materials and construction.
Many modular homes also come with energy efficiencies built-in, like improved insulation and energy efficient windows.
Modular Homes: Drawbacks
There are a variety of drawbacks to consider before opting to have a modular home constructed. Here are a few key points.
Drawback 1: Land Price
While modular homes are much cheaper than stick-built homes, you'll still need to purchase an empty lot to place you home on. Depending on the neighborhood you're moving to, the cost of land can vary, so it's important to partner with a real estate agent to find an affordable lot.
Drawback 2: Payment Timeline
Many times, modular homes must be paid for in full before the home's construction is complete. In fact, some builders require payment installments as the home is being built. This could require applying for a construction loan that later rolls into a mortgage once your home is finished.
Drawback 3: Limited Customizations
Although modular homes have improved over the years, they still have many limitations when it comes to customizations and design. You'll be able to pick from premade floor plans, but you won't be allowed to fully customize and adapt the floor plan like you could with a stick-built home.
Drawback 4: Hard to Sell
If you're not planning on settling down in your modular home, it's important to note they can be harder (though not impossible) to sell than stick-built homes due to their out-of-box design and overall cookie-cutter appearance.
Stick-Built Homes: Benefits
Stick-built homes are any home that is built on the land it's sold with. These more traditional homes are often in higher demand and have a variety of benefits.
Benefit 1: Appreciation Value
While there's no guarantee that any home will appreciate in value, stick-built homes are much more likely to appreciate over the years as modular homes. As a result, they can be easier to sell for a profit down the line.
Benefit 2: Faster Move-in Date
Since stick-built homes are already built, you'll be able to speed up the buying process, in most cases. You'll have a much more predictable timeline when finding financing, closing, and planning your move. A good agent can also help keep you closing date on track.
Benefit 3: Better Variety
Stick-built homes are often considered more aesthetically pleasing, because they're custom-built and often have at least a few unique features that would be impossible on modular homes. Whether it's the usage of different construction materials, columns, turrets, or eye-catching architectural features indoors, many stick-built homes feel more special to buyers than modular homes.
Stick-Built Homes: Drawbacks
On the downside, there are a few drawbacks to purchasing stick-built homes that buyers should know.
Drawback 1: Higher Price
Stick-built homes will almost always cost more than modular homes, so buyers with limited budgets may have to settle for a much smaller home than they would have if a modular home had been purchased.
Drawback 2: Home Condition
Although an inspection will be performed, in most cases buyers will purchase a home with some general wear and tear. While this isn't an issue for some buyers, others might be more tempted by the brand new feel of a modular home.
Drawback 3: Traditional Financing Options
There are fewer financing options available for stick-built homes than modular homes, which can limit what some home buyers can afford. Working with an experienced agent is the best way to determine if a home fits in your financial budget.
Next Steps
If you're still not sure which type of home is best for you, get connected with a local real estate agent. Local agents will explain the types of homes available in your price range to help you find the home that's right for you, whether modular or stick-built.
If you don't already have an agent, get in touch with a Clever Partner Agent today.