There are key considerations before diving head first into the fascinating and wonderful world of goat farming — many of which include zoning, overhead, real estate costs, and goat meat or dairy production. Read our guide to learn more about purchasing a goat farm in your area.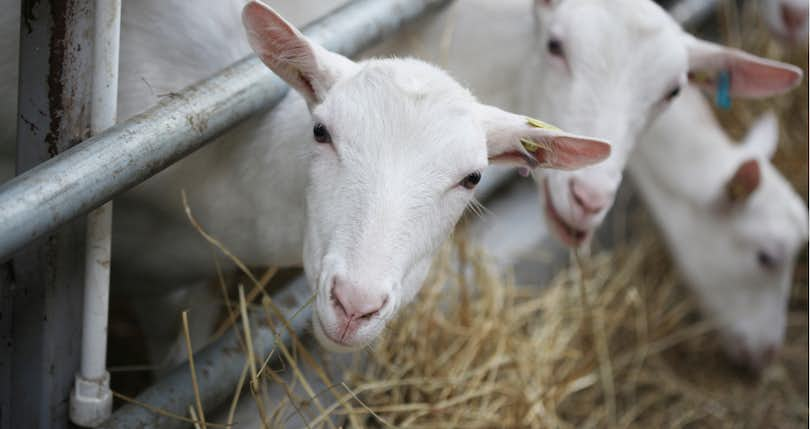 The farmer's life — up with the sun, governed by mother nature, in tune with the seasons, and arriving to bed each night dog-tired with the knowledge that you've earned a good sleep. There's a little more to farming than is captured in this admittedly romantic vision. If you're in the market for a goat farm, read below for an in-depth look at owning and operating a goat farm.
About the Goat Farming Industry
Goat is farmed throughout the US for a number of reasons — meat, milk, and mohair take the majority shares. A small percentage employ goats for cheap, hands-off land maintenance. Nearly 80% of goats in America are raised for their meat, while 16% are raised for milk.
A quick internet search for "goat meat recipes" brings up nearly 32 million results encompassing dishes from Greece to Patagonia. Goat meat is a mainstay of many international cultures, including Asian, Caribbean, and African. As America continues expanding culturally, goat meat consumption can be expected to increase.
Goat Farming is In Demand
Currently, the US imports goat meat to fuel the country's demand. If you're truly looking to become a goat farmer, chances are your job will be safe. With domestic goat meat is in high demand, the prices are steep and product is scarce. Goat cheese and milk are continually on the rise, albeit slow and steady.
An interest in healthy diets throughout the US has also given rise to goat product consumption. Goat meat is leaner and more nutritious than poultry, beef, and pork, while goat milk is widely touted as being easier to digest. From 1997 to 2012, the number of meat goats rose from 1.23 million to 2.05 million. In 2018, meat goats totaled approximately 2.1 million.
Buying a Pre-Existing Goat Farm
Purchasing a pre-existing goat farm will undoubtedly save you time and money. However, you might be stuck with existing outbuildings or fencing. By purchasing a pre-existing goat farm, you will likely inherit the goats as well as the process for products. A dairy goat farm is set up differently than a meat goat farm, so you'll need to decide what kind of product you want to produce before buying.
There are goat farms in every state throughout the US with the largest concentrations of meat goat farms throughout Texas and the southeast. Wisconsin, California, New York and other Northeast states are home to the majority of dairy goat farms. Different states have various rules and regulations for developing or adding on to pre-existing farms, but this is usually an option if you want to modify or expand the established farm.
Once you've settled on the city in which you'll purchase a goat farm, partner with a local realtor who can help find potential, valuable goat farms in your area. They'll share their knowledge and expertise of the local agriculture market to help you secure a place that is both profitable and gaining value.
Starting a Goat Farm from Scratch
If you are looking to execute a particular vision to your future goat farm, buying a parcel of land may be in your best interest. You'll be able to develop the land as you see fit, arranging buildings, pastures, and processing facilities, if applicable, to best suit the farm's needs.
However, developing a piece of land isn't as simple as buying it and putting some fences up. Survey the land before purchase, inspecting for discarded environmental hazards like waste tanks, oil drums, etc.
Zoning laws, water rights, and flood zones can impact your ability to raise goats. A-1 zones allow for grazing and farming, but check with your city's Planning and Development Services office or Community Development department.
Financial Factors
Like all real estate, the cost of purchasing a pre-existing goat farm varies dependent upon location. In Wisconsin, turnkey goat operations are listed anywhere from $280,000 for 9 acres and an existing herd, to $520,000 for 60 acres, no herd included but outbuildings are operational and set up for goat milking.
Small production farms are considered any farm with under 500 head of goat. For an in-depth look at operating expenses, risks, and losses on a northern California goat dairy farm, check out this study. There is money to be made but quite a bit of work goes into dairy goat production.
Rules and Regulations
Goat meat is under mandatory USDA inspection. Goat meat must be processed in a USDA-inspected facility. If you plan to slaughter the goats at your farm's processing facility, a USDA inspector will need to come out to certify your processing facility.
Choosing to ship goats off for slaughter and processing can increase cost but can also save you time if you're new to the wonderful world of goat farming. The slaughterhouse and/or processing facility will process your goats and can ship the meat back to you or proceed with selling to distributors or retailers.
Financing Options for Goat Farms
AgAmerica Lending is one of the leader financers for agriculture purchases and developments in the country. They offer loans for purchasing new agriculture land and operations, provide interest free lines of credit for ag-related projects, and rural infrastructure loans.
USDA grants offer low-budget option depending on the area you wish to buy in. The most popular for newbie farmers is their FSA "Beginning Farmers and Ranchers" loan program that provides a variety of loans with different repayment terms, interest rates, and qualifications.
Purchasing a goat farm is no small endeavor. There are plenty of options no matter if you want to buy an established operation or a parcel of land and build yours from the ground up. An experienced realtor will be invaluable during this search and can source a variety of options that could work with your overall goal.
Contact Clever today for a no-obligation consultation and you could be well on your way to living the goat farming dream!