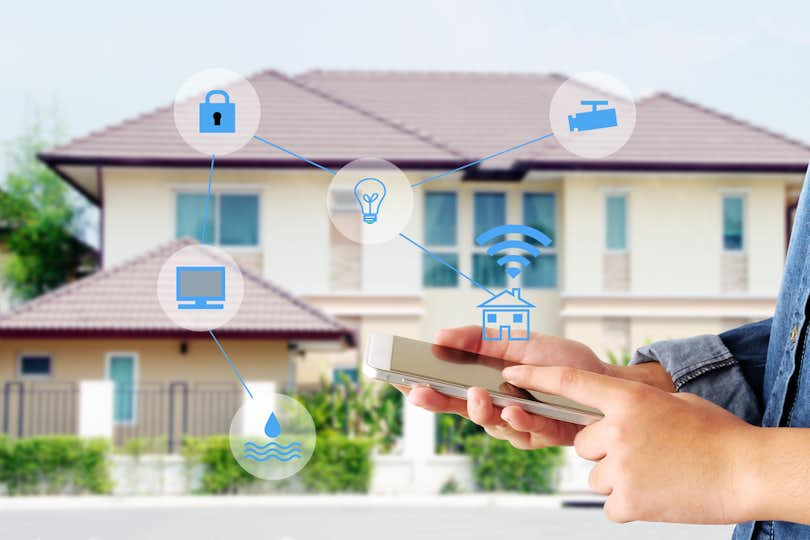 Smart technology isn't just for fancy homes anymore, and there are six great ways you can begin to use new apps and devices in your apartment (or small home). First, let's look at the specific problems that smart technology can solve, and then we'll provide a strategy for locating and installing the proper smart system.
Problem: Bad Lighting and a High Electric Bill
Maybe you live in an awesome but pricey neighborhood like Uptown in Minneapolis, and you love your apartment's location and you like the complex's amenities, but after a while, you had to admit that your place looked a little dingy, and after some investigation, you decided that the lighting is the culprit. A combination of yellowish incandescent bulbs and older fluorescent fixtures that throw off a pinkish glow make for a bad and antiquated lighting mix.
To solve this issue, you first need to get rid of those old incandescent and fluorescent bulbs and replace them with LEDs. LEDs last much longer than conventional fixtures and they use less energy. In fact, you can buy a $15 LED entryway ceiling fixture that will last for up to 40 years and doesn't even contain anything that looks like a conventional light bulb.
After you have switched your light sources to LEDs, get a smart app that will control them. Not only will you be able to turn your apartment lighting on and off from anywhere by using your chosen mobile device, but you will also be able to control light intensities and hues.
Problem: Ancient Thermostat
Your apartment may have a little round thermostat that seems to be totally mechanical, and it probably looks like this:
If you take the round cover off, you'll see a coiled spring possibly attached to a glass bulb that contains mercury. When the spring is moved by the changing air temperature, it causes the mercury to either make or break a circuit that turns the furnace on or cuts it off. The only way to set the desired temperature is manually. This system is definitely outmoded.
If you have one of these, you may think you are technologically current,
but we disagree. Some people have so much trouble programming thermostats like this that they end up thinking they need an engineering degree just to begin the process.
In order to solve the ancient thermostat problem, consider a smart thermostat. Easily programmable from your phone, a smart thermostat allows you to control heating and cooling functions from any mobile device, even when you are on vacation thousands of miles away.
Problem: Mechanical Front Door Lock
If the above is your problem, don't replace it with something that will cause the same issue. What you need is something like this:
Smart programmable entryway systems will allow you to do away with keys and will make it easy for you to change entryway codes from any mobile device. The really good systems will be equipped with a camera and a microphone so that you can not only see who is at your door, but you can also communicate with them.
Problem: Fried Lawn
If your lawn looks in rough shape compared to your neighbors, then there is a chance you're not the champion neighborhood lawn guy. And if you have problems understanding over-watering vs. under-watering, you could really use a smart garden system.
By pairing a sprinkling system with an app on your phone or another mobile device, you will never have to worry again about over-soaking your lawn or not providing enough water. Your smart garden app will continuously check soil moisture and will let your sprinkling system know exactly how much to water and when. Those embarrassing days of watering during a thunderstorm will be gone forever also!
Problem: You Left the Coffee Pot On
Smart systems don't need to be complicated. While some may think that they need a complex wiring system to facilitate the installation of smart outlets, this just isn't true. We suggest a smart outlet. All you do is plug this into an existing electrical outlet and pair it with the appropriate smart app to enable control through your mobile device.
You may only wish to have a few controllable smart outlets, so there is no need to buy an expensive whole-apartment system — just get as many as you need. When your outlets are in place you can turn these outlets on and off by just tapping on your phone. And, you can do it from wherever you may be — even on vacation thousands of miles away.
Problem: You Are Worried about Carbon Monoxide
Get one of the carbon monoxide testers on Amazon and you'll reap the following benefits:
It's a combination carbon monoxide and smoke detector.

It uses a high-tech electrochemical sensor that quickly lets you know that apartment CO levels are elevated.

It detects real smoke and therefore cuts down on false alarms.

It's way easy to install!

It will let you instantly know the PPM gas level in your apartment.
And of course, all of this information can be viewed on your mobile device, so if you're moving to a new place, you can easily set things up using that same device.
Whether you take the plunge and install all of the systems above, or whether you pick certain items that you need right now, any move toward smart apps and devices will help bring your apartment technically up-to-date.
Bonus tip: Once you have installed all of your smart systems, you can take one extra step and that is to put them all in the same place in a home automation system. As our friends at techradar.com tell us, "The rise in wireless technology and connectivity means that there are now more opportunities than ever to create a home automation system, controlling everything from lighting, heating, to entertainment centers. Using nothing more than voice commands, a visual interface, or a mobile app, you can use automation to create a truly smart home."
Of course, you can still operate your apartment the old-fashioned way, but with the quickly evolving tech devices and apps, you should definitely consider starting the process to make your apartment smarter.