Flipping homes with no money and bad credit is challenging through conventional financing. However, there are other opportunities to start investing if you understand your financing options.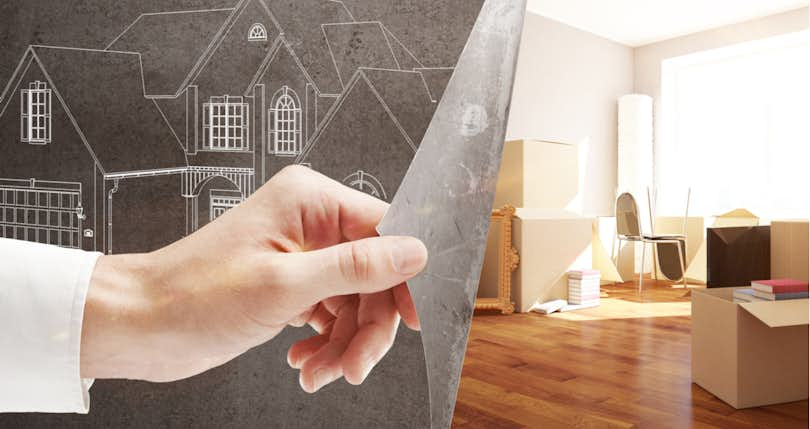 Buying a home with no money and bad credit is challenging given the complexity of the mortgage process. Flipping homes with no money down and a less-than-stellar credit score might seem impossible, but there are more options than ever for new investors.
"The first step is finding an agent who can connect you with lenders and help you find a property in your budget."
Once that's done, consider these options for funding a home flip when you're low on upfront cash.
Work With a Private Lender
When you have bad credit, a private lender could serve as a great source of funding for investors. Private money lenders have a lot of the power of banks but without as many regulations and an added desire to invest. While banks are often working with the stock market and with other financial products, private lenders make a lot of their money through investing.
Private lenders can loan based on their own rules because they're not bound to a financial institution or a government-backed agency. In exchange for the risks they're willing to take, they charge higher fees. However, they also get the money into the hands of applicants much faster than a bank does.
Flipping homes is a fast-paced situation. If you're trying to secure funding or buy a home quickly before someone else does, you need a lender who can get the money you're seeking in your hands in a week or less. Traditional financial institutions can take a month or more.
Try a Hard Money Lender
Hard money lenders are more focused on the real estate industry in particular. Their loans are usually short-term but allow for the high figures required in real estate transactions. Most of their loans need to be paid back between six months to two years.
Hard money lenders operate similarly to general private money lenders. Lending guidelines are looser than traditional banks and traditional mortgages. Since hard money lenders need to make a profit in a short time, instead of the 30 years that a mortgage is spread over, they charge interest rates that range as high as 10% to 15%.
Hard money lenders won't typically loan 100% of the value of the home that buyers are looking flip. Buyers need to have cash on hand to cover around 30% of the value of the home before hard money lenders will offer the funding that buyers need.
Don't let bad credit keep you from investing in property.
A Clever Partner Agent can get you a great deal on an opportunity.
Consider a Home Equity Loan
Homeowners who have built up equity in another property have the chance to use that equity to purchase another home. While most homeowners use their home equity loans to pay for repairs or put kids in college, some use them to start a business, like a house flipping company.
The value of current properties allows for access to cash. Look into a "cash-out refinance" option. With this option, your current mortgage is refinanced based on how much you've already paid off and allows homeowners to take out a cash amount relative to what they've paid.
Another way to use home equity is to open a home equity line of credit or HELOC. Investors can borrow against their equity and pay monthly payments, similar to a credit card. Interest on a HELOC is often tax deductible, which helps to lower the costs of starting your home-flipping business.
Try Wholesaling
Finding a property, contracting it, and then selling it to another a buyer without fixing it up is "wholesaling." As a buyer, you make your money based on a percentage of the final sale price. Wholesaling doesn't involve actually buying properties, meaning that you need financing.
Wholesale properties require a lot of legwork from wholesalers. It's also important to have access to a network of buyers who are interested in properties. To succeed, potential wholesalers need to be good and building connections and have a close and careful eye on the real estate market.
Putting in the effort to negotiate contracts is also vital, as that's where you make all of your money in these transactions. After making some money through this process, investors will be able to put together funding for their first rehab property.
Team Up With Another Flipper
When you're looking to get into the home flipping industry, your region might already have some investors interested and active. Working with another investor can ensure that you get access to capital, experience in the industry, and provide knowledge about where homes in your region can be found.
Taking on a deal with a partner is often better than using a private lender or a hard money lender. Sign a contract with them to ensure you walk away from the transaction with a profit, but split the costs so that you can flip homes with no money without having to worry about credit.
Keep Your Profits With an Experienced Local Agent
When you work with an experienced local agent, you're working with someone who pounds the pavement in your area on a regular basis. They're usually the first to know when homes are in foreclosure and which neighborhood has the lowest-priced homes.
Our Clever Partner Agents offer on-demand showings so you can snatch up great deals.
Contact us today to be paired with one of our Partner Agents who will ensure that you save on your investment.
Related Articles
You May Also Like