Are you considering a wet bar in your home, but you're not sure if it's a good idea? Features that make entertaining easier are often popular, but you want to know all the pros and cons. Find out if a wet bar adds value and what to consider before you add one.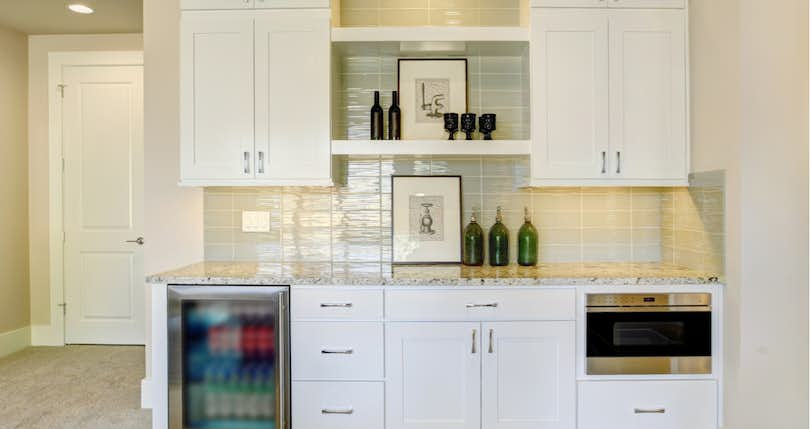 A lot of people enjoy using their homes for entertaining friends and family. Many times, you need space to cook and serve drinks. Having designated areas that make that easier, such as a patio, grill or outdoor kitchen, finished basement, or a wet bar can make your home much more enjoyable.
In some markets, having a space like a wet bar that makes entertaining simple can add to the value of your home. Contact Clever to connect with an agent who can give you professional advice about your home's value.
Should you add a wet bar to your home? What are the benefits and drawbacks? Here's what you need to know.
What Is a Wet Bar?
A wet bar is a counter area where you can easily serve alcoholic drinks, and it's equipped with a sink and running water. A dry bar is a counter or bar but without the sink.
A wet bar can be very helpful if you entertain away from your normal kitchen area. For instance, if you like to have drinks during a party in a finished basement, you won't have to run upstairs to rinse out a pitcher.
You can also have a wet bar on a deck or patio if you enjoy entertaining outside. In fact, with a wet bar, you can give your backyard a resort-like feel.
Are Wet Bars Outdated?
Because this type of update was most popular in the 70s and 80s, some people wonder if a wet bar is still a trendy and useful addition to a home. While today's home layouts include open floor plans that make the kitchen easily accessible, a wet bar can still be a good idea.
They are still popular in a "man cave" or entertainment room in a finished basement, as well as in upscale patio entertainment areas.
To find out whether a wet bar would add value to your home, you'll need to ask an experienced listing agent. Be sure it's a realtor who has a strong grasp of your specific market.
Want to increase the resale value of your home?
A Clever Partner Agent will tell you what buyers pay more for.
A Wet Bar vs. a Dry Bar
For those who want to have liquor easily at hand during a party, a dry bar can also be a great option. You get the service area and storage of a wet bar without having to worry about plumbing.
You can also use a simple liquor cabinet to store and showcase your drink supplies. If you're short on space this is a really good idea.
However, if the location of the bar makes it hard to access the kitchen, or you think you'll be entertaining on a regular basis, a well-designed wet bar can still be a good choice.
What Should Your Wet Bar Include?
If you're designing from scratch, the number one consideration is how the area will be used. Some people create a wet bar with the intention of having occasional adult parties but also giving their kids somewhere to spend time with friends away from the adults.
One trend is including a microwave in the area of the bar, which makes the space feel almost like a galley kitchen. A built-in microwave can look sleek and save countertop space while making it easy to warm up drinks and snacks.
Other ideas include a wine refrigerator or even a small general refrigerator for keeping drinks, mixers, and food cold. A freezer for ice can also be very handy. Both of these options free up your refrigerator and keep snacks and drinks in easy reach.
A wet bar can give you a more comfortable, laid-back place to entertain. If you position your bar near a laundry room or partial bath, running the plumbing will be easier. Be sure to choose an experienced plumber as well!
Be sure to keep the design classy and simple — if you're just installing a second-hand kitchen, people will definitely notice, especially when you go to sell the home.
Curious About Adding Value to Your Home?
Wondering if a wet bar or other addition will add value to your home? To answer the question properly, you need to ask a real estate professional. A realtor with experience in your market and specific neighborhood will know whether a wet bar, dry bar, or other entertainment option is a desirable home feature.
If you're making plans to sell your home, you don't want to add a wet bar just for the value. You won't get out as much as you put in. However, if you already have one or want one for personal use, they can be a great asset when it comes time to sell.
If you're thinking about selling, contact a Clever Partner Agent. They can help you price your home and advertise the unique features that will help it sell quickly for top dollar. Even better, you keep more of your profit because a Partner Agent charges a low listing fee of 1.5% ($3,000 minimum).
Interested in learning more? Reach out to Clever today!
Related Articles
You May Also Like