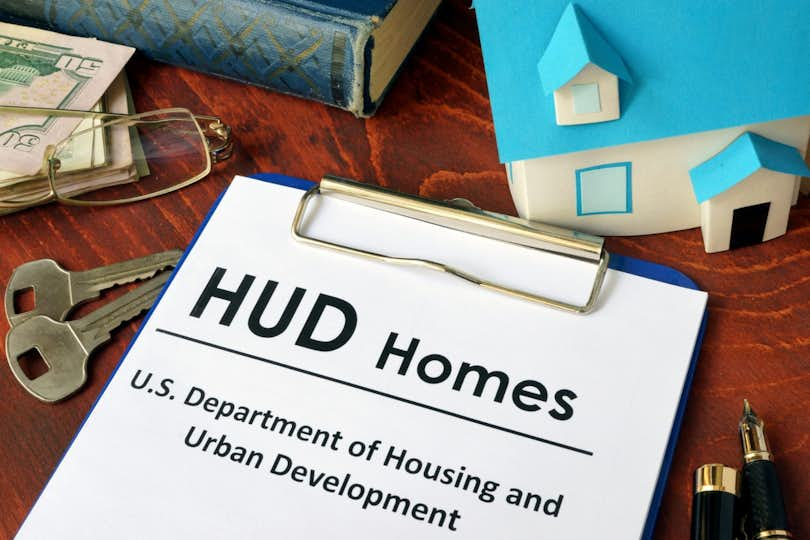 HUD homes are one of the most affordable housing options out there. But also one of the hardest to buy.
If you're wondering how to score a HUD home, we're here to walk you through everything you need to know about the sometime tricky process.
We will briefly explain the HUD home program, profile the typical buyer, explain how to buy a HUD, as well as detail the benefits of living there once your bid is accepted.
So sit back, relax, and let us answer all of your questions.
What is a HUD home?
First things first: what does HUD stand for? It is an abbreviation for the US Department of Housing and Urban Development.
A home (typically a 1-to-4 unit residential property) becomes a HUD home when a mortgage insured by the FHA (Federal Housing Administration) goes into foreclosure. When the foreclosure is final, the HUD becomes the home's official owner. The department then tries to sell the house to the public to recover the financial loss of the initial foreclosure.
It is important to remember that the FHA is part of the HUD. Think of the two organizations as a team. The only difference is that the HUD is the overarching department, while the FHA is the arm that can provide mortgage insurance for an FHA loan.
Who usually lives in a HUD home?
All kinds of people live in HUD homes!
In fact, there are no restrictions on the kind of person who can purchase one. If you can finance the purchase, it's yours. Anyone who has enough for an all-cash offer, or who can qualify for a loan (with certain restrictions, you would get why the HUD would be a little wary) can buy one.
The only caveat to this statement is this: there is a certain period where only owner-occupiers are allowed to make offers. An owner-occupier is a person who plans to make the home their primary residence. However, after a waiting period where the HUD gives this kind of buyer priority, it opens up the offers pool to all kinds of buyers, even investors.
How do you purchase a HUD home?
Purchasing a HUD home is a little bit different than buying a home from a typical seller. You have to be a little bit savvier to survive the process with your sanity intact.
Here's how to do it:
Do your research.
This step actually has two parts. This is because you have to research the HUD program in general (which, if you're reading this, you've already started! Yay!) and the specific house that you want to buy.
If you are concerned that since HUD properties belong to the government that researching them might be hard, you are actually in luck. The HUD website uses fairly accessible language and features many helpful links and articles. The most important bit is the information on there is the state-specific programs that supplement the federal home-buying assistance programs. This is because these can really vary from state to state, so it's easier to have them all in one place.
To find out more about the specific home you want to buy, you need to look into the home's recent tax assessments, comparable sales, and reports of any criminal activity in the home. These legal records are usually easily found through a County Clerk, while a good real estate agent could help you with the comparable sales.
Strike while the iron is hot.
Things tend to move quickly when you purchase a HUD foreclosure. Typically, the waiting period before investors can snatch up a property is 30 days after the initial listing. So, if you are interested in any homes in your area, you need to work closely with your mortgage lender and real estate broker to make a move on a property before the investors can get to it.
If you are an investor, then know that on day 31, it is likely that the offers will come pouring in for all HUD properties. Have your earnest money ready and be prepared for some tough negotiations.
Hire an inspector.
Most HUD-approved properties are sold "as is." This means that when buying the home, what you see if what you get. The HUD is not usually willing to make any major repairs to the property.
And, unfortunately, there is usually some work to be done. This is because these homes are foreclosures. If a homeowner was unable to keep up with their mortgage payments, then it is also unlikely that they were able to keep up with their home maintenance.
By performing a home inspection, you can decide how much work a specific home would need and whether or not that is something you are interested in doing.
Work with a Realtor.
The purchase of a HUD can only be completed through a licensed Realtor.
This is because the HUD sells these homes through a bidding process, and only actual real estate agents are allowed to submit bids. So, whether you plan to live in the home yourself or are buying the home to renovate and flip, be sure you have a savvy and experienced Realtor on your team.
What are the benefits of owning a HUD home?
There are many benefits to choosing to purchase an HUD home. The government wants to get these homes off of its hands. Because of this, while the HUD says the homes are at fair market value, they are actually typically priced below. This is because the HUD really wants to sell these homes!
There are even buyers programs that function as additional motivation to encourage buyers. One example is the HUD "Good Neighbor" program which offers HUD home at a 50% discount to people like teachers, police officers, firefighters, and EMS personnel who promise to live in the home for at least 36 months.
Having these kinds of folks in the neighborhood helps to revitalize it, at least in the eyes of the HUD. This is why they are eligible for such a nice discount!
What are the drawbacks of owning a HUD home?
As mentioned, the main drawback of owning a HUD home is their condition at the time of purchase. However, if you complete your home inspection beforehand, then there is nothing that could be wrong with the property that would come as a surprise to you. So, this "drawback" is hardly a drawback at all since you are in complete control of its outcome!
Related links