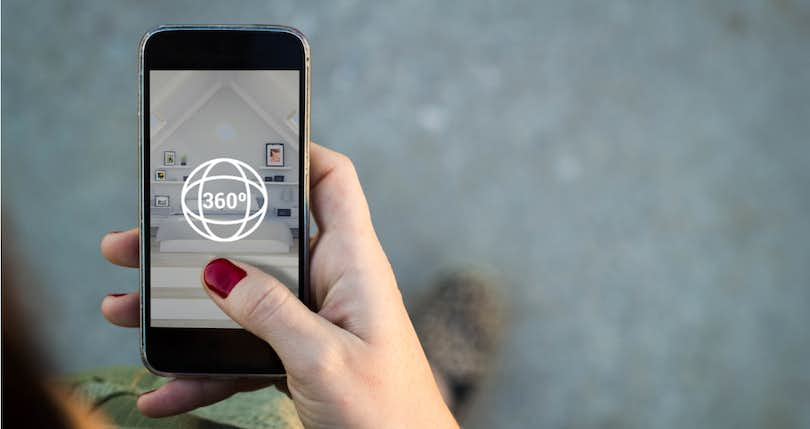 The pandemic has changed the way the world does business — it now includes wearing a mask, social distancing and avoiding large groups of people in general. And it's likely this new normal will stick around for a while. While the U.S. Department of Homeland Security recently classified real estate as an essential service, local laws may dictate whether buyers, sellers, and their agents are able to engage in things like in-person open houses or closings.
The good news for real estate agents during this trying time is that there are lots of solutions to keep business moving forward and some agents have been using them for years.
New normal of selling and buying
Virtual open houses and showings
As you know, open houses are one of the main ways for agents to draw in potential home buyers. Once you're able to get in front of them — and get them physically inside the house — you're able to highlight the home's great features, answer any questions they may have about the property, and put at ease any reluctance they may have.
With the Center for Disease Control (CDC)'s guidance to limit all gatherings to 10 people or less in light of COVID-19, many sellers have turned to virtual technology to show their home — including virtual tours or even augmented reality. Virtual showings have increased 10,000% in China and we could see similar numbers here in the U.S.
Virtual showings may be arranged for a more one-on-one experience and to allow the buyer to ask any specific questions. Virtual showings have been used by savvy agents for years, particularly for luxury or commercial properties in which remote investors don't want to travel physically to the area. They're able to feel confident enough to buy sight unseen.
Virtual reality provides a 3D, 360-degree tour of a seller's home that offers immersive visualizations in high resolution. It may not fully replace an in-person tour, but it's close. While this may sound difficult or expensive, it's not as tricky as it seems. Many companies already exist in this space to help real estate agents and their clients produce great 3D virtual home hours.
Contact-less inspections and appraisals
After an offer is accepted by a buyer, the next step is typically for the buyer to order an inspection — for which the seller is often present. A buyer's lender may also request access to the home for an accurate appraisal. In the time of COVID-19, both processes can put homeowners at an unnecessary risk — but, inspections and appraisals still need to be done.
It is becoming more and more common for inspections companies to advise owners to stay in a certain part of their home while a masked and gloved inspector completes their job and finishes their report. Some lenders are also allowing drive-by appraisals and photos submitted by the homeowner in order to qualify the buyer for the home's purchase price. This removes the need for yet another person to enter the home and potentially contaminate the owners and their living area.
Remote home closings
Home closings are even going remote. While in-person closings were by far the norm prior to the pandemic, the real estate industry has quickly adapted by adding remote closings to its tool box. Last year, just 18 states allowed for online notarization, but now, nearly every U.S. state has issued an emergency declaration allowing for buyer's and seller's identities to be verified by a notary via video and documents to be signed electronically. This opens the door for fully remote home closings through the U.S.
Mobile notaries are also an option — with local notaries visiting both the buyer's and seller's homes separately and using advised safety measures in order to complete paperwork. The capability of a remote closing usually depends on the buyer's lender and state guidelines.
Housing market outlook
While the U.S. housing market was continuing to thrive prior to March 2020 — the pandemic certainly stirred things up. To find out how the virus affected home buyers and sellers, Clever surveyed 1,000 people on March 31 and discovered how Americans' finances have been impacted thus far.
Sellers dropping prices and buyers looking for a bargain
In the few weeks immediately following the first stay-at-home orders, the market saw a drop in active listings — there were 15% less active listings in March 2020 than March 2019. Clever found that 23% of those surveyed had pulled their home off the market. Twenty-seven percent of sellers decided to drop their price in hopes of encouraging a quick sale. Of those planning to sell their home over the next 12 months, 31% decided to postpone.
As homeowners may be facing less of their equity captured as profit when selling their home, more may be looking to sell for-sale-by-owner (FSBO). Unknowingly, this may cause them to lose even more equity since FSBOs typically sell for much less. This can be especially true in a buyer's market. Consider offering discount options to potential clients as a happy medium.
A whopping 55% of buyers have decided to hold off on their purchase, but those buyers remaining are now looking for deals. They might have been willing to pay full price prior to the pandemic but, they are now on the hunt for a discount as sellers want to sell quickly in an uncertain market.
While some areas may be more sheltered from the virus's effects and a drop in prices, certain areas will likely see a sharp decline. If you typically only handle new listings or the selling side of real estate, you may also consider expanding your services to be a buyer's agent as well.
If your home buyers and sellers are in an area where vacation rentals are popular, the prototypical vacation rental business plan needs to be completely reworked. Help your clients understand they can't expect typical cash flow during pandemic times, and their business plans need to be adapted to expect vacancies in the event of a second outbreak.
Increased foreclosures
Clever found that 30% of homeowners had less than $1,000 in savings and 40% said they would run out of savings in less than a month. Furloughs, layoffs, and decreases in hours means borrowers will likely burn through their savings quickly and be at risk of defaulting on mortgages resulting in an increase of foreclosures.
Sellers may be panicked, but try to steer clients away from "we buy houses for cash" investors that are trying to capitalize on their fear. By working with their lender and getting their home on the market quickly, they'll typically sell their home for much more than going with a buy-in-cash investor looking for a bargain.
Fewer home buyers
While they may be able to find a bargain in the new market, you may see home buyers having a more difficult time qualifying for mortgages. Despite the Federal Reserve trying to spur home purchases through historically low interest rates, uncertainty of their future employment may leave some buyers still holding off. We've also already seen lenders tightening requirements for future borrowers, which means those buyers who may have qualified pre-pandemic may no longer be approved. Even if they do qualify, they may have had to dip into their savings — which may have been their down payment. This decrease in buyers could mean the housing market will cool.
More inventory
Home inventory will likely spike immediately after shelter-in-place mandates are lifted. The backlog of those who pulled their listing at the start of the pandemic or held off until more was known will list again and some may look to downsize after a recent job change or drop in savings account.
Will it be like the 2008 crash or post-9/11 market?
The 2008 housing crash was very different from what we are experiencing now. The 2008 crash was caused by bad lending practices directly within the housing industry, not by the dip in the economy as a whole. Unlike what caused the 2008 crash, lending practices are largely still risk-averse, but this is paired with large amounts of Americans heavily in debt. So, while lenders are lowering the risk on their end — loan default risk has dropped from 16% in 2006 to just 2.3% currently, for example — more Americans won't qualify for a mortgage.
The post-9/11 housing market was more similar in that the attacks led to a sharp drop in the stock market, and the airline industry in particular suffered greatly. However, the difference is that 9/11 was a single day — COVID-19 has put Americans out of work for almost two months and many will continue to be unemployed. The virus's effects on wages and savings could be much more devastating.
How long will it last?
That is certainly the question on everyone's mind. It's hard to predict what will happen in the near future and the full impact the coronavirus will have on the U.S. economy and housing market. The disruption certainly will last until states begin to open up, but may go on until there is a vaccine and people begin feeling more comfortable in large groups and spending money.
As social distancing may be here to stay — at least for the next several months — the more proactive you can be as an agent, the better. Ease your clients' stress by offering creative and adaptive solutions for selling or buying their home (like mentioned above). By researching your options early and coming up with a contingency plan, you'll have an edge up on the competition and capture more clients as a result.