The process leading up to the decision to buy a home is full of questions. One of the most important being, "is now the best time to buy?" Depending on location, there are several factors to consider. Like the time of year, market conditions, the economy, and your personal financial situation.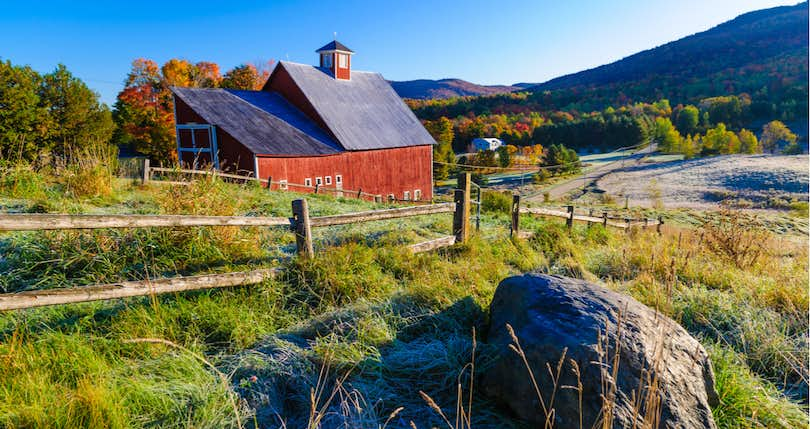 Buying a house is a stressful and emotional process. You'll likely have to spend weeks touring properties, fill out hundreds of forms, and invest a large chunk of your savings to secure the right house.
One way to make buying a house easier is starting the process at the right time. In Vermont, housing inventory, mortgage rates, and market trends vary from month to month.
For example, this year listing prices for homes in Vermont were lowest in January. On average, homes were $42,770 less expensive. While in November — the month with the highest prices — the listing prices were $49,963 more than the annual average.
In truth, the best time to buy a house really depends on your priorities and situation. Read on to find out which time of year will give you the most options and the biggest savings when buying a house in Vermont.
If you're interested in buying a home, the first step in the home buying journey is to find an experienced realtor who's an expert in your local market. The right agent can help you find the best house for your budget and priorities - and negotiate a winning offer so you don't miss out on your dream home.
The easiest way to find a great local realtor is to use a free service like Clever Real Estate. Clever matches home buyers like you with top agents in your area so you can compare your options and choose a realtor who's the right fit for you.
You can interview multiple agents until you find the perfect fit, or walk away at any time - Clever's service is 100% free with no obligation. Fill out the form below to instantly request hand-picked agent matches now!
💰 Buy with a top agent, earn cash back!
Buy your dream home with a top local realtor from a trusted brand like Keller Williams or RE/MAX. Keep more money in your pocket by earning cash back on eligible purchases.
Enter your zip code to request hand-picked agent matches in minutes. Compare your options until you find the perfect fit, or walk away with no obligation. Try Clever's free service today!
Best Time of Year to Buy in Vermont
The housing market slows down in all climates at one time of the year or another. Vermont is no exception, however, the best time to purchase a home in the Green Mountain state is actually winter. Granted, the conditions are not ideal to move during this time, however, the closing and possession dates can be negotiated to meet the needs of the buyer and seller.
The reasons winter is the best time to buy are logical. For instance, sellers are more motivated, particularly when they don't want to be there, and continue to pay high heating costs and deal with the snow. During this time, there is less competition, since most buyers are waiting until the spring for nicer weather. Less competition means lower prices, and other concessions the seller is willing to give up to entice the right buyer.
Since there will be fewer transactions going through the system, appraisers, lenders, and inspectors tend to have more time on their hands. Therefore the time it takes to complete these preliminaries is reduced, leading to a faster closing.
The Best Places to Buy a Home in Vermont
We all have different priorities and goals, however, desire mostly the same things. Including the desire to live a healthy and prosperous life, that's full of good relationships and fond memories. Therefore deciding where to live and why is different for each person. So we've compiled a short list of the top five best places to live in Vermont primarily based on affordability.
It is also worth noting that the following top five cities have strong median wages and a low cost of living, which means a better quality of life.
Enosburg Falls has a population of 1,306 and is the sixth most affordable based on the home price to income ratio. The city has a low employment rate of just 2.7% and the most common income levels range from $50,000 - $74,999.
Poultney is home to 1,510 people and the median income is $42,444. At least 39% of the residents have a high school diploma. The median home value is $136,300. A quick search of the area found homes with as many as four bedrooms for just $185,000.00.
Newport moves up seven spots from last year. It's the third most affordable city based on home price to income ratio, however, the city has an unemployment rate of 7.6%.
St. Albans is also listed as number seven on the fastest growing Vermont cities in 2019. The income to rent ratio makes it the 8th cheapest places to live and it has a population of 6,847.
Swanton also ranks higher on the list this year. The low 3.0% unemployment rate and the median home value of $179,000 are the biggest contributing factors. Here is where you'll also find 4 bedroom homes selling for less than $260,000.
4 Ways to Get a Great Deal on a Home in Vermont
Find a Great Vermont Real Estate Agent
An experienced buyer's agent can help you keep your costs down by negotiating on your behalf and saving you thousands. An agent will advise you on what to offer, and discuss the pros and cons of the property you choose. Also, you have someone in your corner with your best interests at heart.
Learn More: What Does a Real Estate Agent Do for a Buyer?
Assess your Needs and Lay Out Your Goals
Another intangible benefit to partnering with an agent is their third-party objectivity. Perhaps you're newly married and plan on having children in the next five years, or maybe your family has a dog, and you prefer at least a ½ acre; an agent can locate an ideal property for a growing family. Based on your budget and money for a down payment, the agent may have a few homes in mind by the time you finish your first conversation with them.
Find a Lender and Secure Financing
Unless you plan to buy your home with cash, you'll need to apply for a mortgage. For most home buyers in Vermont, interest rates are among the biggest factors when choosing a lender. Doing a little upfront research and comparing options to find the best rates could save you tens of thousands of dollars over the life of your loan.
For example, in Vermont a typical house is worth $269,000. Assuming a 20% down payment, if you took out a 30-year mortgage for 3.5%, your monthly payment would be $960. But if you shopped around and found a 3% mortgage, your monthly payment would drop to about $907.
Getting a mortgage is a big decision – and it pays to shop around! Keep shopping until you find a lender with competitive rates who also understands your goals. Don't get pressured into taking on a bigger loan than you're comfortable with – work with a lender who explains what you're really signing up for.It's easy to start your home buying journey – answer a few questions to get instantly matched with a lender who works in your area.
Negotiate for the Best Possible Price
Now that you've found your dream home, what's next? Well, your agent will advise and help you submit an offer. After the inspection, the agent will negotiate to ensure the best deal possible for you.
Learn More: How to Find a Buyer's Agent That's a Good Negotiator
Clever is here to help! We can answer your questions and connect you with a top-rated local Partner Agent for a no-obligation consultation. Contact us today.
You May Also Like