Searching for a new home can be an exciting experience. But location isn't everything. Knowing the best time to buy and making your purchase at the right time is just as critical. Here's what you should know about the best time to buy a house in Mississippi.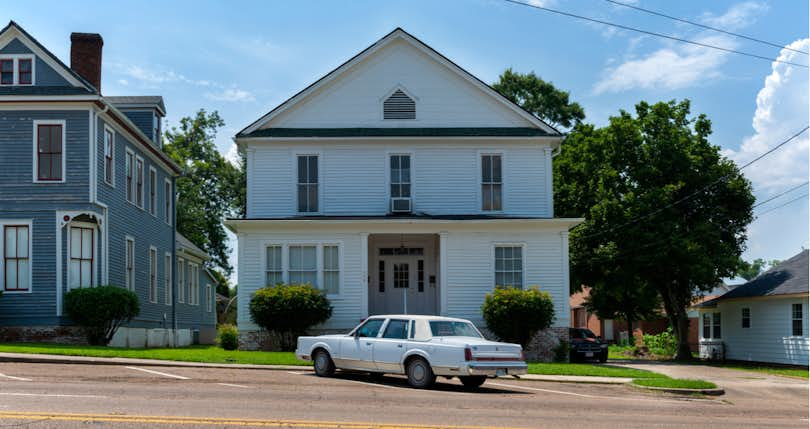 Buying a house is a stressful and emotional process. You'll likely have to spend weeks touring properties, fill out hundreds of forms, and invest a large chunk of your savings to secure the right house.
One way to make buying a house easier is starting the process at the right time. In Mississippi, housing inventory, mortgage rates, and market trends vary from month to month.
For example, this year listing prices for homes in Mississippi were lowest in February. On average, homes were $18,655 less expensive. While in October — the month with the highest prices — the listing prices were $20,485 more than the annual average.
In truth, the best time to buy a house really depends on your priorities and situation. Read on to find out which time of year will give you the most options and the biggest savings when buying a house in Mississippi.
If you're interested in buying a home, the first step in your home buying journey is to find an experienced realtor who's an expert in your local market. The right agent can help you find the best house for your budget and priorities — and negotiate a winning offer so you don't lose out on your dream home.
The easiest way to find a great local realtor is to use a free service like Clever Real Estate. Clever matches home buyers like you with top agents in your area so you can compare your options and choose a realtor who's the right fit for you.
You can interview multiple agents until you find the perfect fit, or walk away at any time - Clever's service is 100% free with no obligation. Fill out the form below to instantly request hand-picked agent matches now!
👋 Find your perfect agent now!
Finding a great local realtor is the first step in making your home buying dreams a reality. Our free service matches you with top agents from trusted brands like Keller Williams and RE/MAX.
Enter your zip code to request hand-picked agent matches in minutes. Compare your options until you find the perfect fit, or walk away with no obligation. Try Clever's free service today!
Best Time of year to Buy in Mississippi
Based on historical data, March through April are the best times for buyers in Mississippi. Winter is always a good time to buy in most locations given that there's more stable pricing and less competition. Be it weather or the holiday season, not many people shop for homes in winter meaning you aren't competing with as many buyers.
The current market in Mississippi looks good for buyers. Listing prices are down 2.3% monthly and 4.7% annually. Additionally, 13.4% of listings have price cuts of 2.5% on average. It's a great time to work with your local real estate agent to find a deal and buy your new home.
Best Place to Find a Home in Mississippi
There are many desirable places in the state of Mississippi. However, narrowing down options from the entire state can be a bit daunting. Here are five of the best places to buy a home in Mississippi. It should give you a good place to start your search.
Cleary
If you enjoy a rural feel and a low cost of living, Cleary is a great place to settle down. They have above-average schools and a quiet, country life that many enjoy. It's popular among retirees and is home to 1,305 people. The median home value is $118,200 and 93% of residents own their homes.
Madison
Madison is a charming suburb that has great schools and a good job outlook. It's popular among families, especially those with children. Madison is home to 25,350 people, has a median home value of $250,000, and 92% of its residents own their homes.
Hide-A-Way Lake
This suburb is attractive for retirees and families due to its low cost of living. There's also a decent employment outlook in this area and it's safe as well. There are currently 1,881 people in Hide-A-Way Lake, the median home value is $162,300, and 88% of residents own their homes.
Pontotoc
One of the more diverse and culturally rich suburbs in Mississippi, Pontotoc boasts great schools, a low cost of living, and a wonderful family atmosphere. As such, it's popular among families and young professionals, as well. There are currently 5,923 people calling Pontotoc home. The median home value is $118,900, and 66% of residents own their homes.
Gulf Park Estates
Gulf Park Estates is known for its top-rated public schools, suburban living, and availability of outdoor activities. For those who like quiet, country charm but who still want access to activities and the outdoors, Gulf Park Estates is a great option. It's great for families and young professionals. Currently, 6,461 people live in Gulf Park Estates. The median home value is $141,300 and 75% of residents own their homes.
4 Ways to Get a Great Deal on a Home in Mississippi
Finding a great deal on a home can be a challenge, but it's not impossible. With a sound strategy and professional advice, you can land the Mississippi home of your dream while still getting an affordable price, too. Here are some tips for landing a deal on your Mississippi home.
Find a Great Mississippi Real Estate Agent
An experienced, local buyer's agent has in-depth knowledge about your specific market. They can use this knowledge to help you navigate the nuanced and complicated process of finding a home and getting a great deal.
From property taxes to homeowners insurance, a real estate agent can be your advocate through the home buying process and personalize your search to find an affordable home that meets your needs.
Assess Your Needs and Lay Out Your Goals
Working with a local real estate agent can also help you clarify your parameters when searching for a home. Knowing you want to buy a house won't get you very far. You need to have a thorough understanding of what to look for when buying a home, and a local real estate agent can help you do that.
Your agent can also help you decide on an appropriate budget, help narrow down your must-haves, identify ideal neighborhoods, and can even help you find discounts and home buyer rebates you didn't know existed.
Find a Lender and Secure Financing
Unless you plan to buy your home with cash, you'll need to apply for a mortgage. For most home buyers in Mississippi, interest rates are among the biggest factors when choosing a lender. Doing a little upfront research and comparing options to find the best rates could save you tens of thousands of dollars over the life of your loan.
For example, in Mississippi a typical house is worth $136,000. Assuming a 20% down payment, if you took out a 30-year mortgage for 3.5%, your monthly payment would be $485. But if you shopped around and found a 3% mortgage, your monthly payment would drop to about $459.
Getting a mortgage is a big decision – and it pays to shop around! Keep shopping until you find a lender with competitive rates who also understands your goals. Don't get pressured into taking on a bigger loan than you're comfortable with – work with a lender who explains what you're really signing up for.» Get instantly matched with a lender who works in your area.
Negotiate for the Best Price
Finding a real estate agent who knows how to negotiate is critical. Negotiations happen throughout the home buying process, but they're particularly important post-inspection. At this point, the true value of the home is known, so you can start negotiating to get the best deal possible.
An experienced real estate agent is an invaluable resource as you navigate the complex world of home buying. To find an experienced real estate agent in the market you've chosen, complete our online form.
A Clever representative will be in touch with you to answer any questions you might have and connect you with a local Partner Agent.
All Clever Partner Agents are verified top performers in their local markets, so you know you'll be getting expert advice. Your no-obligation consultation can provide valuable insight, and choosing to work with a Partner Agent can help you secure the home of your dreams in Mississippi.
Get started by contacting Clever today.
You May Also Like