Denver is a popular location to buy a home right now, so buying at the right time is important. If you're considering purchasing a property in Denver this year, this guide will help you determine the right time to buy, the right areas to live, and offer helpful tips on even more ways to save money.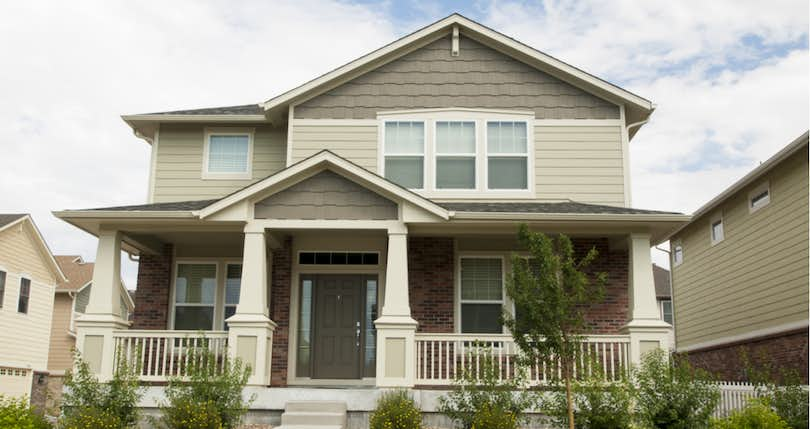 Buying a house is a stressful and emotional process. You'll likely have to spend weeks touring properties, fill out hundreds of forms, and invest a large chunk of your savings to secure the right house.
One way to make buying a house easier is starting the process at the right time. In Denver, housing inventory, mortgage rates, and market trends vary from month to month.
For example, this year listing prices for homes in Colorado were lowest in May. On average, homes were $107,627 less expensive. While in November — the month with the highest prices — the listing prices were $104,342 more than the annual average.
In truth, the best time to buy a house really depends on your priorities and situation. Read on to find out which time of year will give you the most options and the biggest savings when buying a house in Denver.
If you're interested in buying a home, the first step in the home buying journey is to find an experienced realtor who's an expert in your local market. The right agent can help you find the best house for your budget and priorities - and negotiate a winning offer so you don't miss out on your dream home.
The easiest way to find a great local realtor is to use a free service like Clever Real Estate. Clever matches home buyers like you with top agents in your area so you can compare your options and choose a realtor who's the right fit for you.
You can interview multiple agents until you find the perfect fit, or walk away at any time - Clever's service is 100% free with no obligation. Fill out the form below to instantly request hand-picked agent matches now!
💰 Buy with a top agent, earn cash back!
Buy your dream home with a top local realtor from a trusted brand like Keller Williams or RE/MAX. Keep more money in your pocket by earning cash back on eligible purchases.
Enter your zip code to request hand-picked agent matches in minutes. Compare your options until you find the perfect fit, or walk away with no obligation. Try Clever's free service today!
Best Time of Year to Buy in Denver
In 2018, Denver's real estate market was booming, with higher demand than the housing industry could keep up with. As a result, home prices increased and made it more expensive for buyers to purchase property in the Mile High City. In 2019, the market is still going strong, but things are beginning to cool off. While it's still undoubtedly a seller's market, buyers are slowly beginning to gain some ground.
In general, in the US, the winter is the best season for any buyer to look for homes, since home competition is down and buyers are more likely to find housing at lower prices. However, waiting until the end of the year can lead to buyers locking in higher mortgage rates, especially since rates are expected to continue rising this year in Denver.
The best time for buyers to begin looking for homes in Denver in 2019 will be summertime, and purchasing towards the end of summer will allow buyers a better selection of inventory at lower prices than in the spring or early summer.
The Best Places to Buy a Home in Denver
Now that you know the best time to buy in Denver, you might be wondering which areas in Denver are the best to purchase property in. From school ratings to home prices to overall quality of living, you can't go wrong with buying a home in one of these five neighborhoods.
1. South Park Hill
This small Denver neighborhood is home to roughly 9,491 residents and is considered the best place to live in the city. This urban area has great access to bars, nightlife, and coffee shops, but also is full of parks and family-friendly activities. Public schools have a good rating and the crime rate is also low. Expect to pay an average of $527k for a home in this area.
2. Wellshire
This tiny neighborhood in Denver is bustling with attractions, restaurants, and parks. Wellshire has great public schools, is a great area for families to live, and has a low crime rate. The median home value here is approximately $562k.
3. Eastridge Ptarmigan Park
Families looking for excellent school districts will love this Denver neighborhood with above average public school options. This Denver neighborhood is more liberal, has great access to nightlife, and is home to many families and young professionals. The median home value here is on the lower side, at only $243k.
4. Country Club
This Denver neighborhood is one of the most sought after places to live with access to great public schools, a low crime rate, great nightlife, and excellent amenities for families. Most residents in this area own their homes, however, the median home value is on the high side, clocking in at around $942k.
5. Cheeseman Park
With a population of roughly 8,895, this Denver city neighborhood boasts a plethora of attractions, from restaurants and nightclubs to parks and coffee shops. It's listed as a great place for families with good school systems. Median home values in this neighborhood are also on the lower end of the spectrum, averaging $295k.
4 Ways to Get a Great Deal On a Home in Denver
Knowing the best time of year and area in Dever to purchase a home are great ways to save money during the buying process. However, there are several more important tips potential buyers should consider before purchasing property in the Mile High City.
Find a Great Denver Real Estate Agent
A great agent is the best way for anyone looking for a home in Denver to save money. Since the market fluctuates so often and is currently great for sellers, a talented local agent will have the knowledge and expertise to help you save as much as possible during the home buying process.
A local agent in Denver will work on your behalf to find the right home in the right location and at the right price. Many full-service agents also offer home buyer rebates to help you save even more money.
Learn More: What Does a Real Estate Agent Do for a Buyer?
Assess Your Needs and Lay Out Your Goals
Price and location aren't the only two factors buyers look for when purchasing a home. Find a home with a great layout that has all of the amenities you need is important during the searching process. Your agent can set up searches on the MLS to notify them of new homes that match your desired criteria the second they hit the market.
Working with an agent will provide you with faster access to new properties hours or days before they hit popular online home search sites.
Find a Lender and Secure Financing
Unless you plan to buy your home with cash, you'll need to apply for a mortgage. For most home buyers in Denver, interest rates are among the biggest factors when choosing a lender. Doing a little upfront research and comparing options to find the best rates could save you tens of thousands of dollars over the life of your loan.
For example, in Colorado a typical house is worth $428,000. Assuming a 20% down payment, if you took out a 30-year mortgage for 3.5%, your monthly payment would be $1,527. But if you shopped around and found a 3% mortgage, your monthly payment would drop to about $1,444.
Getting a mortgage is a big decision – and it pays to shop around! Keep shopping until you find a lender with competitive rates who also understands your goals. Don't get pressured into taking on a bigger loan than you're comfortable with – work with a lender who explains what you're really signing up for.It's easy to start your home buying journey – answer a few questions to get instantly matched with a lender who works in your area.
Negotiate for the Best Possible Price
Once you find the home you're ready to make an offer on, work with your agent to determine the right strategy. Sometimes it makes sense to offer asking price, while other times offering more or less is a better option. Your agent understands the local market better than anyone else and can offer sound advice on this process.
After your offer is accepted, your agent can help you navigate the home inspection process, review the inspection results, and work with the seller's agent to negotiate any repairs or issues found in the report.
When you're ready to begin the buying process for your new home in Denver, reach out to a trusted Clever Partner Agent for guidance. Get started by filling out the online form and a Clever Partner Agent will reach out to you to set up a no-obligation consultation.
You May Also Like