HUD homes can be a way for investors to acquire rental property at affordable prices. However, they should make sure they do their due diligence before going through with the purchase.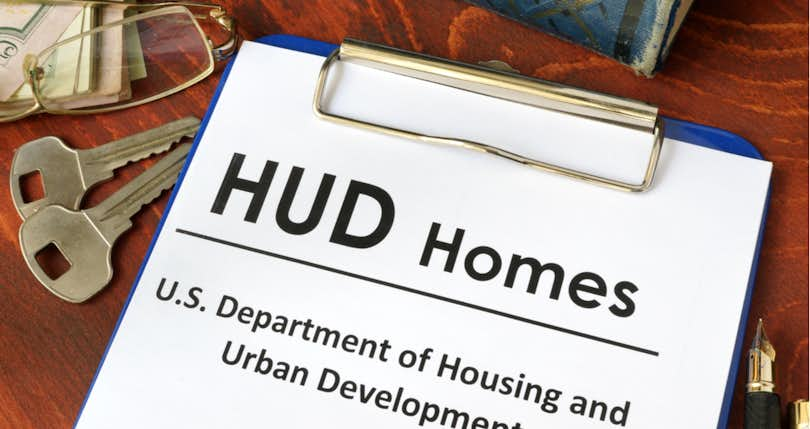 FHA loans are a popular mortgage program offered by the government. When a buyer cannot repay an FHA loan and the house undergoes foreclosure, it goes into the possession of the Department of Housing and Urban Development (HUD). These are known as HUD homes.
HUD homes are a great avenue for real estate investors. Let's take a look at some of the pros and cons of buying HUD homes and turning them into rental property.
Pros
Easy to find
Foreclosures happen all the time. And since FHA loans account for 20% of all the mortgage loans in the country, a lot of those foreclosed properties go into the HUD program.
This makes HUD homes a reliable source for those looking to invest in rental properties. The HUD has its own website where you can find homes are on sale. You can find the most up-to-date listings and browse houses based on criteria like price and number of bedrooms.
There are also real estate brokers approved by the HUD who can help you find a home that you can use as a rental property.
Straightforward Buying Process
As mentioned earlier, homes that go into the HUD possession were foreclosed on since the previous owner wasn't able to pay the mortgage. The HUD looks to sell these houses quickly so it can recoup the money used to pay off the mortgage.
The process by which the FHA sells these homes is by accepting bids. Usually, the highest bidder gets the house. You don't have to worry about any other factors other making the highest bid you can and if you do, you can be almost certain that you will purchase the property.
Good Prices
Unlike individual home sellers, the HUD generally isn't looking to make a big profit on the homes they sell. When a house gets foreclosed on, they carry out an appraisal to arrive at its fair market value. The price of the home is set in that range.
If a house requires repairs, which they usually do, then that amount is deducted from the price. This makes it easier for real estate investors to go forward with buying HUD homes since they don't have to negotiate with sellers or their agents.
Less Competition
Since HUD homes have gone through the foreclosure process, they're usually not in the best condition when they're sold. This tends to make it less desirable to buyers, especially those looking to purchase a primary residence.
This serves as an opportunity to industrious real estate investors looking to purchase rental property. Since some buyers are turned off HUD properties, there's lesser competition to deal with. If you don't mind spending money on repairing the home, it can return profits in the long run as a rental property.
Thinking of buying a HUD property as a rental investment?
A Clever Partner Agent will help you find a great opportunity.
Cons
Real Estate Investors Can't Bid Immediately
The laws around purchasing HUD homes puts investors at a disadvantage when it comes to the speed with which they can acquire such properties.
The HUD doesn't allow investors to make a bid on one of its houses inside 30 days of it going up for sale. That means that those looking to buy the house as a primary residence have a whole month to decide whether they like the house and make an offer for it.
This can make it hard to get HUD houses, especially in markets where there is a high demand for housing. Real estate investors need to act quickly and have all their documents ready as soon as they are legally allowed to make a bid on a HUD house.
Sketchy Histories
A lot of HUD homes have sketchy histories. It's not uncommon for these homes to be former places to store contraband or produce drugs. There have been cases in different parts of the country where families have purchased foreclosed homes to find that they were previously used as meth labs.
Buying a house with such a history can be a problem for those who want to use it as a rental property. Investors should always get inspections done before making an offer to make sure that the house doesn't pose any hazards to future residents.
You Have to Buy "As Is"
Another problem with purchasing a HUD home as rental property is that you don't have the option of negotiating repairs with the owner. These properties belong to the HUD and are always sold "as is."
For that reason, real estate investors should always account for the costs of repairing the house when making a budget for the purchase. Inspections can help you arrive at a ballpark figure for how much repairs will cost. You can then project the after-repair value based on that.
It isn't always an easy decision to decide whether a HUD home is a good real estate investment. This is especially true if you want to turn it into a rental property, since you have to bring it to a condition where it looks appealing to renters in the area.
Consulting a local real estate agent can help you ensure you're making a good investment. Clever Partner Agents help real estate investors make profitable decisions and guide them through the process of purchasing HUD homes.
Contact Clever to connect with a Partner Agent who can help you decide whether a HUD home is a good investment.
Related Articles
You May Also Like