Wondering if you can get your dream home for less by purchasing a foreclosure? It's certainly not unheard of. If you have a stellar agent, it's totally possible to get a great piece of property for below market value. Check out these seven FAQs covering the pros and cons of buying a foreclosed home.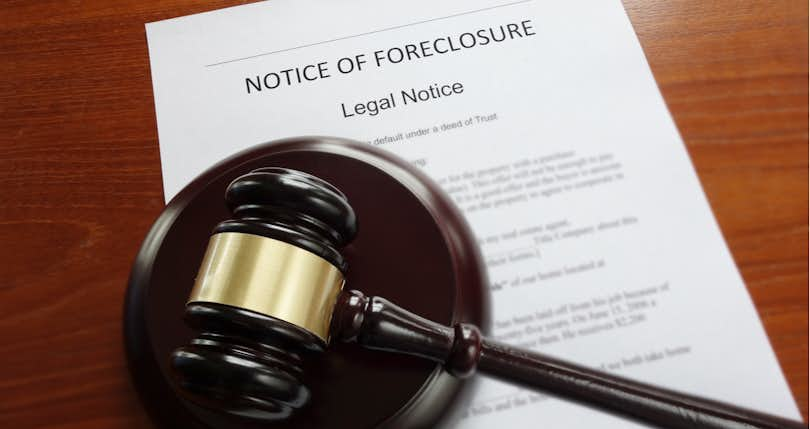 Thinking about trying to get more house for your money with a foreclosed home? While it's not without its challenges, if you have a good agent, you could come away with a dream home for less.
But you'll want to do a bit of homework and be prepared to have patience. Buying a foreclosed home can be an uncertain, lengthy, and stressful process if you don't know what you're getting into ahead of time. To give you an overview, here are seven FAQs about the pros and cons of buying a foreclosed home.
What is a foreclosed home?
When a homeowner fails to make mortgage payments on a home, the bank can seize the home as collateral for the unpaid mortgage. If the bank can't sell the home at a foreclosure auction for the amount it needs to satisfy the outstanding mortgage, the bank then owns the property.
Banks don't like to sit on foreclosed properties because they aren't making any money, so they put them on the market to try to get rid of them and recoup as much of the mortgage as they can. Because every foreclosed home has its own history, there can be different challenges involved when attempting to purchase them.
What is the difference between a foreclosed home and an REO?
Foreclosure is a process, not the end result. It's a process the bank goes through to take a property once a borrower fails to make payments on their mortgage.
Once the bank has foreclosed on the property, they normally try to sell it at auction. The bank will usually set a minimum bid that has to be reached. If they cannot sell the property at auction, then the bank owns the property.
REO is short for real estate owned — or owned by the lender. It is the same as a bank owned property. Although foreclosure, REO, and bank owned are often used interchangeably, it's important to understand that when you are buying a foreclosed home from a lender, you are buying a bank owned property.
What are the risks of buying a foreclosure?
While it may take anywhere from six to eight weeks to purchase a traditional home, purchasing a foreclosure can end up taking anywhere from six months to a year. Foreclosed properties are sold "as is."
Because they were lost by financially distressed homeowners, they may not have been cared for or may even have been vandalized. The bank will not pay for repairs so you'll want to get an inspection and budget money for repairs.
You may also have to pay transfer taxes as well as any superior liens or taxes on the property if the title isn't clear. Make absolutely sure that you purchase title insurance. Don't assume that the title is clear of liens just because it is bank owned.
Thinking of buying a foreclosed home?
A local Partner Agent will walk you through the process.
Can I get financing to buy a foreclosed property?
Many lenders offer financing for bank owned homes. Make sure your credit is decent and get a property inspection so the lender knows the condition of the property before considering your pre-approval for a mortgage. You must have a pre-approval before you can make an offer on a foreclosed property.
Financing can be influenced by the home's condition. If the house is in need of repairs, your mortgage lender may require you to put some funds in a "repair escrow" or "prepaid escrow" to be used for repairs after closure before they will approve financing.
Applying for pre-approval with the same lender that owns the property might speed things along.
How do I buy foreclosed homes for sale?
Your first step is to find a really good foreclosure buyer agent with experience in their local market and a successful track record of bank owned homes. Also, ask the agent if they will be negotiating the price with the bank in person. Involving a third party for negotiations can make communications difficult.
Another important tip is to think about what your needs are and what you want in a home before you start shopping. You'll want to be really clear on what aspects of a home are deal breakers for you, and that you have a clear budget set for repairs that may need to be done. You will also need to get a pre-approval on a mortgage unless you have the liquid to pay in cash. For this, your agent will arrange an inspection on the property you are interested in.
Can the bank pay the closing costs on a foreclosure?
Normally, the buyer of a foreclosure pays the closing costs. However, if you are working with a really good buyer agent, then you may be able to negotiate with the bank to cover some or all of your closing costs. But you need to specify this when you make an offer. It's referred to as a seller's concession.
If the bank refuses, your closing costs can be rolled into your loan and added to your mortgage. Be careful not to low ball your initial offer if you are also asking for closing costs. Banks are looking at the bottom line when they sell a foreclosure. An experienced local investor's agent who has developed relationships with local lenders will have a better shot of getting the bank to cooperate when negotiating fees.
Can you buy a foreclosed home without a realtor?
Buying a foreclosed home is a long and complicated process. The amount of paperwork and difficult terminology can make it inaccessible for many people. If you don't know what you are doing, you could be on the hook for additional costs and have a big bill at the end.
You'll be competing against other buyers, many of whom might be savvy real estate investors who have an edge. It is not recommended that you make an offer on a foreclosure without the counsel of an experienced foreclosure real estate agent to guide you through the process. A good buyer agent can counsel you from beginning to end — from the mortgage pre-approval process, through the negotiations, to the closing proceedings.
If you are still serious about foreclosure shopping, start your agent search today. You need a pro in your corner for the best advantage. Clever Partner Agents are the best in their local market. If you want to pick up a foreclosed home and save money in commissions, check out what a Clever Partner Agent can do for you!
Related Articles
You May Also Like