Finding the best neighborhoods in Tulsa can be hard whether you're from the area or new to it. Real estate market trends move quickly and in a hot market like Tulsa, they change constantly. Check out our guide to help you in your search.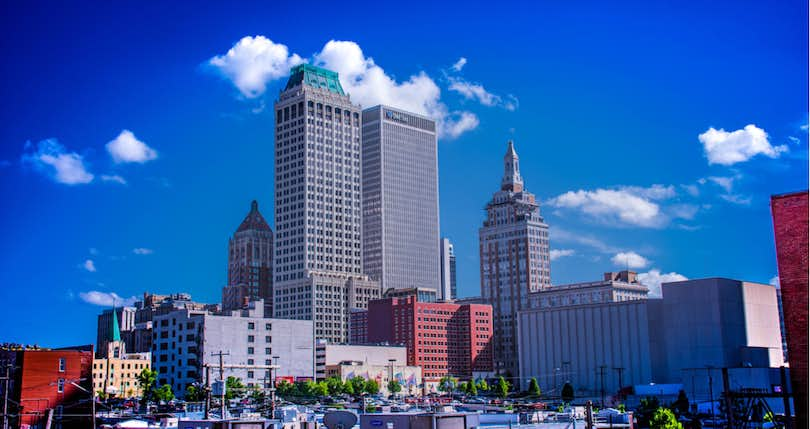 When you're looking for the best neighborhoods in Tulsa, Oklahoma, you're going to see a lot of variety throughout the city. According to data from Zillow, the median home listing sits at around $195,000, but there are still many homes on either side of this median. With the help of an experienced local agent, you can ensure you get a great deal on something perfectly suited to you and your financial situation.
The Tulsa market is extremely hot right now, which means that values are going to climb soon. Look at these five neighborhoods to help you plan your move.
Find a home in one of Tulsa's best neighborhoods.
Work with a Clever Partner Agent to get a great deal on a house.
1. Cherry Street
If you're looking for a place to raise a family in Tulsa, it can be challenging to find the perfect neighborhood. While the city offers a variety of entertainment, lots of art and culture, and plenty of shopping, few neighborhoods have it all. Cherry Street is one of the few that's truly perfect for young families.
The area has a lot of local businesses and plenty of culture to introduce young kids to and for creative adults to enjoy. As the unemployment in Tulsa is actually lower than it is in the rest of the country, there are lots of local businesses that are thriving. Since the region is accessible from the northern midtown region, it's a great choice for people who work downtown.
With over 20 restaurants in the neighborhood as well as some of the finest art galleries in Tulsa, Cherry Street is a lively shopping, arts, and dining district. The neighborhood offers something for everyone in terms of entertainment and local businesses. It also features an excellent selection of antiques and collectibles, as well as incredible homes that offer plenty of old-world charm.
2. Downtown Tulsa
While the area's reputation is it's just for young professionals, there's a lot to do if you're looking to settle down. If you like classical arts and music, you'll love the area. You get to be just minutes away from the Tulsa Performing Arts Center, The Tulsa Ballet, and more.
The area is filled with gorgeous Art Deco buildings and affordable homes. Whether you're single or married and building a family, there are lots of options on the market right now.
With the average commute time in Tulsa of 18 minutes, living in Downtown Tulsa can make that disappear. You could get back 6 hours of your life every month just by choosing to live here.
Unfortunately, the schools in the city spend about 75% of what schools spend per student in other parts of the country. While this might seem trivial, it can make a big difference when sending your kids to public schools.
However, if the downtown market is a little too hot, check out nearby Fair Heights where the median home value is just $132,000.
3. Riverview Historic District
If you're a fan of architecture, you're going to love this region of the city. The historic district has plenty of homes that are more than 100 years old, which is rare for a middle-class neighborhood. In cities like Chicago and New York, those buildings are primarily owned by the city's wealthiest families.
Riverview has what you're looking for if you like to have an old-world feel to your home. The region prioritizes education as it is named after the old Riverview Elementary School. The building currently houses the Council Oak Elementary School which parents rave about and is named after being the site of fireside councils held by Muskogee Natives.
Look for house styles from the Colonial Revival, Tudor Revival, and the Prairie School. Check out scenic homes like the McBirney Mansion for some of that high-end, old-world flavor that the region has to offer.
With plenty of scenic condos in the $250,000 range, this is a great place to live whether you're moving for the views of the river or the views of the architecture.
---
Looking to buy your dream home? Finding the right realtor makes all the difference!
The first step in your home buying journey is to find a top local realtor who's an expert negotiator and has proven experience in your area. The right agent can help you find the best house for your budget and priorities — and craft a winning offer so you don't miss out on your dream home.
The easiest way to find a great local realtor is to use a free service like Clever Real Estate. Clever matches home buyers like you with top agents in your area so you can compare your options and choose a realtor who's the right fit for you.
You can interview multiple agents until you find the perfect fit, or walk away at any time - Clever's service is 100% free with no obligation. Fill out the form below to instantly request hand-picked agent matches now!
👋 Find your perfect agent now!
Finding a great local realtor is the first step in making your home buying dreams a reality. Our free service matches you with top agents from trusted brands like Keller Williams and RE/MAX.
Enter your zip code to request hand-picked agent matches in minutes. Compare your options until you find the perfect fit, or walk away with no obligation. Try Clever's free service today!
4. Brookside
This young and upscale neighborhood is ideal for the more socially active out there. Those who love to go out to wineries, martini bars, and sushi restaurants are going to want to move to Brookside. It's very walkable and there's plenty to do when you live in the area.
While not everyone wants to be in the center of the action, Brookside allows you to be right in the middle of the vibrant local social scene in the evenings. For those who like to take the day to walk around their neighborhood, there are art galleries, antique shops, and plenty of boutiques.
Recently, the Tulsa Remote program was announced, offering $10,000 to help people move there to work remotely. This makes Brookside an ideal area because of the number of coffee shops per capita in the area. If you also get an experienced local agent to help you to negotiate the price of your home, you can make out like a bandit in Brookside.
The cost of living here is 10% less than anywhere else in the U.S., making it a great deal for just about anyone.
5. Pearl District
Just over a decade ago, this area was struggling with vacant homes and unoccupied storefronts. These days, the region has been thoroughly revitalized and is constantly implementing new plans for urban renewal.
This is the area of the city where you'll find startups and the city's young elite living. As a cultural hub, it's vibrant and active, with plenty of great art, cafes, and the active and popular Pearl Street Farmers Market.
It's become a bit of a white-collar business district in recent years. If you're looking for great schools, you'll have to go to the north or the east of this region. With few kids and families around, the local schools are not top tier.
What to Do After You've Seen the Best Neighborhoods in Tulsa
Once you've found the perfect Tulsa neighborhood for you, you need to talk to an experienced local agent to help secure a good deal. Finding the best home for you and your family is a challenge if you don't have an experienced local agent in your corner to negotiate for you. It's vital to have someone in your corner who can help you get a great deal and walk you through the buying process.
»FIND: Top Real Estate Agents in Tulsa
Contact us today to get paired up with a Clever Partner Agent who knows how to find the best deals in Tulsa.
Related links