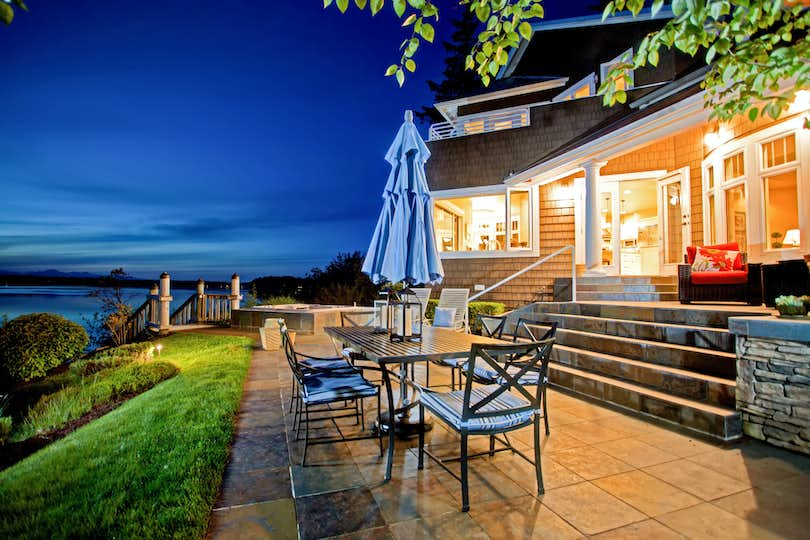 Summertime livin' is easy, especially if you have a beautiful outdoor space to share with family and friends. Taking time to revitalize your patio, porch, or other outdoor living area is a good idea, whether you've found your forever home or are just looking to add character to a rental. Here are 21 easy ways to upgrade your outdoor space.
1. Add outdoor seating
When days get hot and all you want is a place to lounge and relax with a cold, frosty beverage, comfy outdoor seating is a must. If you've just moved and have money left after closing on your home, purchase new seating options, such as couches, lounge chairs, and poufs. If you're not able to buy new outdoor furniture, update your cushions, paint wood or metal frames, or look for secondhand options.
2. Keep it shady
When the mercury soars, you'll need a place to stay cool. If you don't have trees or other natural sources of shade, install a pergola or a large outdoor umbrella to create shady areas around your seating.
3. Shed some light on the situation
Outdoor lighting beautifully highlights your landscape and provides a relaxed ambiance for nighttime hangs. Add string lights, lanterns, and in-ground lighting for variety.
4. Fire it up
Every s'mores lover knows that a fun night starts with graham crackers, marshmallows, chocolate, and a fire pit. Fire pits can be as simple as a round metal ring set on concrete or as fancy as a smokeless outdoor pit that doubles as a cooking surface. Better still, a fire pit extends the life of your backyard so you can enjoy hot chocolate and mulled wine under the stars during the colder months.
5. Tend your garden
If you want to create a peaceful retreat in your backyard, add tons of plants. Use native plants that don't need too much water, and use various types of plants, including hanging baskets, large potted plants, and raised beds. Train a vine to grow up a pergola to increase your natural shade, too. Another benefit of adding thoughtful landscaping is that it adds value to your home when it's time to sell.
6. Just add water
Water features are soothing and provide subtle cooling through evaporation in a smaller outdoor space. Depending on your commitment to maintenance, you can add a simple fountain or an elaborate koi pond.
7. Pull the room together
Interior designers know that a rug can pull the room together. Bring that same sensibility to your outdoor space by adding an outdoor rug that stands up to all kinds of weather. Rugs add a pop of color and separate a space from the lawn or other seating area.
8. Take a dip
Pools and hot tubs require additional space and regular maintenance, and they may increase your insurance costs or change the value of your home. But for those who enjoy spending as much time in the water as possible, these could be a welcome addition.
9. Commit to cooking outside
Dedicated barbecue enthusiasts understand the appeal of a backyard smoker. Even if you don't crave grilled meats on a regular basis, upgrading your outdoor kitchen to a custom setup makes entertaining and creating meals outside easy.
10. Sway in the breeze
Hammocks aren't just for tropical islands. Bring a piece of island life to your backyard with a single or double hammock. Some hammocks even double as sleeping quarters so you can enjoy an overnight outside without leaving home.
11. Upgrade what's beneath your feet
Consider installing a deck or a patio. There are many designs to choose from and lots of ways to make it affordable while adding definition to your outdoor space. If you're looking to save money, consider adding a graveled area with a border instead of building a deck or patio.
12. Protect your privacy
Apartment dwellers and those with homes in busy areas can rejoice. It's easy to add privacy with a simple bamboo fence, strategically placed potted shrub, or ornate wooden screen. Wooden screens do double duty as support for vining plants and your own home-grown veggies, too.
13. Build a gazebo
Larger landscapes can handle a sweet gazebo away from the house. This will provide a quiet shady space that's perfect for reading, dreaming, or intimate chats with friends.
14. Make pizza night every night
The best pizza comes from roaring hot ovens that char your tender crust perfectly. It can be challenging for the oven inside your home to reach temperatures that are hot enough to char the crust, so consider adding a pizza oven outside.
15. Belly up to an outdoor bar
If you love a frosty beverage and fancy yourself an amateur mixologist, live the dream with an outdoor bar. From simple bar carts to built-in wet bars, these are perfect for entertaining.
16. Just add birds
Bring life to your yard by hanging a bird feeder. Research local species so you can provide the appropriate type of feed and feeder, but watch out for marauding squirrels that can empty that feeder overnight.
17. Play games
If you have a long, narrow stretch of grass or gravel, add cornhole, a bocce ball court, or horseshoes. If you have the space, add a ping pong table that can be covered to serve larger gatherings. These affordable game spaces don't permanently alter your exterior, which is good if you're planning to sell your home and want potential buyers to envision their own space.
18. Get lost in the music
A sound system sets the mood and lets you get lost in the music whenever you're outside. Be a good neighbor, though. Keep your outdoor music at a reasonable level, and make sure it's not too loud at night when others are trying to sleep.
19. On your mark, get set, read!
Dedicated bibliophiles will appreciate a comfortable reading nook created just for them. Make sure the lighting is good, the seating is comfortable, and there's a small table to hold a beverage and the book when a nap overtakes them.
20. Get artsy
Engage all the senses with handcrafted wind chimes, a sculpture, or another carefully curated object. If you're artistic, create your own art. If not, support local artists. Skip the mass-produced art. Use any cash back from your home purchase or tap into your interior decorating budget to hire a local artist to create an original mural on a blank wall in the backyard.
21. Grow your own veggies
Nothing beats fresh vegetables and herbs that come from your own backyard garden. The good news is you don't need a lot of space to reap a fruitful harvest. Consider vertical gardening up a trellis or a DIY hanging pallet garden that won't take up valuable outdoor space.