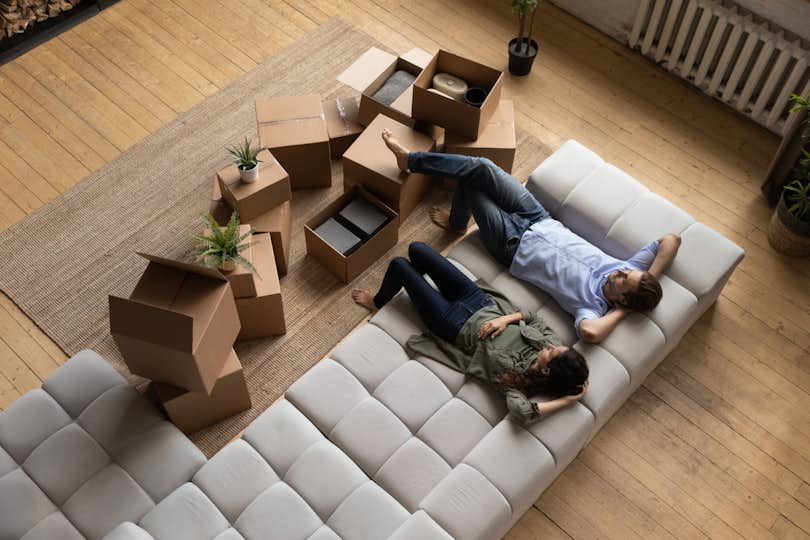 As cities continue to rebound after the pandemic-era shift to the suburbs, more Americans are turning to apartments as their primary housing option. The apartment rental market is constantly evolving, and there are many factors, such as the impact of remote work on tenant preferences, that influence apartment renting trends. If you're a landlord or real estate investor, here are 18 trends to expect in 2023.
1. Rising mortgage rates may increase competition for rentals
Although mortgage rates slowed slightly at the end of 2022, they continue to rise in 2023. This may cause home buyers to think twice about purchasing a home. With many Americans hesitant to buy a home, there will likely be more competition for rentals.
2. It's no longer a seller's market
With interest rates at historic lows and limited housing stock, investors and home buyers bought whatever was offered at inflated prices early in the pandemic. Some home sellers netted tens of thousands of dollars above asking price within a few hours of listing.
These days, sellers are dropping prices and offering incentives to keep their homes from languishing on the market. This includes multifamily and apartment properties. Investors know that investing is a long game. If they have capital to spend, they can continue to invest at more affordable prices.
3. Investors are still buying
Even with inflation causing economic uncertainty, many landlords are continuing to purchase investment properties to rent. Short-term financial struggles mean that small-scale investors, individual property owners, and businesses are selling their properties quickly. Investors with cash on hand may find some good deals, and all signs point to continued demand for rentals.
4. More investors are becoming landlords
Many investors focus on distressed properties that can be easily rehabilitated and sold, but in 2023, more of them are looking to become landlords. Although some investors may have properties that didn't sell and were ultimately rented, others purposefully chose to expand into the rental market. Many of these investors will need property managers to handle day-to-day operations. This has resulted in an increased demand for property management companies and their services.
5. Renters are getting older
Renting is no longer confined to young adults just out of college. Today's renters span a wide spectrum of ages. Millennials apply for about 45% of rentals, but Gen Z is getting into the rental game, accounting for 27% of the market. Gen X rents about 18% of the market, and boomers make up 10%. This means that apartment rentals need to adapt to the various needs of different generations.
6. Renters require more amenities
It used to be that location mattered more than anything, but these days, renters want amenities. With many employees still working from home, renters want spaces with clear lines between work and home life. Apartment amenities that are trending in 2023 include:
Coworking space

Shared meeting rooms

Common outdoor areas, such as a patio or rooftop deck

Workout space and gym equipment
7. Renters demand better technology
Renters want the convenience of digital payment options. In fact, most Gen Z renters have only ever had a digital bank account without paper checks. That's why the ability to pay using PayPal, Zelle, Venmo, and a rental community's online portal is important to this growing demographic.
Renters also value digital communication. Texting is the preferred mode of communication, and apps for ordering maintenance and tracking repairs are key amenities to explore in 2023.
8. Renters are negotiating
The cost of a rental is usually set by the landlord, but in 2023, more renters are negotiating the terms of their lease and the price of their rent. Competitive landlords allow room for negotiation to secure the best tenants for their apartments.
9. Credit scores are stabilizing
Most renters have stable credit scores, even with increased credit use and decreased savings across the U.S. This personal finance news is good for investors who want to find reliable tenants who pay rent on time.
10. Landlords use digital tools to calculate rent
To strike the proper balance between profit and affordability, many landlords are turning to digital apartment rent calculators. These tools help determine how much renters are willing to pay for the amenities, size, and location of a unit.
11. Rental prices won't be consistent
For every expert that proclaims a precipitous drop in rental prices, another two declare that prices will continue to rise in 2023 because of increased demand and short supply. Neither is wrong.
Some markets will see prices stabilize or even drop, while others will continue to increase. In the most expensive markets, real estate statistics show that rent prices outpace income. This is an unsustainable trend that could spell trouble by the end of 2023.
12. The Midwest is booming
The last rental investment boom occurred in the Sun Belt, a 15-state area that spans the lower half of the U.S. from Virginia to California. Now, investors are looking to the Midwest, the last bastion of affordable rental properties.
13. The suburbs are still attractive
Although much of the population still lives in urban areas, during the pandemic, Americans started migrating to the suburbs in search of more outdoor space and room to roam during lockdowns.
For some, the attraction of the suburbs remained, even after vaccines made it safe to head back to the cities. As fears of a recession loom, these renters may remain in the suburbs, where the cost of living is more affordable.
Most Americans are looking for residences that:
Are located in a safe and quiet neighborhood

Have family friendly amenities

Feature plenty of outdoor recreation areas

Include air conditioning, an in-unit washer and dryer, and a dishwasher
14. Remote work influences where people want to live
The future of remote work and what it means for investors in apartment buildings and office spaces will become more clear in 2023. Although some employees joyfully headed back to the office, an estimated 30% of workers chose to work from home at least part of the time.
If remote work continues, many employers may downsize their office space or convert it for other uses. These properties are prime targets for redevelopment as mixed-use spaces, especially if they're located in a commercial district with plenty of foot traffic.
» MORE: City-Dwellers Moving to the Suburbs Should Be Aware of 20 Things
15. Mixed-use properties are more popular
Investing in a mixed-use property that combines retail and office space on the ground floor with apartment rentals on the upper floors is a good bet in 2023. With 83% of the U.S. population in urban areas, this type of property offers investors many different income-generating opportunities where space is at a premium. What's more, this trend is not confined to urban areas. Five hundred of the 1,300 malls in the U.S. are being transformed into mixed-use space.
16. Apartment size is increasing
Those who head out into the rental market are looking to live with multiple roommates to save money. This means that demand for larger apartments is increasing. Don't get stuck with a surplus of one-bedroom and studio units.
17. There are more options for renters
Renters have more options. Some are choosing to stay in large apartment buildings, while others are renting single-family homes, single rooms, or fully furnished medium-term rentals. Landlords and investors who want to attract the most tenants would do well to ensure their portfolios contain a variety of rental types in 2023.
18. Renters want upgrades
In addition to larger apartments that accommodate multiple generations or roommates, renters want upgrades, such as better appliances and finishes. These add a touch of luxury to the home, which not only makes it more comfortable but also adds value.
Landlords need to balance the cost of upgrades with the estimated return on investment. Upgrading a rental doesn't need to break the bank. Something as simple as replacing the entry door or completing a small bathroom remodel offers a good return on investment.