Much like 2021, the beginning of 2022 saw record home sales and a market that favored sellers. Buyers, hungry for a new home, engaged in fierce competition in many parts of the United States, often bidding above the asking price.
This summer, the real estate market started shifting as rising mortgage rates and inflation sidelined many buyers. We're now at the highest rates in 20 years, and the market has stagnated.
With this mix of high home prices, high interest rates, and inflation, where is the real estate market heading in 2023? Are we finally moving into a buyer's market after years of sellers holding all the cards? Here's what analysts have to say.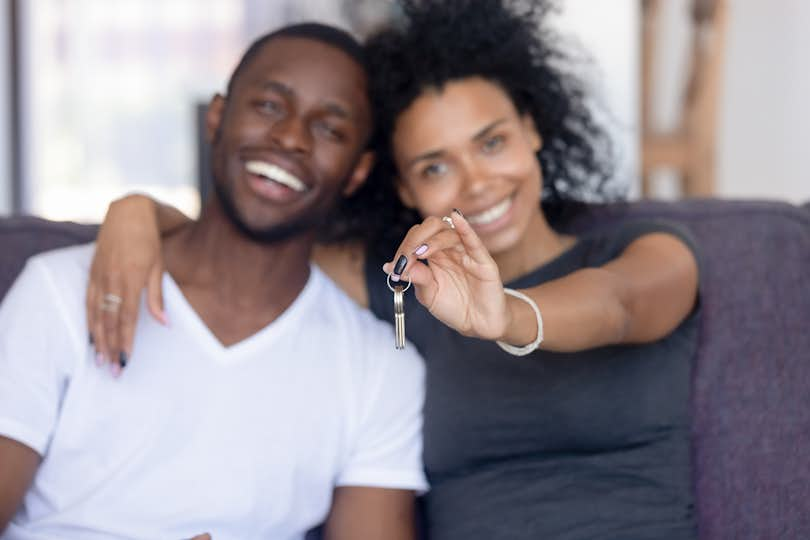 Current data predicts a buyer's market in 2023
A buyer's market is when buyers, not sellers, have the upper hand in home sale negotiations. This is due to various factors like a higher number of homes for sale, homes selling slowly, falling home prices, and recession.
Analysis from industry experts shows that 2023 will likely favor buyers.
For example, Knock's Buyer-Seller Market Index tracks market trends across the top 100 major housing metros in the United States. Their data includes the number of homes sold, the number of active listings, the median days on the market, median sales price, months supply of active listings, and the average sale-to-asking price ratio.
>>THINKING ABOUT BUYING? Check out today's best mortgages
According to their projections for 2023, "27 of the 100 major housing markets are projected to favor buyers, 30 will be neutral, and 43 will favor sellers."
Zillow's latest Home Price Expectations Survey, where the company polls industry leaders like economics and housing experts, also supports the prediction of a buyer's market in 2023. Over half the panel (56%) "expects a significant shift in buyers' favor by sometime next year." Moreover, they expect that shift will be especially noticeable in places that were once red-hot seller's markets, like Austin, Texas.
Moody's Analytics says many of the most "significantly overvalued" markets "will fall 15% to 20%."
>>GET THE FACTS BEFORE YOU BUY. Download Clever Real Estate's free home-buying guide and get weekly tips.
Reasons for a shift to a buyer's market
There are several economic reasons for this eventual shift to a buyer's market. First, the rise in interest rates is a catalyst for change resulting in increased home inventory. Additionally, the World Bank reports a risk of a global recession in 2023 that could impact consumer confidence and cause consumer spending to slow down, resulting in even less buyer demand.
Rising mortgage interest rates
Higher mortgage interest rates affect buyers and sellers, explains Boyd Rudy, an associate broker at Dwellings Michigan. "High-interest rates could limit a buyer's options and make certain properties too expensive," he says. Moreover, a smaller pool of potential buyers makes it harder to sell a property at the desired price.
For these reasons, Rudy explains, it's important for both buyers and sellers to be aware of current interest rate trends since that can impact both the ability to buy and sell real estate.
Alex Byder, the owner of real estate investment company BD Home Holdings, LLC, shared a similar sentiment. "Mortgage rates right now are nearly double what they were last year," he explained, "so many potential buyers are hanging tight to avoid paying higher rates."
One positive for those who remain in the game is that fewer buyers mean sellers are more willing to negotiate. For example, sellers might be more likely to lower their home price, give concessions, and perhaps even pay closing costs for buyers, especially if they don't get as many offers as expected. This is a stark contrast to 2021 and early 2022 when buyers waived inspections and offered over asking to secure a home.
Increase in home inventory
To qualify as a "buyer's market," there should be a seven-month housing supply, advises Realtor.com. As of September, the "U.S. housing market was at 3.2 months of inventory," says Julian Schwertz, a real estate advisor in The Woodlands, Texas.
This is a definite increase from 2021. However, says Schwertz, "we still have a ways to go before we tread into buyer's market territory."
Rick Sharga, executive vice president of market intelligence at ATTOM, told the New York Times that many homeowners with low mortgage rates are unlikely to sell and buy something new at a much higher rate.
Furthermore, builders are responding to decreased buyer demand by slowing their construction. According to Business Insider, "In July, residential housing construction plummeted 9.6%…the slowest rate of home construction since February 2021." With fewer listings coming available, inventory rates aren't to buyer's market levels just yet, and may not get there for a while.
Economic uncertainty
Finally, economic uncertainty could contribute to a buyer's market in 2023. In a recession, consumers are more apt to conserve cash and hold off on big financial decisions like buying a new house. Additionally, lenders tend to tighten their mortgage requirements to mitigate their risk. This might mean fewer buyers looking and qualifying for homes — making more options available for those who remain in the real estate game.
Additionally, housing prices can go down during a recession, another positive for buyers ready to purchase in 2023. Recent research from Harvard showed price drops in four of the five economic recessions since 1980. And, across much of the U.S, we're already seeing home prices fall from their highs earlier in 2022.
While most economists don't expect a major price collapse, a recession could throw a wrench in things. In September, Moody's Chief Economist Mark Zandi indicated that a recession could drag home prices down by as much as 20%. Currently, economists put the chances of recession hitting in the next 12 months at 65%.
Bottom line
In 2023, the housing market will have a different landscape than 2021 and 2022. Data shows that while 2023 might initially be a seller's market, it could transition into a buyer's market by the middle or end of the year. Whether it turns into a true buyer's market will depend on a number of factors, including mortgage rates, inflation, and housing inventory.
If elevated mortgage rates continue, more consumers might wait for them to fall before buying a home, meaning less competition for those who pursue purchasing a home in 2023. Consumers considering buying a home in 2023 might also have more negotiating power if they wait until the housing inventory is high.
The market outlook might also change depending on economic trends, such as a worsening recession and layoffs. Consumers should monitor both possibilities if they're planning on making a large purchase like a home next year.
Related articles