Buyers may find relative bargains in the oversupply of new-construction homes hitting the market.
An estimated 470,000 new homes were listed for sale at the end of October, representing a supply of 8.9 months at the current sales rate. A 6-month supply is considered balanced.
Builders were constructing 400,000 new homes as of two months ago, and many of those homes are now listed or will be soon.
While the median price for a new-construction home ($470,600) is up 14% from a year ago, the National Association of Home Builders (NAHB) says builders are in a bargaining mood, with many builders offering incentives such as interest rate buy-downs, closing credits and throwing in amenities.
"It's definitely a buyer's market," says Robert Dietz, chief economist of the NAHB. "I would encourage buyers to take advantage."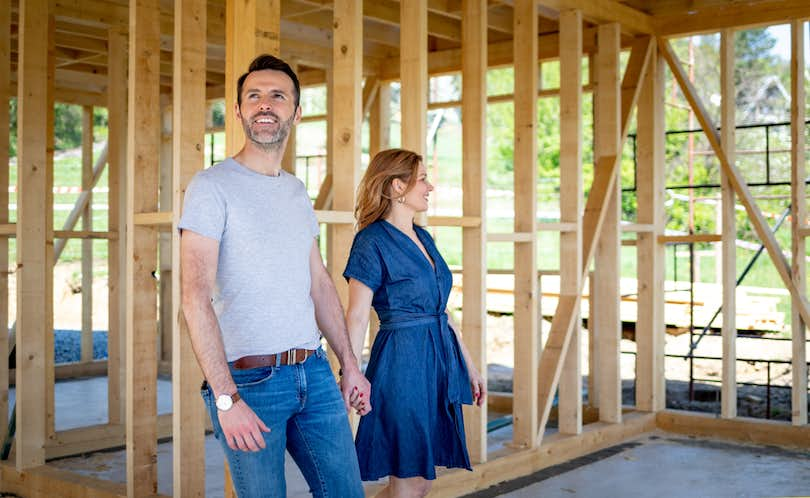 In this market, buyer demand is down, and the housing supply is up. Demand is down because buyers face high home prices, inflation, and mortgage rates hovering around 7%, the highest in 20 years.
However, the NAHB also noted in September that 20,000 new construction homes were listed under $300,000, more than three times as many as were available in 2021 (just 6,000).
For home builders, the second half of 2022 has been terrible. They often invest so much in a development that they just want to close it out and repay their construction loans. As a result, they usually will offer increased incentives to sell the last few homes of the development if they can clear their books.
Still, don't look for price cuts, but you may be able to get some hardwood floors, stainless steel appliances, and an increased closing credit instead.
"Builders don't want to cut their prices because the cost of construction is still going up," Dietz says.
So, think about this option even if you've never considered new construction. The increasing glut of new-construction homes could work in your favor. Plus, you can select home options and see your home being built. Still, there are also pitfalls when purchasing new construction, so be aware.
Here's a list of tips for buying a new-construction home.
>>THINKING ABOUT BUYING?Check out today's best mortgages
You get to customize your home – to a point and at a price
People love visiting the model home at a home builder's site. It's like something out of Home & Garden TV. You'll see trendy furniture, perfect staging, and every upgrade the homebuilder offers. Like any auto dealer, they'll put the fully loaded model on the floor and the base model in the back of the lot.
You will eventually discover that many of the model home's features aren't standard, so it always pays to ask upfront. If you don't ask, you'll get a surprise later when you discover that the model's wonderful flooring, appliance package, and cabinetry are "premium tier." They'll add tens of thousands of dollars to your base price. If you request them after a certain point, the builder will consider them "custom change orders," costing you an additional fee.
>>GET THE FACTS before you buy a home. Download Clever Real Estate's free home-buying guide and get weekly tips.
I bought my first home, a new-construction townhouse, in 2005. We loved the features and finishes but were disappointed that we needed to pay a $2,000 change order fee to get the model home's pendant lighting over the kitchen island, wall sconces and wainscoting. Plus, we needed to pay for the upgrades themselves.
Be prepared for your design center consultant to show you expensive options and say, "You can just roll it into your mortgage." (I was tempted by an overpriced $30,000 home theater system.)
Like anything, your manageable $350,000 home budget and $2,000 monthly mortgage payment can easily become $375,000 and $2,250 a month when you start throwing things in.
Bottom line: Stick to your budget. If you can't make the numbers work, find another place to cut, or negotiate with the home builder or your agent. In this market, you have leverage. So negotiate for those upgrades to be included. At worst, you can buy a better upgrade later at a lower price.
>> RELATED: 7 Questions You Must Ask When Buying a New-Construction Home
A buyer's agent can still help
Even with new construction, the buyer's agent serves a valuable role as your representative. They provide guidance on choosing the builder and development, as well as on the contract, the building process, and closing. Otherwise, you are at the mercy of the home builder.
But if you've been working with a buyer's agent, remember that home builders don't like agents. They may have a "Brokers Warmly Welcomed'' sign outside the model home, but it's not entirely true. Why would they want to pay out thousands of dollars in commission if they don't have to?
The bottom line: Unless your buyer's agent accompanies you to the model home visit, they could get stiffed out of a commission even though they've been helping you all along.
When working as a buyer's agent, I routinely ask prospective clients if they are considering new construction. If they say yes, I preregister them at developments under construction.
You can get a closing credit (or a rate buy-down) but at a price
I'll admit that a $10,000 closing credit is hard to turn down. That's what my builder offered us when we bought our first home in 2005. The catch was that we had to use the homebuilder's preferred in-house lender and title company. The homebuilder's logic is sound (at least on their end). And as noted above, builder-affiliated lenders are also throwing in rate buy-downs to help with mortgage rates hovering around 7%.
Even though you can choose any lender or title company, the builder wants a quick close, and so do you. So a $5,000 to $10,000 closing credit is worth it to them. But is it worth it to you?
In our case, the preferred lender's rates were about 25 basis points higher than our other pre-approved lenders rates. Their title company and appraiser charged us a premium as well. Of course, the homebuilder had an answer for that, namely we could always refinance after six months, which we ended up doing, but it still cost us another origination fee.
The bottom line: When you work with a builder, you're expected to use their lender, appraiser, and title company. Use your agent to run the numbers and see if it's still worth it. It might be. But again, you have leverage in this market and can negotiate.
>>RELATED: 7 FAQs About Negotiating When Buying a New Construction Home
Get to know your builder's construction foreman
One advantage of buying new construction is you may get to see the home built unless it's completed or mostly completed.
In our case, we enjoyed taking pictures of the progress. But most builders don't want you to scrutinize their work. Still, that shouldn't stop you. Scrutinize anyway.
Typically the home builder will give you an inspection opportunity when the framing is complete and before the drywall is mounted. Take advantage of this. While it's not a typical "home inspection," there's no reason you can't take your home inspector with you to this walk-through. You don't get to look behind the walls at an existing home during its inspection, so use this one to your advantage.
Look to be sure the studs and framing materials are straight and true and don't contain excessive knots. Make sure no trash or bottles are being sealed up behind a wall. Take photos and document any issues.
Introduce yourself to the construction foreman. Let them put on a show of how good their work is. Compliment them where appropriate. This is your opportunity to make them an ally and do a good job for you.
The pre-framing inspection is also your last chance to make changes to finishing materials, wiring, and utilities. So now's the time if you want recessed lighting in a particular room, electric outlets moved, or cable or phone boxes added.
When the house is complete, you still have your traditional inspection. Work with your agent and inspector to ensure your home's punch list is completed satisfactorily. And a good relationship with your construction foreman can pay off now. They'll be more willing to work with you on your punch list and fix it to your satisfaction.
In addition, most builders will offer a free warranty to fix drywall nail pops and ceiling cracks at milestones such as six months, one year, and/or two years. However, I recommend waiting a year to fix nail pops and ceiling cracks since the house is still settling before that.
Final thoughts
I enjoyed meeting our new soon-to-be neighbors during the building process. We formed some great bonds as we watched our houses being built and celebrated with housewarming parties together.
But it's also a reality check when the builder's people who were so nice to you during the sales and building process aren't so helpful and responsive when any problems arise after closing.
Be prepared for highs and lows during the process. But if you choose a good builder and make good choices, you can end up with a new home you love.