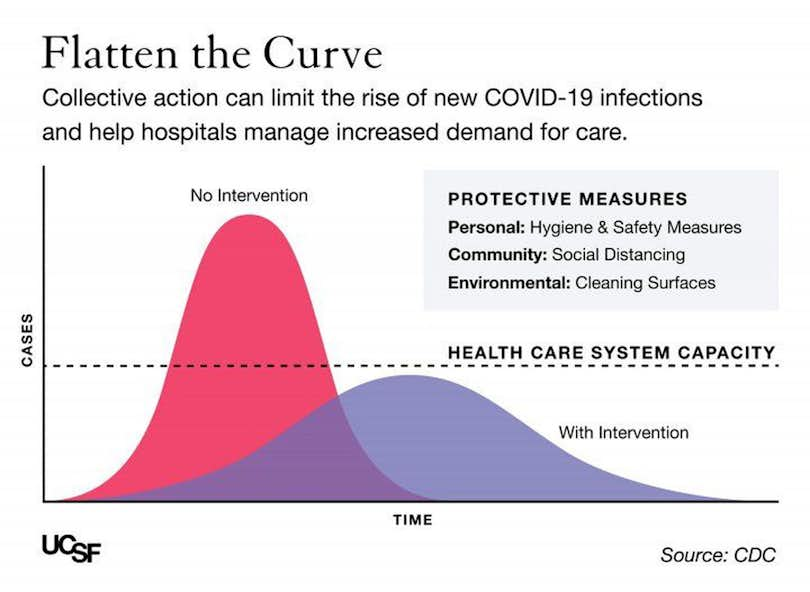 The novel coronavirus (COVID-19) is rapidly spreading throughout the United States, after making its way through much of Asia and Europe.
Many experts have suggested that widespread infection is inevitable and people should do what they can to "flatten the curve," or a deceleration of the spread of infection so fewer people are sick at one time. According to the National Institutes of Health, "the most concerning problem will be if a health system is overwhelmed in the wake of rapid transmission so that affected patients cannot receive the care they need."
Flattening the curve takes some intervention but is usually simple. Johns Hopkin University suggests washing your hands thoroughly and regularly and practicing social distancing, whereby the majority of the population largely avoids interacting with others.
In addition to social distancing, places like South Korea have focused on ramping up testing in order to flatten the curve. According to Science Magazine, South Korea learned an important lesson about testing for viruses in 2015 after an outbreak of Middle Eastern Respiratory Syndrome (MERS) that infected nearly 200 people and killed 36 was attributed to one patient with the illness. They've tested nearly 5,200 per million residents.
We can't know exactly when or where interventions will take place or whether people will abide by them, but, like many experts, we're assuming that most of the country will be affected by COVID-19 at some point and some areas are more vulnerable to its effects.
To gauge COVID-19 vulnerability, we ranked 107 cities across the United States based on health, financial, economic, and social vulnerability.
It's important to note that this ranking is not indicative of when or how COVID-19 will affect these cities, or what measures are being taken at the moment. Rather, this is an assessment of the each city's vulnerabilityto the virus based on existing healthcare systems, economic and financial well-being, and social responsibility.
Toward that end, less vulnerable cities are still at risk, and should continue to take the necessary precautions to mitigate the spread of the virus.
Here's how we defined each metric:
For more detail about these measures, see the methodology section.
» MORE: 25 Things to Know About U.S. Workers' Mental Health During COVID-19
Health Vulnerability
Health vulnerability factors include those that increase the rate of viral communication, the availability of treatment, and the percentage of high-risk citizens.
We included the percentage of the population who commute via public transportation[1] (weighted as 20% of the health vulnerability metric) and population density[2] (15%), and proportion of the population living in overcrowded housing (i.e., more than 1.5 people per bedroom on average)[3] in each city as measures of rapid spreading. Both indicate that people are likely to be in close proximity to others and, therefore, are more likely to come into contact with or pass along COVID-19.
The availability of treatment was defined as the number of acute care hospital beds available per 1,000 residents[2] (25%). The more beds available per person, the better chance people have at treatment and isolation once they're sick. More beds also means the curve doesn't need to be as flat to have the same effect, leaving some wiggle room for human error.
We also included the percentage of the population who is 65 years old or older and living alone[2] as an indication of accessibility of care. COVID-19 disproportionately impacts older adults, leaving people over 65 more vulnerable and in need of more established care methods. Therefore, a higher proportion of older people in the population increases the potential need for care while decreasing the availability of care to others.
Larger cities have higher health vulnerability due to high population density and more-common public transportation usage.
Financial Vulnerability
People's ability to afford care and participate in social distancing are directly tied to their financial stability and characteristics of their employment. Importantly, people who are not employed[3], don't have health insurance[2], or spend over 50% of their income on rent[2] may not be able to afford hospitalization or care if they become infected, increasing the likelihood that the virus will spread.
While many businesses are allowing or mandating employees to work from home, some occupations aren't possible to complete remotely. Many people still have to go to a physical location to work, where they might come into contact with COVID-19. That's even more likely if their employer doesn't provide paid sick leave, as people are more likely to go in to work when they're not feeling well if they have to take unpaid time off or vacation time to stay home.
There are no federal regulations related to paid sick leave, but many states and local legislatures have put into place statues that require some form of paid sick leave. Cities were given a score of 0 (no laws related to sick leave), 0.5 (state or local law present), or 1 (state and local laws present) depending on paid sick leave laws enforced in the city[4].
Most states and cities don't have any legislation pertaining to paid sick leave, leaving people in a tight spot if they are showing signs of illness. The west coast has state and local laws that require employers to provide paid sick leave.
Economic Vulnerability
A city's economic vulnerability to widespread, potentially fatal disease has to do with possible long-term effects on the local economy as a direct result of a recession or measures taken to flatten the curve.
More specifically, we included the amount of debt held by the city (per resident)[2] as a measure of the city's ability to sustain economic growth or maintenance in the case of a national or global recession.
Coupled with city-level debt, people's ability to participate in the economy as a result of coronavirus will impact the local economy. People who work for small businesses are likely the most affected by the city- and state-wide measures taking place as of late (e.g., dine-in restaurant restrictions, gym closures).
Therefore, we considered the percentage of each city's population who are employed by small businesses[5] as a vulnerability.
The least vulnerable cities economically tend to be located in California, where there are fewer employees of small businesses and less city-wide debt.
These are areas where we expect the housing industry to struggle if home buyers are unable to recover from COVID-19's impact on their financial well being. Home sellers are also more likely to utilize discount agents and low commission options.
Social Vulnerability
Many governments have mandated some businesses to close or reduce service and implored residents to practice excellent hygiene and social distancing as much as possible.
So far, those in the United States haven't been required to follow these guidelines. It's up to the individual to do their part. Therefore, we included civic engagement[2] as a measure of people's willingness to participate in activities for the "greater good" to indicate the likelihood that people in a certain city will cooperate with recommendations that reduce the spread of the virus.
As mentioned above, it's expected that most cities will experience some outbreak of the virus to some extent, and it will be up to residents to help deter or recover from any negative effects of this pandemic.
We used a city's general innovation capabilities (as measured by the number of patents per capita)[2] to estimate the ability for a community to quickly and efficiently help restore the economy.
Social determinants of vulnerability are slightly more abstract than the other metrics, but suggest that innovation in California may present the ability to combat the pandemic's effects through creative use of resources, while many southern cities have high civic engagement that can help slow communication of coronavirus.
Methodology
To calculate each vulnerability category — health, financial, economic, and social — we standardized each of the data points. Most variables, except the presence of paid sick leave, number of acute care hospital beds, and social vulnerability factors were multiplied by -1 in order to establish higher and lower vulnerability. In short, multiplying by -1 allowed higher values to be ranked lower (i.e., more vulnerable) and vice versa (e.g., higher population density increases vulnerability); values were then multiplied by their corresponding weight.
Each major category was calculated as the sum of the corresponding standardized, weighted variables. The sum was multiplied by the category's weight, then summed to get an overall value for each city.
Below is a list of each vulnerability category and each factor thereof (along with their individual weight toward the vulnerability category).
Health Vulnerability (40% weight):
Financial Vulnerability (30% weight):
Economic Vulnerability (20% weight):
Social Vulnerability (10% weight):
Sources