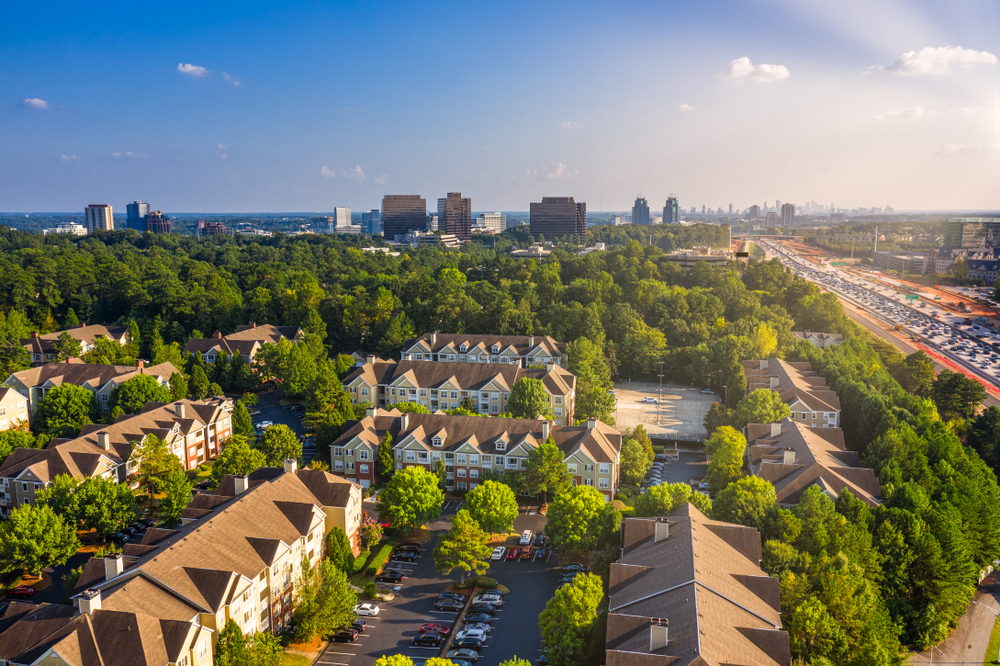 Why trust us:
To create this comprehensive guide, we researched the available housing options in Atlanta, consulted with local housing experts, and had the guide reviewed by a real estate professional with rent-to-own experience.
Learn more.
Rent-to-own homes allow you to lease a home with the option to buy it in the future. Typically, they require a renewable "option fee" (1–2.5% of the property value) on top of monthly rent payment. Although rent is higher than local averages, part of the rent you paid can be applied toward a down payment for when you opt to buy the house.
According to Paige Grove, associate broker with Grove Homes Group in Buford, GA, multiple rent-to-own companies serve the Atlanta area, partly because of people frequently moving in and out of the city. Her team offers the option to home buyers who want to avoid getting locked into an interest rate before they're ready to buy.
"For new residents, it's hard to figure out where you want to live," she says. "It's a great way to try out a neighborhood and stay there for two or three years. You might find that's not really where you wanted to be, or maybe that's not the school district you wanted to be in. And you can walk away a lot easier from that than if you actually had to sell it."
Read our guide to find reliable rent-to-own homes in Atlanta and explore potential housing alternatives.
What to know about rent-to-own homes in Atlanta
Grove encourages buyers not to be afraid of rent-to-own. "As long as you've met [the company's] requirements — for one year, usually — you get your down payment back, which is two months what a normal rental would have been. So there's really no risk to the buyer."
Still, a rent–to-own company may charge a termination fee or move-out fee, so be sure to read your contract agreement carefully before signing
Location matters
Home prices in City of Atlanta are so high that people need to move a few counties out to afford homeownership. That's not a huge issue for commuters, since downtown Atlanta is still only a 45-minute drive.
According to Grove, Atlanta's rent-to-own housing options are more commonly available within city limits, but they get sparse the farther you get outside Interstate-285. One reason is that real estate companies tend to buy properties where their service networks (e.g., contractors) operate, which are often hyper-local.
If you're considering rent-to-own because you're moving to Atlanta, perhaps for work, you may have to choose between:
A traditional lease or mortgage in a commuter suburb or a Metro Atlanta county
An expensive rent-to-own arrangement in city limits that grants you flexibility to move if things don't work out
No guarantee
Some renters have issues trying to buy at the end of their lease periods if the homes don't appraise for the amount specified in the contract. Lenders will only lend the appraised value, so if your option price is above that, you're on the hook for the difference.
If you're considering rent-to-own as a cheaper alternative to homeownership in Atlanta, it might not be the best solution. You may end up spending just as much — or more.
Compare rent-to-own options in Atlanta
Home rental company


Min. credit score


Min. income/mo


Up-front cost*


500


$4,000


1% ($4,000)


550


$2,500


1–2% ($4,000–8,000)


580


$3,600


1% ($4,000)


600


$4,167


2.5% ($10,000)


620


$3,333


1–2 months security deposit


680


$5,000


2–2.5% (8,000–10,000)


* Based on median home price of $400,000 in Atlanta. Costs do not include earnest money.

🏆 Top picks: Trio and Pathway Homes
Trio Homes is best suited if you have a lower credit score or lack a substantial down payment. Program requirements include a small option fee (1%), and a portion of your rent goes toward building equity in the property. Trio also has a 78% success rate (i.e, buying the home at the end of the lease period) — one of the highest success rates in the industry.
Pathway Homes is an option if your finances are fair but you're looking for a longer lease period. It requires a slightly higher credit score (600) and a larger down payment (2.5%). You can rent up to five years, though the option price increases substantially: 3–6% each year.
Trio and Pathway both allow you to move out if it's not a good fit with no penalty, so the risk to you is minimal.
Other rent-to-own options
Dream America
Dream America is a good fit if you have your finances in order, but have a lower credit score. To qualify, you'll need a high minimum monthly income ($4,000), at least a year of on-time rent payments, and $8,000 or more in savings. You can lease-to-own single-family homes or townhouses valued up to $400,000.
Divvy Homes
Divvy's rent–to-own program is among the easiest to qualify for, with the lowest minimum income requirement. You can lease-to-own a single-family home, townhouse, or even new construction valued up to $550,000.
Note that, if you don't end up purchasing the home, Divvy has a relisting fee of 2% of the property's purchase price. So unless you're confident you can afford to either buy the house or pay the termination fee, it could pose a big financial risk.
Home Partners of America
With low up-front costs and no down payment or termination fees, Home Partners is a good option if you don't have much in savings. It has a large market in Atlanta and offers flexible renting options for single-family homes and townhouses up to $650,000. You'd need slightly better credit than for Divvy Homes, but it's still one of the easiest rent-to-own programs to qualify for.
Landis
Landis' rent-to-own program carries the strictest qualification requirements. You'll need a high monthly income, good credit score, and a higher-than-average down payment (2–2.5% of the home's purchase price). Landis also charges the highest termination fee among its peers (3%), making it a risky bet.
The upside is that qualifying for Landis means a higher chance you'll be able to buy the house at the end of the lease period. But while the company claims to have helped many people become homeowners, there is little information available about its success rates.
✍️ Editor's note: You can ask a landlord to consider a rent-to-own agreement
If you need more versatility and personalization, landlords in Atlanta are often willing to negotiate rent-to-own agreements, opening the door to a home despite a low credit score or minimal down payment. Just do your research and choose a landlord with a good reputation so that you're not left high and dry.
🏡 Get help from a local realtor
Whether you go with a rent-to-own company or an independent landlord, a real estate agent can help you find listings that meet your budget and needs. They'll also help you avoid rent-to-own scams, warn you about common issues and risks, and give you the support and guidance you need to make the best choice.
"The biggest [benefit of a realtor] to someone who's renting is it opens up not only the homes that are on the market for rent, but it opens up all the homes that are on the market for sale as an option to rent for them," says Grove.
Grove recommends that buyers reach out to realtors who have experience helping clients secure rent-to-own properties — many will even have personal contacts at rent-to-own companies.
"Be forthright in what your intentions are, and let the professionals get you set up with other pros to help you," she advises.
» Clever can match you with multiple real estate agents in Atlanta until you find one with the right expertise.
🔎 Pro tip
Your credit score affects your ability to qualify for a mortgage. Check your credit score now, and you can take work to improve it and correct any mistakes in your credit report.
Not sure where your credit stands? Get your credit report at AnnualCreditReport.com. This free resource gives you access to your scores from all three major credit bureaus (Equifax, Experian, and TransUnion) once a year.
Rent-to-own home alternatives in Atlanta
If rent-to-own isn't the best option for you, you still have several alternatives to consider.
Atlanta Housing Homeownership Program offers down payment assistance of up to $25,000 to buyers within the City of Atlanta who haven't owned a home in the past three years.
Buyers must meet income eligibility requirements and complete an 8-hour home buyer education class to qualify. The program limits property purchases to a maximum price of $335,000.
» LEARN: Improve your credit score to expand your borrowing options
FHA loans
FHA loans are popular among first-time home buyers because of the lower down payment and flexible credit requirements. It's an option if you don't have significant savings or a high credit score, but keep in mind that FHA mortgages have strict requirements and fees, such as mortgage insurance premiums.
USDA Rural Development Loans
USDA loans can provide zero down financing for home purchases in rural areas and down payment and closing cost assistance. The downtown and heavily populated regions of Atlanta don't qualify, but many places outside the city are eligible.
VA loans
This government-backed mortgage option offers 0% down financing for veterans, active service members, and surviving spouses.
Free resources in Atlanta
Local housing counselors
Local housing counselors can help you make informed decisions about your housing options. You can get unbiased opinions about the rent-to-own market in your area and advice on other valuable resources to help you achieve your housing goals.
» FIND: HUD-approved housing counseling locations in Georgia
Housing education programs
The Atlanta Housing Authority provides housing assistance to low-income families and individuals through vouchers, affordable public housing housing, and a range of other community services. It also offers a housing education program to help families prepare for homeownership.
The Georgia Dream Program, offered by the Georgia Department of Community Affairs, offers free home buyer education and money management courses.
Why you should trust us
Our team at Clever spent several weeks learning the ins and outs of rent-to-own homes to create this comprehensive guide. We identified legitimate companies that operate in your area, consulted with local realtors, and researched government housing resources.
Our experts
Paige Grove, an associate real estate broker serving the Atlanta metropolitan area. Grove has over 30 years of experience, and her team sold over $71 million worth of homes in 2021.
Steve Nicastro, a real estate professional who has advised numerous clients on whether rent-to-own housing is a good option for them. His expertise helped us provide a more in-depth understanding of the rent-to-own process.
Related reading