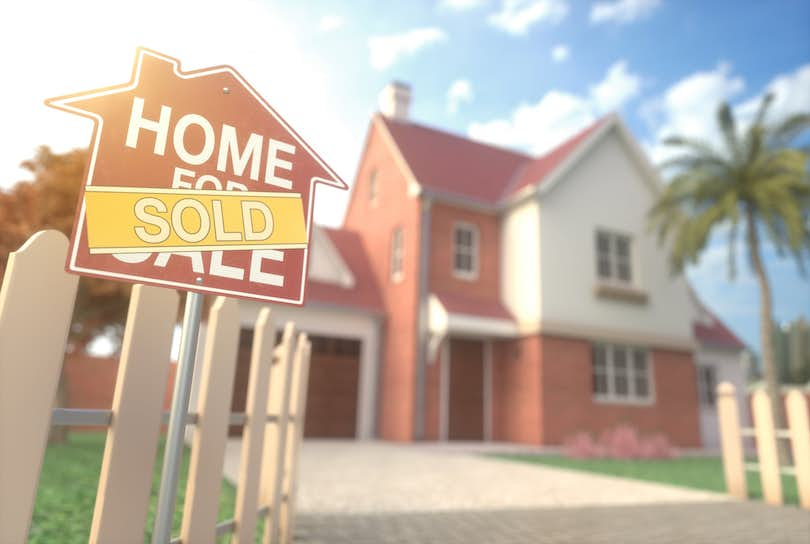 Selling your home can be a whirlwind. There is paperwork to file, repairs to work on, and experts to find. Like many, you may be scratching your head and wondering what happens to your mortgage when you sell your home.
In this article, we'll take a look at how your mortgage works, what happens to your mortgage when you sell your home, and what steps you should take to get it started.
JUMP TO SECTION
How your mortgage works
Your typical mortgage is a lump sum divided over a certain amount of years. That lump sum builds interest as each month passes. In the beginning, you'll pay more toward the interest of your loan than your premium (the actual house price). Then, as the years progress, a larger part of your monthly payment goes toward the premium.
To illustrate this, let's say you want to buy a $250,000 house, and put $50,000 (or 20%) down on the loan. The bank then loans you $200,000 at a 5% interest rate over 30 years. This is what your payments would look like over the first two years:
As you can see, each monthly payment is $1,074, but the first month has $833 going toward interest, and only $240 going toward the principal. In December 2020, the amount going to your interest has decreased to $809, and the amount going to your premium is $264. By December of 2020, you will have paid $19,715 in interest and $6,053 toward your principal.
You would owe $193,948 on your loan.
What happens to your mortgage when you sell your home
When you sell your home, you use the proceeds from the sale to pay off your mortgage. If you don't make enough from the sale of your home to pay off your mortgage, you will end up making payments to the bank until you pay off that loan. You could also choose to refinance or sell your home via short sale instead.
Let's continue the example we discussed earlier. If you sell your home in December 2020, you will still owe $193,948 to your lender. If your home sells for $284,000, you'll be able to pay off your mortgage and will get a check for $90,052.
» MORE: See what your house could sell for with a free home value estimate!
Some people think that they will have to pay the total amount of interest divided over 30 years when they sell. They think that agreeing to that interest means they have to pay all 30 years worth. This is not true. The interest is only owed for every month you continue to pay toward the loan. When you sell, those interest payments stop and you don't get charged.
Sometimes the lender will place a penalty on the loan if you decide to pay off the loan early. Before you sell your home, take a look at your contract for due-on-sale clauses. That's where you will find any information on penalties due.
Steps to pay off your mortgage during a sale
Paying off your mortgage when you sell your home isn't as simple as handing over a check to the bank. Here are a few steps you'll need to complete if you still owe money on your house when you choose to sell.
1. Ask for the payoff amount
The first thing you do before listing your house for sale is to contact your lender and ask for the payoff amount. The payoff amount is the amount you still have left on your loan. You'll need this number when pricing your home, to make sure you have enough at closing to pay it back.
2. Do a title search
Your lender will then assign you to a title agent, or you will need to locate one yourself. Your title agent will research your title to make sure there are no issues with it. You will then need to give them your payoff amount and account number.
3. Close
After you sign all the required documents for closing, the title agent will send off your final mortgage payment. The agent will then seal the deal by transferring the title over to the buyer.
And there you have it! The behind-the-scenes look at what happens to your mortgage when you sell your home. Now that you know this, you can ring up your lender and get that payoff amount!
👋 Need a great agent on your side?
Connect with top local agents who can help you sell on time and for top dollar. You'll pay just a 1.5% listing fee (half the typical rate), helping you save thousands!
Related articles
You may also like