You might be putting off building your Maryland custom home because you don't know what firm to hire. However, you can find the right company if you work hard. Want to learn everything about the best firms in Maryland? Read our article for your guide to the best custom home builders in your state.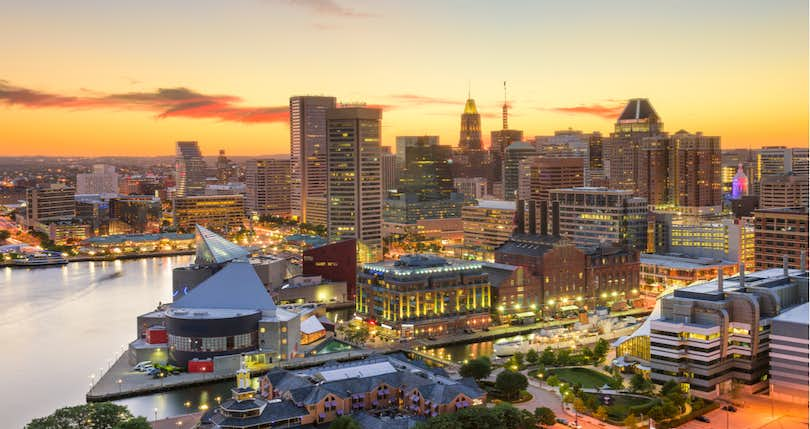 According to experts, the national average cost of building a home ranges between $147,336 and $436,401. However, there's no one-size-fits-all formula to calculate the cost of building a Maryland home. You must consider several factors from the cost of buying the land to the materials used to build the house.
The average cost of land per acre in Maryland is around $75,429. However, you should keep in mind that this cost may fluctuate depending on the location of your lot. Typically, urban land lots are among the most expensive in the state.
When you decide to build a custom home, consider the cost of building a home per square foot. In the state of Maryland, the average cost of home building per square foot is $157.12 but it can range between $126.46 and $187.77 depending on your location.
The average cost in Baltimore, MD is about $146.88, which is below the state average. However, these numbers don't consider additional costs such as high-end finishes, building plans, complex foundations, decks, among other additional home features.
Building a custom home is a life-changing decision. It's important to develop the right plan and seek guidance from the best experts. Before selling your home, you should consider consulting with a local real estate agent.
An experienced realtor will guide you every step of the way, offer insight into your lot options, and even help you set realistic expectations about the custom home building process. Local real estate agents can also connect you to the best custom home builders in your area that meet your budget and needs.
Ready to explore the possibility of building your own Maryland custom home? Here are the top 10 custom home builders you should consider in the Old Line State.
1. Delbert Adams Construction Group
The Delbert Adams Construction Group was founded in 1997. This firm specializes in sustainable, high-end residential, and commercial construction. It works on both new and remodeling projects.
The firm has received the Best of Baltimore Award from Baltimore Magazine and HBA Remodeler's Awards of Excellence. The company's diverse construction services and recognition make it the number one on our list.
2. Commonwealth Building and Design
Commonwealth Building and Design won the 2016 International Architecture Award for their sleek and modern Glen Echo, MD home named the "Mohican Hill House." This firm specializes in building contemporary and modern homes.
The company services Maryland, Washington, D.C., and Northern Virginia. The firm's awards and expertise made it a must feature on our list.
3. Niroo
Niroo has been in business for more than 20 years This firm may be your best choice if you're considering building an ultra high-end spacious custom home. The company services Maryland, Virginia, Washington, D.C., and Atlanta, GA.
The home building power couple works with the best talent to build mansions in these areas with eccentric features such as 20-foot ceilings. The company uses their own team of experts like LEED certified professionals, master carpenters, and other home building experts to provide the highest quality of service.
Niroo's work has been featured in publications such as the Washington Life Magazine, Home & Design Magazine, among others. We couldn't pass on featuring this firm due to its exuberant, luxurious, and eccentric projects.
4. Sandy Spring Builders
Sandy Spring Builders specializes in high-end green and sustainable home design. The company's top management has a combined experience of more than 30 years in the industry and building over 1,500 homes.
This firm has received awards at the national level such as the Best in American Living Award from the NAHB and Professional Builder. Local organizations such as MBIA has awarded the firm Gold Awards for Custom Traditional Home, Custom Transitional Home, and Renovation over 2,000 square feet. Their vast experience and specialty made the firm a must feature on our top Maryland custom home builders list.
5. Laurence Cafritz Builders
This firm was founded in 1991. Laurence Cafritz Builders serves Maryland and Washington, D.C. The company owner is a NARI Certified Remodeler.
You may consider this firm for custom building and home remodeling. We decided to feature this firm based on its long-standing reputation, experience, and NARI certification.
6. Menditch Homes
Menditch Homes builds high-end luxury homes in Maryland including the Montgomery and Bethesda counties. Company owners Bruce and Howard Menditch possess vast experience in the air conditioning industry.
The firm specializes in energy-efficient home designs. The company owners' expertise and firm awards such as the MCBIA Award of Excellence for Best Luxury Home Over $1.3 million make Menditch Homes a must on our list.
7. Peterson + Collins
Peterson + Collins has been in business for more than 40 years serving Maryland, Washington, D.C., and Northern Virginia. The company specializes in high-end residential construction.
Their vast experience, in-house team, and countless features in publications such as The New American Home and the Washingtonian Magazine, made the firm a must feature on our top custom home builders list. This firm separates themselves from its competitors by having their own in-house woodworkers who build custom cabinetry for their projects.
8. J Paul Builders
While this firm may not be as big as the others featured on our list, their 25 years of experience make it a must on our list. J Paul Builders services the Greater Baltimore area including the Howard County, Montgomery County, Baltimore City, among other popular metro areas.
The firm specializes in building luxury environmentally friendly custom homes. Their team focuses on offering eco-friendly, energy-efficient, and smart-home features. The company builds custom homes and takes on home renovations as well.
9. R&R Custom Homes
R&R Custom Homes is an award-winning construction firm. We're featuring this firm for their numerous awards from the Maryland Building Industry Association such as Gold Award for Best Custom Home 5,000 to 7,500 square feet and Gold Award for Best Partial House Renovation.
This company offers an A-to-Z approach to custom home building by considering everything from site selection to construction. The firm services Maryland, Virginia, and Washington, D.C.
10. Anthony Wilder Design|Build
The Anthony Wilder Design|Build has been building dream homes for over 20 years in Maryland, Washington, D.C., and Virginia. The vast number of memberships to organizations like the American Institute of Architects, the National Association of Remodeling Industry, among others make this firm a must feature on our list.
The firm focuses on providing high-end construction, architecture, and design services to its clients. The owner of this company has been featured on MSNBC and TV shows such as Curb Appeal. The company's work has also been featured on many national and local publications such as Home & Design Magazine, DC Modern Luxury, The Washington Post, and Washingtonian Magazine.
If you're considering building your own custom home, you may need to sell your current home to obtain the financing or initial funding you need to build your dream home. You should consider working with a Clever Partner Agent to sell your house faster at the best price while saving on realtor fees.
Our Partner Agents have agreed to charge a discounted rate for full agency services. Don't keep putting off your home building plans. Consider working with a Clever Partner Agent to save on realtor fees while selling your home for the best price possible and obtaining the funds you need to jump start your Maryland custom home building project.
Related Articles
You May Also Like