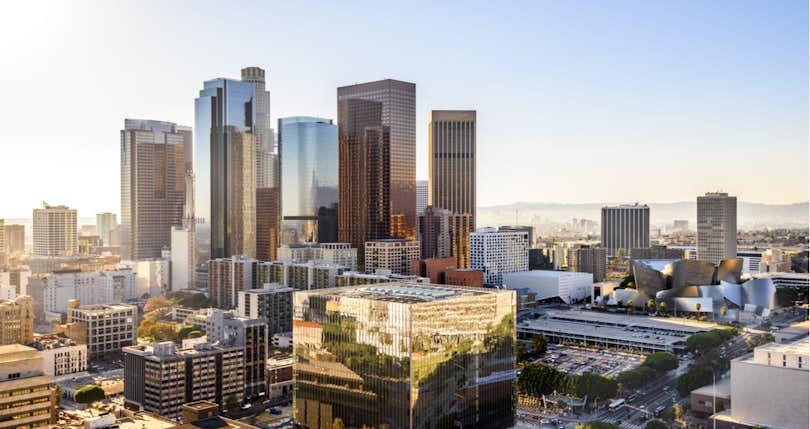 If you're looking to buy a home in Los Angeles, then you no doubt know that the city has some of the most expensive properties in the country. The median home value is currently $670,700.
However, you'll be pleased to know that some areas of the city are much more cost-effective. Although these areas are still likely to be considerably more expensive in comparison to the U.S. average, they will save you thousands of dollars against the city average.
Another way to save? Work with a top real estate agent who knows how to negotiate and score you a lower sale price.
At Clever Real Estate, we can match you with agents in any area you're interested in — even multiple areas at the same time. You can interview as many agents as you like until you find the perfect place to call home — all at no cost or obligation to you.
Most affordable places in Los Angeles
Los Angeles is currently home to some of the most expensive properties in the U.S. However, the following neighborhoods in Los Angeles are significantly more affordable.
1. Mission Hills
Mission Hills offers a diverse neighborhood of about 20,000 residents. Although the area has an urban vibe to it, there are still a plethora of parks to be enjoyed. In terms of pricing, the median home value in Mission Hills amounts to $537,500.
Although still well over the national average, the median home value is almost $150,000 lower than the city average. When it comes to growth, home prices in Mission Hills grew by 3.7% last year. This is expected to drop down to just 1.2% over the course of the next 12 months.
According to Niche, more than 70% of Mission Hill residents own their own home, showing it is possible to find affordable property.
2. San Fernando
Situated in the northwestern region of Los Angeles, San Fernando has a population of just over 24,000 residents. The Los Angeles area has a median age of just 32.6 years, which in comparison to the state average of 36.4 years, represents a young demographic.
Although San Fernando is a rather calm area, you are never too far from the action. Popular beaches and theme parks are just a short drive away, making it perfect for those with families. San Fernando currently has a median list price of just $391 per square foot, which amounts to an average home value of $476,900. Once again this is much lower than the city average, with homes costing almost $210,000 less than the city median value.
Growth levels are also rather stagnant in San Fernando, with home prices growing by just 1.5% last year. We should also note that home prices are expected to decline by 0.6% next year, so make sure you take this into consideration.
Even after you've found a more affordable place to live in Los Angeles, moving there can be expensive. By working with a Clever Partner Agent, you'll have an expert in your corner and you may be able to take advantage of Clever Cash Back.
When you buy a home with a Clever agent, you might be eligible for cash back to use on anything you want, no strings attached.
Use this free money to help you move (or splurge on a great housewarming gift for yourself).
» SAVE: Learn more about what you can save with Clever Cash Back!
3. Panorama City
Panorama City offers a good combination of cost-effective housing and appreciation growth with a median home value of $478,400.
In terms of growth, property prices in Panorama City grew by 4.3% last year. While this is still lower than the U.S. average, it almost doubles the Los Angeles average of 2.2%.
Panorama City is actually one of the largest neighborhoods in Los Angeles, with an estimated population of almost 73,000 residents. Interestingly, although the neighborhood is home to some of the most cost-effective properties in the city, more than 73% of residents rent their home. If you want to get into real estate investment, then Panorama City presents an excellent opportunity for rental income.
4. Carson
Situated just twenty minutes from the heart of Los Angeles, Carson is served by three major freeways. This makes it ideal if you work in downtown Los Angeles, but don't want to live in the thick of it. Even better, Carson is just a ten-minute drive from the nearest beach.
Carson has a population of just over 92,000 people who represent diverse demographics. Low-income or first-time buyers might be tempted by the neighborhood's median home value of $545,400.
Property values grew by 2.2% last year, higher than the Los Angeles average. Home prices are expected to grow by just 1.1% over the course of the next 12 months.
5. Cudahy
With a median age of just 27.8 years, Cudahy has one of the youngest population groups in the U.S. Median household incomes currently amount to $36,429, illustrating that residents in Cudahy have a reasonably good standard of living. As the second smallest city in Los Angeles County, Cudahy residents are accustomed to a rather chilled vibe.
The neighborhood of Cudahy currently has a median property value of just $443,900, which makes it the most cost-effective area on our list. In terms of appreciation, Cudahy property prices grew by 5.3% last year, which makes it one of the fastest growing areas of Los Angeles.
How a good agent can make your home purchase more affordable
If you're just researching affordable places to live, you might wonder why you need a real estate agent. They're the ones that help you once you've already decided on a house, right?
Not necessarily. The truth is, it's never too early to start looking for an agent. In fact, talking to a realtor early on in the process can help you narrow down your options much faster than doing research on your own.
A real estate agent's job is to know everything about their local area. They'll find the best deals in desirable neighborhoods — and might just help you snag your dream home for an affordable price. Let a Clever agent help you discover your options today — all while you enjoy cash back!
💰 Buy with a top agent, earn cash back!
Buy your dream home with a top local realtor from a trusted brand like Keller Williams or RE/MAX. Keep more money in your pocket by earning cash back on eligible purchases.
Enter your zip code to request hand-picked agent matches in minutes. Compare your options until you find the perfect fit, or walk away with no obligation. Try Clever's free service today!
Related articles