Sandy beaches, sunny shores, fresh coconuts — there is little not to like about living on an island in the Caribbean. Well, your electric bill might not be too endearing. Learn about the average cost of living in Puerto Rico here to help you decide if island living is right for you.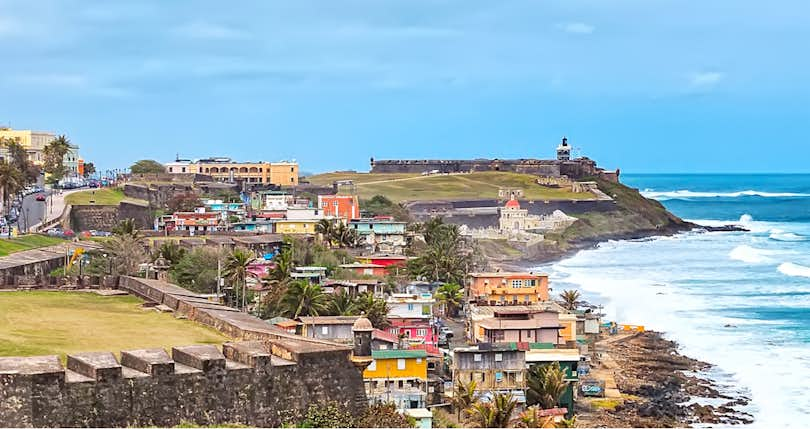 How about living on a tropical island in the Caribbean without leaving U.S. soil? It's technically possible by moving to Puerto Rico. The island might not be a full-fledged state, but the residents still enjoy the same freedoms and rights of every other American.
Of course, the cost of living in a place like Puerto Rico can be hard to gauge. Some things are grossly more expensive and others may be a lot less.
The best way to get a feel for what to expect is by talking to a local. A real estate agent who is an expert in the local market is a good place to start.
If you want to do some of your own research a bit more first, keep reading. We've compiled bits of information about the cost of living in Puerto Rico that you might not have thought about before.
Typical Home Prices in Puerto Rico in 2019
The housing market in Puerto Rico took a big hit in 2017 with the arrival of Hurricanes Maria and Irma. But even before that, prices were falling.
Between 2010 and 2018, residential home prices overall in Puerto Rico fell 48%. Some places like Humacao and Aguadilla fell a horrific 74%. Others, like Rincon with its great surfing and subsequent tourist-driven economy, fared better and have only dropped 13%.
The question is, is it a smart idea to take advantage of the low prices? Will Puerto Rico's economy recover and will prices go back up? A resounding 77% of real estate professionals on the island are either optimistic or very optimistic that they will.
Currently, the median list price is only $127,500, making it accessible for most people to invest. Of course, prices vary drastically by location, with the areas hit hardest by the hurricanes having the lowest median price.
How Much Are Puerto Rican Property Taxes?
In Puerto Rico, the municipalities assess property taxes once a year. Property taxes are not computed the same way that you may be used to in the rest of the United States. Rather, the taxes are calculated based upon the property's value for the fiscal year 1957-1958. This was the last time that the Government of Puerto Rico did a general appraisal.
To calculate the tax, the municipality discounts the fair market value to the 1957-1958 value. Tax rates vary depending on the municipality where the property is located. Rates range from 8.03% to 11.83%.
Even at 8.03%, property taxes on a home at Puerto Rico's median home value of $127,500 would be over $10,000 a year! Remember, though, rates are calculated on the home's value from the fiscal year 1957-1958.
There is also one more important note that saves the day. That is that if the property is your primary residence, homeowners can receive a deep discount. In many cases, your tax liability will go to zero after receiving the discount. In fact, over 80% of homeowners in Puerto Rico don't pay property taxes.
Average Homeowners Insurance in Puerto Rico
In light of the disaster that Hurricanes Maria and Irma left in their wake, homeowners insurance on the island is crucial. Although, even those who did have insurance are struggling in the aftermath as there isn't enough insurance money to go around.
Insurance in Puerto Rico used to be a bit cheaper than other areas of the U.S. Things are still evening out after the hurricane, but it's possible that rates will rise.
Regardless of how much you end up paying, read the fine print and be aware of how much your deductibles are and what the policy covers. It's common to see deductibles for wind damage to be as high as 2% of the home's value. That means you could still be stuck with a substantial bill if another hurricane comes through.
Additionally, most standard policies don't cover flood damage. To ensure that your home is covered, you'll have to take out an extra policy.
There is not a lot of good data readily available online about homeowners insurance rates in Puerto Rico. To get the most accurate information for your situation, we recommend speaking with a local real estate professional.
Common Home Maintenance and Repair Costs in Puerto Rico
The average wages in Puerto Rico are lower than on the mainland U.S. This contributes to service calls being a bit cheaper for home maintenance and repair.
However, the parts and supplies you need for repairs may be more expensive. Depending on what you need, parts may need to be shipped from the mainland — causing them to be more expensive and possibly even delaying the repair.
Other Costs of Living in Puerto Rico to Consider
Simply because it is an island, many things in Puerto cost more than on the mainland. Electricity, for example, is about twice as expensive. Depending on your location, service can sometimes be spotty. Plus, much of the grid was destroyed in the hurricanes in 2017. Service has been restored to most of the island, but there is always a chance that could happen again.
Some food items are cheaper in Puerto Rico than on the mainland. However, other, more specialty items can be much more expensive.
Also, many items like electronics, household items, etc may be more expensive due to the extra shipping costs. There is also a myriad of items that you might not think about that are more expensive in Puerto Rico. Talking to a local can give you a better idea of what to expect.
Related Articles