Are you looking to start a poultry farm or upgrade the one you already have? The first thing you'll need to do is have enough land. Here are five key considerations when buying a chicken farm for sale.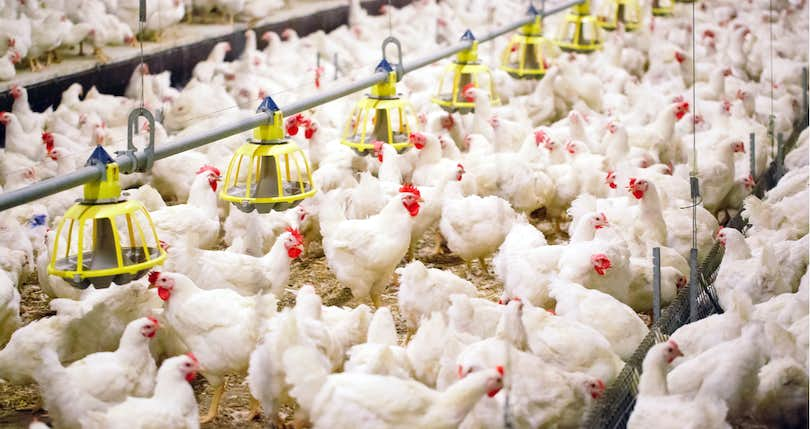 Do you enjoy waking up to see the sunrise and experience crisp morning air? Or maybe you have what it takes to take care of many animals and tend to your crops. If either of these sounds like your dream lifestyle, you're probably in the market to start a farm.
There are a few key considerations to take into account when starting a farm. You need to be well versed in the specific farming industry you want to go into and have all the proper requirements. One of the most important ones is to have quality land that's specific to your farming needs. For those of you that are looking to start a poultry farm, here are five key considerations when buying a chicken farm.
JUMP TO SECTION
Finding Properties for Sale
Now that you've decided on the type of farm you are wanting to own, it's time to find properties for sale. You have two options when choosing properties. You can either buy an existing farm or you can buy land and completely start from scratch. Both options have their own pros and cons, so let's look over them.
Starting your own farm will give you complete control over what goes into your farm and basically giving you a clean slate to make it your own. However, there are many key considerations to think about if you decide to solely buy land. You will need to build a place for you to live in, connect utilities, build a barn, put up fencing, and much more.
If your chickens are going to be free-range, you'll need to make sure you have proper barriers, feeding stations, and a safe and warm place for them in the winter. If you have the money up front to cover all of these costs, then there is nothing keeping you from starting one from scratch.
Now, let's look at purchasing existing farmland. Odds are, you are going to purchase existing land because you can't afford to build and fund multiple projects to get your farm ready for business. An existing farm is going to already have the farmhouse, barn, fencing, equipment, proper infrastructure, utility hookups, and everything else a chicken farm would need.
When looking at properties, you'll also want to consider how far away from the nearest town you want to live. If farming is going to be a side gig and you still need to make the commute to downtown, you probably won't want to live more than 40 minutes away from the nearest town. However, the closer you live to the city, the more expensive the land is going to be.
Being that there are so many factors to think about when finding the right property, it would be wise to make a list of everything you are looking for and to have a strict budget in mind before searching for properties.
Farmland Costs
Farmland costs vary depending on factors like size, location, and amenities. A 140-acre farm with a 3,000 square foot farmhouse is going to cost you more than a 30-acre piece of land with no infrastructure. Again, it's important to weigh what is absolutely necessary for you to have. Most people are going to look for properties with safe and usable land, an existing house on the property, and one that has a fence.
For example, an 89-acre piece of farmland with already existing infrastructure, newly renovated 6,000 square foot house, and well taken care of farmland is going to cost you around $2,300,000 in Kentucky. Farms in the midwest and south tend to be significantly cheaper than they are on the west coast.
Necessary Facilities and Equipment
A chicken farm won't be able to run efficiently without the proper facilities and equipment. However, it's important to note that there are two different types of chicken farm routes you can take. One being the broiler, which is raising chickens for meat. The other being the layer, which is raising chickens for their eggs.
Now, if you decide to buy a pre-existing chicken farm, all of the facilities and equipment should already be set up. If you're going to start from scratch, here are some of the basics that are required for operations to run smoothly. You'll need poultry housing, feeders, water pot, heaters, laying nests, egg handling nests, fencing, and flooring. All of these are necessary to keep your chickens safe and healthy.
Financing Options
Given the amount of money that can be required to run a successful farm, you might need a little help at the beginning to get things going. Just like any other house purchase, most people utilize various financing options. There are many different options for potential farmers looking to start their business.
If you're a new farmer, the Center for Rural Affairs has a few options for beginners. You can utilize local banks, private contracts, Farm Credit Services of America, Aggie bond programs, and USDA Beginning Farmer Loan Programs. The USDA's Farm Service Agency also has various Farm Loan Programs for farmers and ranchers of various sizes. The USDA also has programs and loans specifically for veterans looking to start their own farms.
Economic Outlook
Believe it or not, farming is actually a profitable investment. Even though there are many mass production farmers, there is still a high demand for local farmers. As we all know, we have an ever growing population that is set to reach nine billion in the next few decades. This means there is going to be a higher demand for food. Essentially, farmers will not go out of business because small farms are considered to be the backbone of the agriculture industry.
Whether you are looking to start from scratch or buy an existing farm, partner with Clever to work with an experienced, local real estate agent for assistance and support throughout the process. A good agent will not only help you determine the best possible time to buy — they'll guide you through the entire process, from house hunting and applying for a loan to negotiations and closing, ensuring a great outcome while minimizing stress along the way.
Related links