Clever's research team recently asked 1,000 people to rank the cities they thought to be the most overrated AND most desirable in the U.S. What's surprising is how often those cities turned out to be the same.
In fact, five cities made it to the top 10 of both lists: Los Angeles, San Francisco, Miami, Seattle, and San Diego.
Most overrated places to live (by% of respondents)
Most desirable places to live (by % of respondents)

Los Angeles, CA (39.3%)
San Francisco, CA (28.6%)
New York, NY (26.2%)
Dallas, TX (20.5%)
Miami, FL (18.7%)
Las Vegas, NV (18.4%)
Seattle, WA (17.2%)
Washington, DC (16.4%)
Houston, TX (15.2%)
San Diego, CA (14.80%)

Virginia Beach (21.4%)
Seattle, WA (20.8%)
San Diego, CA (19.3%)
Los Angeles, CA (19.0%)
San Francisco, CA (18.6%)
Phoenix, AZ (17.3%)
Denver, CO (17.1%)
Miami, FL (16.4%)
Nashville, TN (16.0%)
Tampa, FL (15.9%)
Clearly, even the most overrated cities in the U.S. aren't all bad.
When asked what made a city overrated, the most frequently cited factors included the following:
High crime/unsafe (58.3% of respondents)
Expensive (56.3%)
Crowded (50.2%)
Racist (47.7%)
Traffic/noisy (45.2%)
Factors cited less often include bad food, lack of parks or green spaces, few amenities or things to do, lack of public transportation, gentrification, and bad sports fans.
When asked what made a city desirable, the following features topped the list:
Affordability (64.2% of respondents)
Quality of life (62.2%)
Safe/low crime rates (60.4%)
Weather (58.3%)
Natural beauty (48.6%)
Other items that play into a city's perceived desirability include good restaurants, plenty to do, access to healthcare, access to outdoor activities, diversity, and quality of education.
While these results give us a general idea of what people value in a place to live, they don't do much to characterize their views on a particular place — or the nuances that make one city distinct from another.
So, we turned to forums like Reddit and Quora to see what locals had to say about these allegedly overrated places that a lot of people also happen to love. Here's what we found out about why some people think they're amazing, and others think they're merely 'meh.'
Los Angeles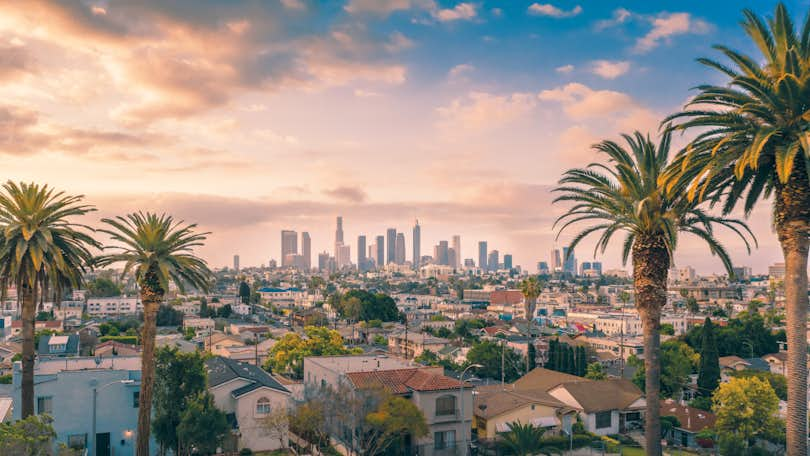 Population: 3,849,297
Typical home value: $993,609
Average morning commute: 31 minutes
Violent crimes: 761.31/100K residents
Most fun places to live ranking (U.S. News): 7th
Cities with the best weather ranking (WalletHub: 6th
Why some people love it
There's always something to do
"The beach? Check. Skiing? Check. Desert? Check. Forests? Check. Mountains and hiking in a variety of temps? Check." If there's one thing Redditors agree on about LA, it's that there's no shortage of outdoor activities. With plenty of good weather to enjoy them in, Los Angeles is a great outdoor playground all year long.
But, if indoor activities are more your speed, Los Angeles also boasts nine professional sports teams, 30,500 restaurants, nearly 100 museums, and plenty of unique places to shop, people watch, take in the arts and cinema, listen to live music, and meet up with friends. Not surprisingly, U.S. World News ranks the city seventh on its list of Most Fun Places to Live.
There's incredible diversity
If you're looking for variety, Los Angeles has plenty to offer. Rodeo Drive. Hollywood. Burbank. Echo Park. Laurel Canyon. Malibu. The Getty Center. Santa Monica Pier. The list of unique and iconic places to visit in LA stretches on and on. When you're not feeling the vibe in a particular neighborhood, there's another to explore around the corner.
As one Redditor put it, "I love how each neighborhood feels like you're in a different city. Whenever you're "sick" of LA or need a change of scenery, just drive a few miles in any direction and it just feels different."
Apart from its eclectic neighborhoods, LA is also a culinary hub offering just about any type of cuisine you can imagine from around the world. The city ranks fifth, just behind New York, on U.S. News' list of Best Foodie Cities in the U.S.
Why others think it's meh
Traffic lives up to its reputation
While any large city is going to have its share of crowds, Los Angeles has a particular reputation for road congestion. While the city ranks in the middle for average morning commute times, Reddit users claim traffic gets worse in the evenings, when people are out running errands and enjoying the city. To complicate matters, LA is pretty spread out. So wherever you go, you're in for a drive.
"Hollywood doesn't depict the extreme urban sprawl which makes up 95% of the city," said one user on Reddit. "People like visiting cities like New York or Paris where they can walk and admire the cityscape. In LA you must drive massive distances between boring housing subdivisions to get to each attraction."
And let's not forget, LA has some of the highest gas prices in the country. So even in a city with plenty of things to do, a big portion of your day off (not to mention your paycheck) might be spent fighting traffic to get to the action.
You're going to encounter some grit
Recently, Los Angeles was ranked the third dirtiest city in the U.S. by Lawnstarter, scoring particularly low on living conditions (share of overcrowded homes, unsheltered homeless rate, share of homes with pests, etc.) and consumer satisfaction (share of residents who find the city dity, polluted, etc.).
"Decaying metropolis" is how one Reddit user put it. Sadly, in addition to its infamous smog and congestion, Los Angeles has the 2nd highest population of unsheltered homeless in the country.
San Francisco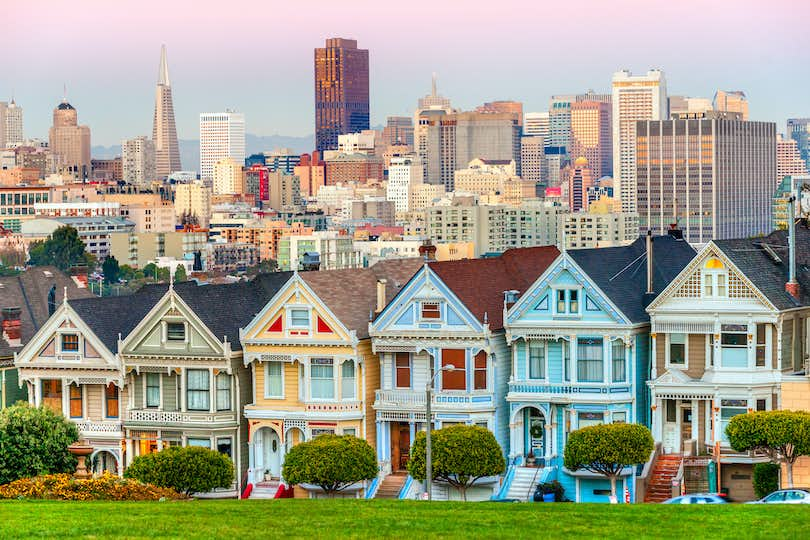 Population: 815,201
Median home price: $1,572,659
Average morning commute: 34 minutes
Violent crimes: 715/100,000 residents
Most fun places to live ranking (U.S. News): 2nd
Cities with the best weather ranking (WalletHub: 58th
Why some people love it
San Francisco has a feisty energy all its own
From incubating the beatnik movement to hosting the longest running Pride Parade in the U.S., San Francisco has long been a bastion of progressive culture. And its funky character is something San Franciscans are proud of.
If you skim the forums for what people like about San Francisco, you'll find loads of locals echoing the pride they feel for their city.
"San Franciscans have a fierce pride in their city and their individual neighborhoods," says one Quora member. Plenty of locals point to the city's vibrant restaurant scene, mild climate, eclectic architecture, beautiful scenery, and year-round access to outdoor adventure as reasons they wouldn't want to live anywhere else.
San Francisco's energy also extends to the physiological. Bestplaces.net ranked the San Francisco Bay Area as the most energetic city in the U.S. for its commitment to fitness, with many residents choosing to walk and cycle to work.
The job opportunities are boundless
From Apple, to Meta, to Google, to Netflix, to AirBnb, thousands of tech companies have their headquarters in the bay area. Across forums like Quora and Reddit, you'll find locals boasting about the city's healthy job market, which also includes innovators in:
Aerospace (think NASA and Lockheed Martin)
Automotive (including startups like Uber and Rivian)
Biotech (23andMe and Genentech, for starters)
Finance (including Coinbase, Paypal, and Robinhood)
Retail and Apparel (Levi Strauss, Modcloth, Williams-Sonoma, StitchFix and others call the bay area home)
Software (think GitHub and Intuit)
Sports (like 24 Hour Fitness and GoPro)
The city's entrepreneurial spirit makes it a draw for millennials in search of six-figure salaries. The average income in San Francisco is $119,136 per year, and WalletHub recently ranked the city as the third best in the country to find a job.
Why others think it's meh
The crowds are intense, even by big city standards
Every city is crowded, but San Francisco takes it to a new level. Rent.com recently ranked the Golden City, which is compacted into just 47 square miles, as the second most crowded in the U.S. (just after New York).
"There are just too many people in this small city, surrounded on three sides by water," says a city insider on Quora. "On foot or by car there is always someone right in front and in back of me…The traffic is the worst I have ever seen. On holidays, I have turned around from trying to visit family outside the city and just went back home. On weekends, tourist sites (Point Lobos, etc.) are literally wall to wall people."
Echoes another Quora user, "Good luck maneuvering or parking anything larger than a Nissan Rogue unless you have a parking spot in your $1.7 mm downtown condo."
It's a city of extremes
"Do you want to feel relatively tight even if you're making over $100K?" According to one Quora user, who characterizes the cost of living as 'insane,' that's exactly the prospect you're looking at when you move to San Francisco. He isn't kidding. To be considered well-to-do in the city, reports GoBankingRates, you'll need a minimum income of $250,000.
The few who can afford to live the good life in San Francisco face accusations of being fairly aloof from those who can't. "The city is insular and clubby," said a city insider on Quora. "Its tech and business communities are completely closed off to outsiders. If you're not a Stanford or Berkeley alumnus, don't even think of trying to hang out with the VCs or the 'startup founders.'"
Yet, for all its tech-fueled wealth, you'll be hard pressed to find an article on San Francisco that doesn't mention its homelessness problem. Said a Reddit member who lived in San Francisco while on an internship, "there was literally a homeless encampment right outside my apartment that I had to step through to get to work. I've never seen such a huge income disparity in my entire life."
"It's undoubtedly in a beautiful spot," echoes a Quora user who still calls San Francisco home, "but has had serious and long running issues with cost of living, outdoor hard drug use, unsheltered homeless, and property crime."
Miami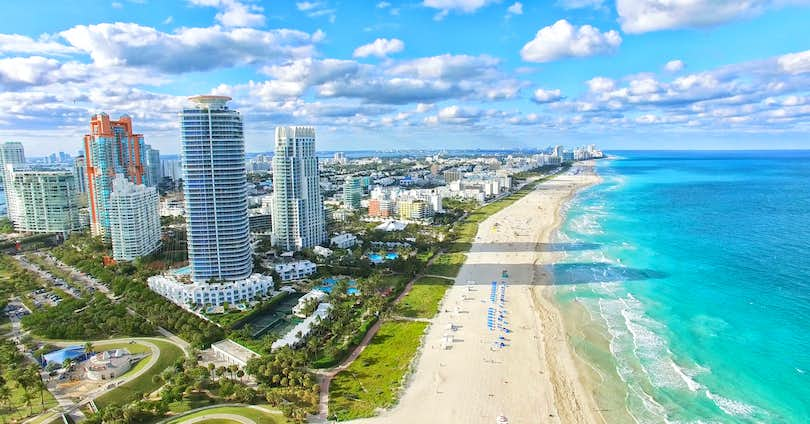 Population: 439,890
Median home price: $531,386
Average morning commute: 30 minutes
Violent crimes: 720.94/100,000 residents
Most fun places to live ranking (U.S. News): N/A
Cities with the best weather ranking (WalletHub): 89th
Why some people love it
Miami's nightlife is second to none
Year after year, Miami ranks near the top of multiple lists for its party vibe and vibrant nightlife. When the sun goes down, the city lights up with luxe clientele flowing in and out of dance clubs, bars, and posh hotel lounges.
As one city-data user describes Miami's nightlife scene, "The blend of culture, night life, feel and energy of Miami is close to ... ??? Nothing."
And, the fun doesn't stop during the day. "In a single weekend," said a Quora user born and raised in Miami, "you can be deep sea fishing in the Atlantic cean, shopping Coral Gables Miracle Mile or South Beach's Lincoln Road, playing on a world class golf course at one of Miami's many resorts, attending an all-star basketball, baseball or football game, driving past historical Art Deco architecture or walking through Viscaya's amazing gardens and top it off with cocktails while cruising the Intercoastal Waterway."
It's a taste of someplace else
"One of the things I have loved about living in Miami is I feel like I am no longer in America," said a user on Reddit. "So many Latin American places. Since moving here, I have been on a world food tour — have eaten authentic Cuban, Colombian, Argentinian, Bolivian, etc."
A Quora user sums up Miami's cultural vibe this way: "There are sections of Miami where you might hear more Spanglish than English, but they tend to be areas with amazing cafe con leche and Cuban sandwiches. It all adds up to the excitement of Miami."
"The beauty of this place is the diversity of its citizens," another Redditor chimes in. "If you can't find people you vibe with here, I'm not sure where else you'd have such a diverse sea of personalities. Maybe it's just you."
Why others think it's meh
It's not geared toward introverts
More than one Reddit user mentioned Miami's being far more friendly to social extroverts than to introverts. While this may be true of any large city, it came up with interesting frequency on forums about Miami. So if you tend to prefer quiet or feel drained by parties and crowds, Miami may not be for you.
Said one Redditor, "I'm more introverted and have grown to hate this city over a few years…A lot of people are vain and hard to speak too. More importance is put on looks than ethics. It's a horror for dating. At least for me. The only bonus is I'm close to the Keys and Everglades if I want a quick get-a-way."
Another Reddit user felt similarly, saying "the city is largely geared to a specific type of outgoing, extroverted personality. It's hyper focused on nightlife as a leisurely activity but not too much else."
There's a heavy emphasis on outward appearances
A recent study called Miami the most beauty-obsessed city on the planet, citing factors like the number of salons and spas per capita, and the level of online interest in beauty-related topics. Miami's focus on appearance is echoed across Reddit users, who describe a culture of 'fake money.'
"It's not the melting pot it should've become," said a current Miami resident. "It's a unique culture of egocentric and ostentatious people who are obsessed with fake opulence and a high sense of importance."
According to another Reddit user, "This city thrives on attracting the real rich, and people faking it like they are rich by drowning in debt (or living with Mom to afford a BMW)."
That said, there are plenty of Miamians who claim to have found incredible friendships with down-to-earth people. As one Redditor described their experience, "I started a board game night and, over the years, these oddballs have become my second family. And we all survive, and laugh about, the constant state of mediocrity here together! Once you find the right people this city is amazing. The key is finding your squad."
Seattle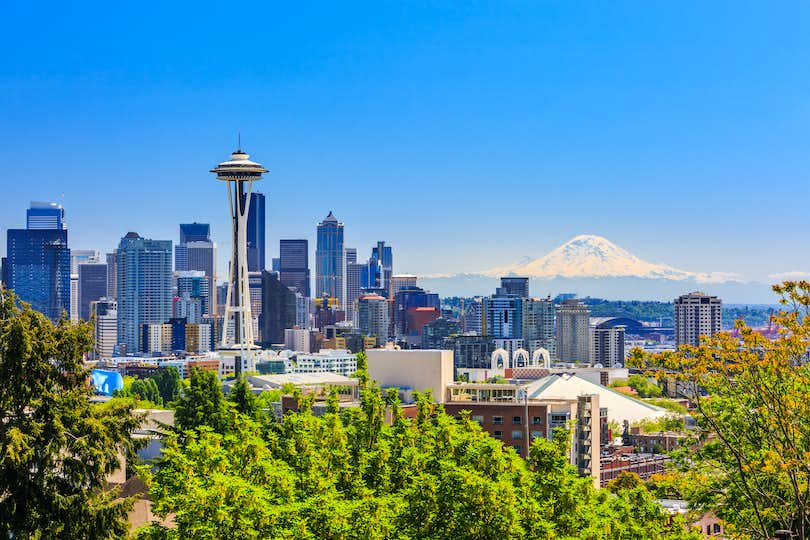 Population: 733,919
Typical home value: $828,681
Average morning commute: 31 minutes
Violent crimes: 632.69/100,000 residents
Most fun places to live ranking (U.S. News): 4th
Cities with the best weather ranking (WalletHub): 80th
Why some people love it
The scenery is incredible
Known as the launch pad for grunge music and coffee culture, Seattle boasts spectacular views of both the mountains and rugged coast. Not surprisingly, Seattle recently made Culture Trip's list of most beautiful cities in the USA.
And while Seattle is known as a rainy place, people who live there say the bad weather is overhyped. Some even dare to call it "perfect."
"I find it to be the most beautiful city/region in the entire country," opines a user on the city-data forum. "Where else can you be looking at the city skyline and see two gorgeous, snow-capped mountain ranges, a giant volcano, and a large body of water all at once?"
If you're looking for a place to drink in nature (while also sipping a cup of house roasted espresso), Seattle may just be the place for you.
The economy is strong
Multiple Seattle residents across Reddit and Quora cite strong job prospects and decent incomes as a main draw of living in the coastal city.
One Reddit user sums up Seattle's job market by saying, "Our jobs are diverse, pay well, and support the people here. Lots and lots of tech jobs, and lots of kindred spirits." A recent report by the Milken Institute supports their high opinion, ranking Seattle the sixth-best-performing economy in the U.S.
However, with the typical home price standing at $828,681, making it in Seattle without a high paying job is going to be a challenge.
Why others think it's meh
Seattle's pricey (for what it is)
Say one Reddit user about Seattle's cost of living, "I can't rationally explain how such a second-tier American city compared to LA and NY and DC ends up being so unbelievably expensive? Like to the point that a good stable life is out of reach for most people who aren't in tech?"
Home prices in the area have risen 235% since 2000, making it one of the least affordable housing markets in the U.S. However, as another Reddit user says in Seattle's defense, "It's expensive because it's currently the closest thing to paradise on the west coast."
The culture can be a bit "insular"
In multiple forums, transplants to Seattle describe the city as a tough place to make friends. "If you're not from there," said one former Seattlite on Reddit, "you're definitely not made to feel welcome." Google the term "Seattle freeze" and you'll see what they mean. Or, just take a look at this survey, which found that 49% of Seattle residents don't want to interact with people they don't know.
If you're moving to meet new people, Seattle may not be the place for you. However, if making new friends is low on your priority list, you might (ironically) fit right in.
San Diego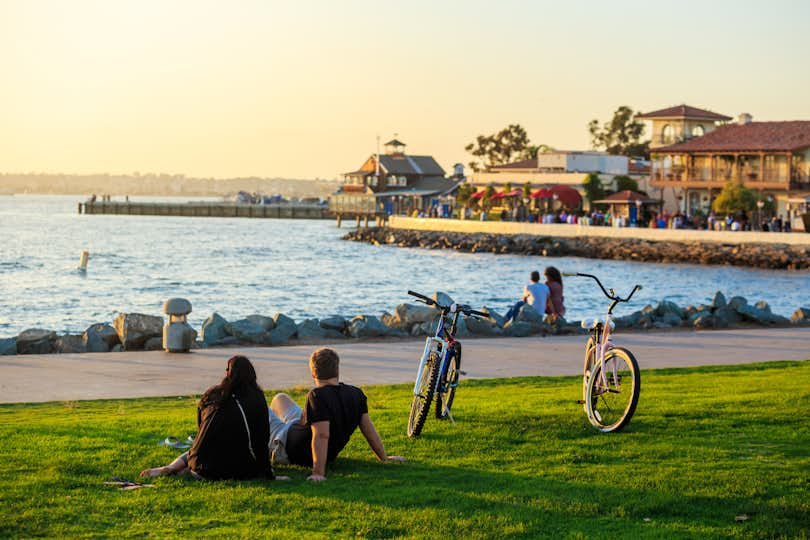 Population: 1,381,611
Typical home value: $984,675
Average morning commute: 27 minutes
Violent crimes: 366.61/100,000 residents
Most fun places to live ranking (U.S. News): 1st
Cities with the best weather ranking (WalletHub): 35th
Why some people love it
There are a TON of fun things to do
San Diego is one of those rare places where you can go whale-watching, skiing, and ATV-ing all in a single day.
According to U.S. News, San Diego is THE Most Fun Place to Live in the U.S. And plenty of locals agree. As one Reddit member summed it up: "Food, music, theatre, museums, cultural events, mountains, beaches, desert, just about anything we like to do, we can do here."
In addition to local arts, culture, entertainment, and outdoor activities, San Diego boasts a surprisingly good food scene. The home of the California burrito even comes in at #12 on U.S. News' list of Best Foodie Cities in the U.S. Rounding out San Diego's foodie accolades is a top spot on Clever's 2022 list of best brunch cities.
And, if you're looking for a decent watering hole, San Diego won't disappoint. The city is home to an impressive array of craft breweries touting some of the world's best-loved IPAs. You'll also find a variety of local wineries extending up through the Temecula valley.
You can't beat the weather
Not only does San Diego offer lots of fun and adventure, there's also some amazing weather to enjoy it in. With average highs of 66 degrees in December and 77 degrees in August, San Diego has one of the mildest climates on the planet. And this point isn't lost on San Diegans, who love to take advantage of the amazing weather to get outdoors.
In addition to great beaches, parks, desert scenery, and mountainous hiking trails, residents have easy access to outdoor destinations like Balboa Park, the San Diego Zoo, historic Old Town, Legoland, and more — all of which can be enjoyed year-round.
Why others think it's meh
Affordability is a major issue
Multiple Reddit users call out San Diego for its astronomical home prices. They're not wrong. The typical home price in San Diego has risen 275% since 2000, making it the fourth least affordable city for housing in the U.S. If you want to make San Diego your home, you're going to need a lot of Benjamins.
However, another complaint among San Diegans on Reddit is that salaries don't match up to the cost of living. The fact checks out. Recently, CBS8 in San Diego reported that salaries in the city are only about $1,900 higher than the national average of $66,665, while the cost of living hovers at 44% above the national mean.
It can be hard to get around
With only three light rail and 81 bus lines, traversing San Diego without a car can be hard. And those who can afford to get around by car seem eager to skip the bus. Metro Magazine found that San Diegans who use public transportation to get to work earn about half as much as those who commute by car.
Says one Reddit user, "I live Downtown because it gives you the closest thing SD has to decent public transit, but even with your origin point as the city's transit hub, it's a far cry from an east coast city with functioning transit (e.g. NYC, DC, etc.)."
Some find a lack of camaraderie among the locals
Some San Diegans (many of them transplants from the Midwest) argue that the city lacks a certain friendliness, possibly due to the number of transplants moving in and out every year.
"San Diego kind of feels like a vacation town," explained one Reddit user. "That's why a lot of people come here, but it makes it hard to make connections with people. Add in the Southern California culture of conflict avoidance and generally surface level relationships, and it can be really isolating."
Others San Diegans call out a lack of pride and enthusiasm for local sports teams. "We've gone to several sports bars to watch games," said another local Redditer, "and people here are dull when cheering for their teams in comparison to the Midwest."
So how do you decide if an "overrated" city is for you?
If you're considering a move, remember that whether you love a place or hate it really boils down to personal preference.
Some people like the sprawl of diverse and eclectic neighborhoods while others value walkability and access to public transportation. Some look for a city set in nature while others prefer a vibrant culture and nightlife.
Like real estate, city vibes are intensely local. As one Reddit user put it, "There are a hundred different LA's in LA." Your city within a city is probably out there — it might just take some effort to find it. So rather than waiting for your favorite parts of a city to reveal themselves, make a list of things you enjoy (or novel things the locals seem to enjoy) and go exploring.
Also remember to keep your expectations in check. Any big city is going to offer a mixed bag of cool amenities and lots of people wanting to be near them. There's going to be some crowding, things are going to be more expensive, and you're going to encounter pockets of grit and grime. In any big city, you have to take the bad alongside the good.
Finally, if you're new to a place, give it time. A city rarely feels like home as soon as you step outside the airport — but with an open mind and some effort to find your niche, there's a good chance it'll grow on you.
Related Articles