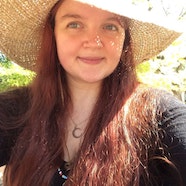 Katherine Peach
Content PM @ Clever Real Estate
Katherine Peach is a Content Product Manager at Clever Real Estate, the nation's leading real estate education platform for home buyers, sellers, and investors.
Prior to Clever, Katherine served as Managing Editor for Investor Junkie, where she helped investors of all levels learn the best ways to grow and maintain their wealth. Aside from stocks and alternative investments, she has also written extensively about antiques, art, travel, music, folklore, and lifestyle.
Katherine's work has appeared on TheStreet.com, Antique Week, Money Done Right, the New England Antiques Journal, AmericanStyle, and many other online and in-print publications.
When not writing about the real estate industry, Katherine can be found collecting and selling vinyl records and cassette tapes, walking in the woods, making music, or crocheting.
Education
BA Classical and Ancient Studies - University of Maryland, Baltimore County
Featured Published Articles