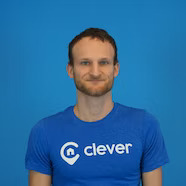 Bailey Peterson
Content PM @ Clever Real Estate
Bailey Peterson is Clever's resident expert on real estate costs, fees, and commissions. He's focused on harnessing the power of research and data to provide insights that lead to better outcomes for home buyers and sellers.
Prior to Clever, Bailey worked as a Senior Research Analyst for ValuePenguin and LendingTree, where he wrote expert advice about credit cards and auto insurance. Bailey has a wide range of experience researching real estate and personal finance topics, including interviewing state legislators about insurance policy.
Bailey's writing and research have been featured on CNBC, NBC News, Houston Chronicle, and the National Transportation Safety Board.
When he isn't writing about real estate, Bailey can be found prepping for the Boston Marathon, brewing award-winning beers, or tending to his iOS app BeerChef.
Education
BA Mathematics, Minor in Computer Science - Occidental College
Featured Published Articles