Should you use Fello? | Price | How Fello works | Competitors | Customer reviews | FAQs
Fello, formerly FlashHouse, is an Ohio-based real estate company that provides homeowners two options to sell:
A cash offer for a quick sale with a flexible closing date
A network of top local agents who will help you get the most for your home
Fello is an iBuyer, meaning it offers its services almost exclusively online and over the phone to streamline the home sales process for customers. As a seller, you provide all of your home's information and photos through a questionnaire on Fello's website.
Fello, like other iBuyers, uses a process that's faster than a traditional home sale — you'll receive an initial offer within 24 hours and can close in as little as 10 days.
In exchange for the speed and ease of sale, Fello will offer a price below fair market value (though still higher than typical cash buyers).
Fello charges sellers a service fee of 5–14% out of the proceeds from their home's sale. (FlashHouse, the previous company, didn't charge a service fee.)
Fello works BEST for sellers who prefer a quick process and aren't worried about getting the most for their home. BUT we recommend comparing Fello's offer to other iBuyers' before accepting.
We didn't hear back from Fello about their price, so we're unsure of what exactly the variable fee covers, and if it's the only cost you'll pay Fello. Even so, you would pay $25,000–35,000 if they charge over 10% for a property worth $250,000, with potentially additional charges. You'd also be earning LESS on this offer than if you sold with an agent.
To compare options more easily, use Clever Offers! We'll connect you with a top local agent who will get you cash offers from multiple buyers and help you decide how to sell your home. If you sell with that agent, you'll only pay 1.5% of the sales price.
💰 Connect with an agent and get cash offers!
Why you should trust us
We previously reviewed FlashHouse before it became Fello. To make sure we captured all of the changes associated with this rebrand, our research team took additional time reviewing publicly available information on Fello. Our process included:
Comparing Fello's price and policies to competitors
Collecting and reviewing customer reviews
Mystery shopping Fello's services
Should you use Fello?
We think Fello works BEST for those who want to sell the traditional way: with an agent and for the traditional rate of 6% realtor commission.
Fello's also an option for sellers who favor speed and ease over making the most of their home sale. However, we strongly recommend shopping around with other iBuyers, as Fello's service charge (5–14%) is more expensive than its competitors'.
That being said, Fello isn't ideal for sellers who want all the benefits of selling to an iBuyer — a fast and easy sale — while paying a competitive service fee.
👍 You SHOULD use Fello if…
👎 You SHOULDN'T use Fello if…

You need to sell your home fast.
You want to avoid the hassle associated with selling a home.
You AREN'T concerned with maximizing your home's sale.

You're trying to sell a home outside of Ohio.
You want to sell fast BUT don't want to pay a potentially high service charge.
You aren't in a rush to sell your home.
You don't have the time to compare offers from multiple iBuyers.
While Fello offers both cash offer and agent-matching services, you'd be better served by using Clever Offers. Clever will set you up with a top local agent who will help you compare cash offers and ultimately sell your home — but for a much lower commission than any of Fello's partner agents.
Get fair cash offers today!
Connect with a top local agent, get a professional home valuation, and compare cash offers through Clever Offers.
How Fello works
To get a cash offer or to connect with one of Fello's partner agents, sellers begin on Fello's "Offer Journey" portal. Fello asks for details on your home, such as its size, condition, amenities, and recent upgrades. You also have the option to share photos of your property, which help Fello more accurately make an initial offer.
On Fello's portal, you'll be asked if you're interested in a cash offer or simply viewing your home's value.
(We covered sensitive information on the property in these pictures.)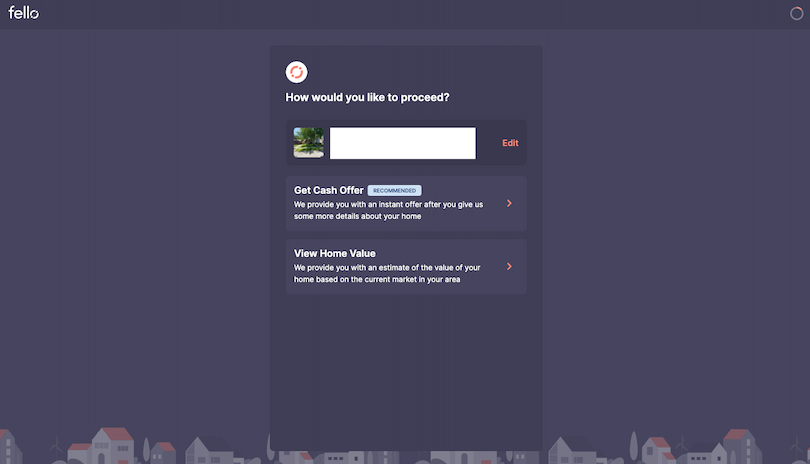 If you opt for the home value estimation, Fello will calculate what your home's worth based on its address plus market trends, historical sales data, and other publicly available information.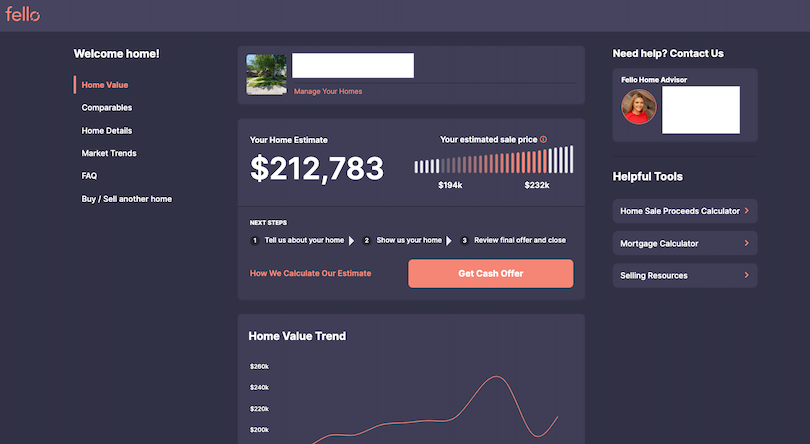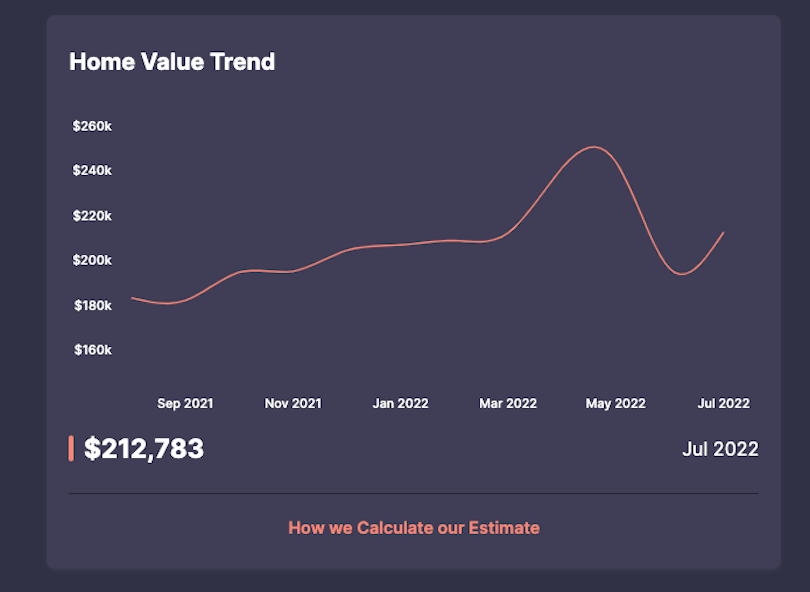 You can edit any of the information Fello auto-filled on your home at any time.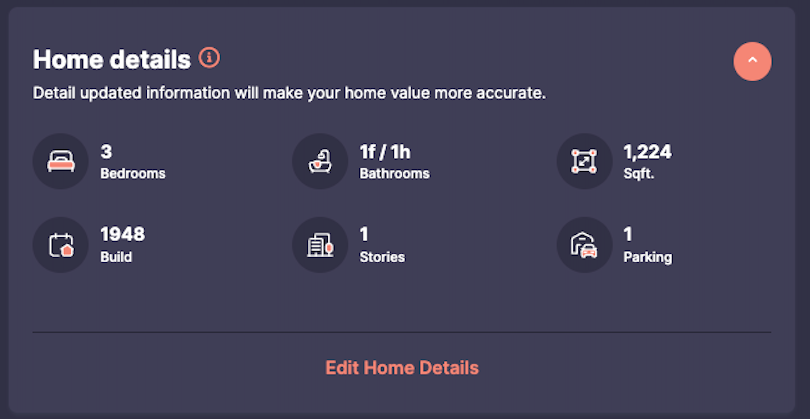 From here, Fello will make an offer within 24 hours. You have up to seven days to accept or decline; if Fello needs to schedule a virtual walkthrough, you have 14 days to compensate for the appointment.
If the offer expires, you can resubmit your info to get a new one from Fello. You won't be charged if the initial offer expires or if you ask for another one.
You can pick between two of Fello's services: an Instant Cash Offer, or connecting with a top local agent.
Fello's Instant Cash Offer program
Fello will send an in-person inspection team to your home within 15 days after you accept their cash offer. If the inspection finds anything that contradicts the information you provided, Fello will make adjustments to its offer.
You can close 10–60 days after the inspection. Fello will allow you to stay three days past closing if needed, free of charge. You'll just need to sign a post-possession agreement, a legal document stating Fello (now the owner) allows you to remain on the property.
After closing, you'll pay Fello's service charge (5–14%) and any additional fees (potentially closing costs, which is 1.1% on average in Ohio) from the proceeds of your sale.
If you are already working with an agent but you're curious about Fello's cash offer, remember — it's free to request an offer!
Fello will not penalize you for sharing information on their offer with an agent, just like other iBuyers.
Fello's agent-matching service
If you aren't sold on their offer, Fello will connect you with a top local agent. They'll put together a list of agents based on the information you provided on Fello's questionnaire.
On the phone, a Fello representative will share details on different agents to help you pick a realtor. From here, Fello will share your contact information with that agent, who will reach out shortly after.
By choosing a Fello partner agent, you're virtually guaranteeing that your home will sell at a price that matches or exceeds its fair market value. The costs to sell your home will also be more typical: You'll pay for closing costs, home prep, and realtor commission WITHOUT paying 5–14% to Fello.
To save even more when selling with an agent, work with us! Clever will match you with a full-service realtor who will work for a lower commission — just 1.5% of your home's sale price.
👋 Find top agents, sell for a 1.5% listing fee
Clever can help you keep more money in your pocket at closing!
With Clever:  
 ✅ Sellers pay only 1.5% in listing fees
 ✅ Buyers earn cash back on eligible purchases
 ✅ You'll work with a local realtor from top brokers, like RE/MAX and Keller Williams
Clever's service is 100% free, with zero obligation. You can interview as many agents as you like, or walk away at any time. Enter your zip code to find a top local agent today!
Fello vs. competitors
Fello isn't the only iBuyer operating in Ohio. Opendoor, Offerpad, and RedfinNow all operate in parts of the Buckeye State.
| | Service fee | Average customer rating (out of 5) |
| --- | --- | --- |
| Fello | 5–14% | 5 out of 171 reviews |
| Opendoor | 5% | 4.2 out of 3,419 reviews |
| Offerpad | 5% | 4 out of 2,656 reviews |
| RedfinNow | 5–13% | 2.5 out of 7 reviews |
Opendoor and Offerpad charge just 5% for their services; RedfinNow charges 5–13%, similar to Fello.
Additionally, each of these competitors offers at least one service that Fello doesn't. For instance, Offerpad lets you hang onto their cash offer and list your home with an agent. They also provide moving assistance for new homes within 50 miles of the listed property.
Fello DOES offer a competitive closing date window of 10–60 days. It also has better customer reviews than Opendoor, Offerpad, and RedfinNow, although with fewer total reviews.
And while these bigger iBuyers are available throughout the U.S., Fello operates in more Ohio markets.
iBuyer availability in Ohio's biggest markets
iBuyer
Cities
Fello
Columbus
Cleveland
Akron
Canton
Opendoor
Columbus
Cleveland
Offerpad
Cincinnati
RedfinNow
Columbus
» JUMP: Customer reviews of Fello
Fello's price
Fello charges a 5–14% service fee that's taken out of the proceeds of your sale.
While this would allow you to close more quickly and easily than if you sold with an agent, 14% is exceptionally high for an iBuyer. On a home worth $250,000, that's a whopping $35,000!
Fello shares on its website that most sellers are charged 5–8%. The company may or may not charge additional fees on top of the service charge; we could not determine this independently.
In exchange for this fee, Fello also throws in its concierge service and a comparative market analysis of your home.
If you opt for selling with a Fello partner agent, you'll pay the conventional costs of selling a home rather than Fello's service charge. This includes realtor commission of 6%, closing costs, and home prep and repair costs. These will add up to thousands of dollars BUT you'll sell your home for a much higher price.
» MORE: How Much Does it Cost to Sell a House in Ohio?
Customer reviews
Fello has an average rating of 5 out of 5 from 171 reviews. Customers said Fello has great customer service, and an easy and stressless process. Most of the reviews predate Fello's rebrand from FlashHouse.
Great customer service
Most former Fello clients said its staff is friendly, intelligent, and helpful. One customer shared they're "extremely professional and answered any questions we had immediately (even on the weekend)."
Others said staff is "extremely easy to work with" and "very responsive" to questions from customers. After closing, one seller called Fello's follow-up "5 star."
Easy and stressless process
Clients also noted how easy it was to sell with Fello's Instant Cash Offer program.
Several sellers described the process as "quick" and "smooth." One noted Fello's site and questionnaire were "easy to navigate."
Some customers said Fello's cash offer service was stress-free, an encouraging note as this is a big part of Fello's pitch to sellers: guarantee of sale and fewer steps, which can put your mind at ease. Here are more anecdotes:
"It was sooooo easy! There was literally no stress for us. We didn't have to worry about showings, repairs or any of the traditional hassle of a home sale."
"There was absolutely no pressure and it's definitely worth your time."
"Took most of the stress away! In under two months, I went from not even considering moving to selling my home of 15 years and downsizing."
"To me the difference (in price vs. traditional sale) was well worth the peace of mind, knowing my house was sold."
Locations
Fello is available in four of Ohio's biggest markets:
Columbus
Cleveland
Akron
Canton
FAQs about Fello
How much does Fello cost?
If you accept Fello's Instant Cash Offer, you'll be charged a service fee of 5–14% of the sales price. Fello states most sellers will pay on the lower end of this range. If you use Fello's agent-matching service, you'll pay the traditional costs of selling a home — 6% on realtor commission, 1% on closing costs, and hundreds or thousands on home prep and repairs, BUT you'll also be selling your home for thousands of dollars more than if you sell to Fello.
Where does Fello operate?
Fello buys homes in some of Ohio's biggest markets: Columbus, Cleveland, Akron, and Canton. This covers more of Ohio than some of Fello's top competitors, including Opendoor, Offerpad, and RedfinNow.