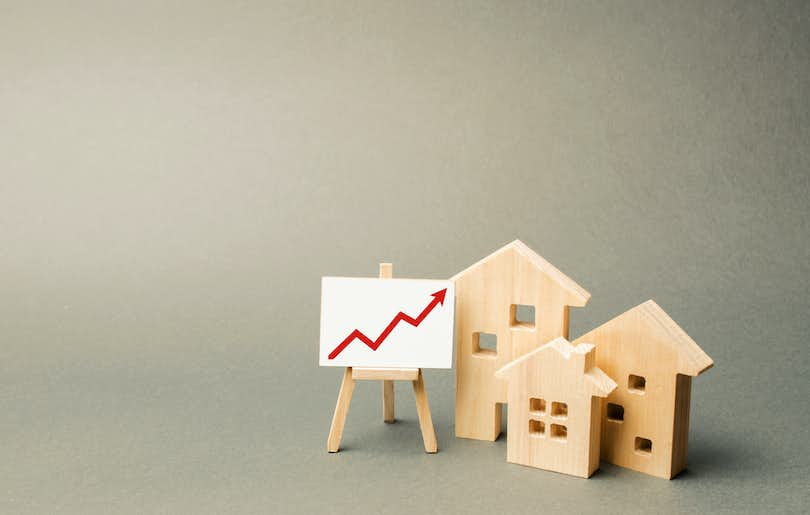 Homebuyers had a rough ride in 2022, with home prices skyrocketing, just as historically low mortgage rates began to climb and eventually double. With home buyers contending with low inventory, high prices, and steep mortgage rates, buying became more expensive overall.
What's in store for the housing market in 2023? Here are four predictions about where the housing market might be headed based on current trends and expert expectations.
1. Expect mortgage rates to remain high
Mortgage rates are always fluctuating, but right now, they remain much higher than they were at the start of 2022. With rates nearly doubling, and inflation still taking its toll on Americans' wallets, it's much more expensive to take out a mortgage now than it was in early 2022.
In 2023, mortgage rates may start to stall, but will remain relatively high, at least through the first half of the year. Fannie Mae notes that rates are expected to pull back over the next two years, but at the start of 2023, rates will remain high.
How high rates will remain is up for debate, with experts predicting rates could fall slightly below 6% or continue to remain above 7%.
The latest Mortgage Finance Forecast report also shows rates remaining in the 6% range for much of 2023, with rates ending the year under 6% at an average rate of 5.4%. However, not all experts agree. Realtor.com predicts rates to stay around 7% throughout the year, ending 2023 at 7.1%. However, the National Association of Realtors (NAR) predicts rates will fall to 5.7% by the end of 2023, according to a recent report.
2. Home prices may begin to fall
Experts also disagree on where home prices are headed, though the two main schools of thought are that home prices will either stall or begin to drop.
Redfin expects home prices to drop by 4% by the end of 2023. It expects prices to drop by approximately 2% in the first quarter, 5% in the second and third quarters, and 3% in the last quarter of 2023, year-over-year.
Moody Analytics is predicting some overvalued home prices may drop by as much as 15% to 20%. Fannie Mae also reported that average home prices are falling every month and consumers can expect home prices to continue falling in 2023. Goldman Sachs' research also indicates housing prices are likely to fall throughout 2023.
>> GET A FULL-SERVICE AGENT AT A 1% COMMISSION. Get personalized agent matches today from Clever Real Estate with no obligation.
3. Housing inventory will remain low
One thing all housing experts agree on is that inventory is expected to remain low in 2023. "Housing inventory is expected to remain right in 2023, with housing starts below historical averages and fewer homeowners willing to sell," said NAR chief economist, Lawrence Yun.
An October home builders report echoes Yun's sentiments, with housing starts expected to drop even lower in 2023. With rates expected to remain high, Fannie Mae also expects this to create a "lock-in effect" with existing homeowners who will be reluctant to sell their homes since inventory is sparse and rates and prices are high.
4. Fewer homes will sell in 2023
As a result of high rates and low inventory, you can expect fewer homes to sell in 2023, even if prices drop.
"We forecast total existing home sales will be 5.03 million in 2022 and 3.90 million in 2023 before rebounding in 2024 to a pace of 4.60 million," according to a recent Fannie Mae housing trends report.
Home sales are expected to hit a record low, with home sales falling to their lowest rate since 2011, according to a 2023 Redfin Housing Market Predictions report.
Why? With mortgage rates above 7%, many prospective home buyers are reluctant to lock in a mortgage right now. And with fewer homes to choose from, buyers may not want to settle for a home that doesn't check off all of the selling points they want.
The bottom line
Although 2022 was a rough year for homebuyers, 2023 is also expected to have its fair share of issues. With inventory low and mortgage rates high, buyers will have a harder time affording a home than during 2020 or 2021. It's still very much a seller's market.
But it's not all doom and gloom. With home prices expected to drop in 2023, and fall again in 2024, there's hope at the end of the tunnel. And, if a recession hits in 2023, mortgage rates may also begin to drop and level off.
If you're looking to buy a home, it's difficult to time the market. Instead, focus on finding the lowest-rate mortgage possible, lowering your commission prices by partnering with a low-commission real estate agent, and finding a home that fits within your monthly budget.