Burying a statue of St. Joseph has become a common practice that sellers use to improve sales outcomes. In this article, we'll examine whether this popular ritual works and provide some alternatives that are guaranteed to get your home off the market quickly.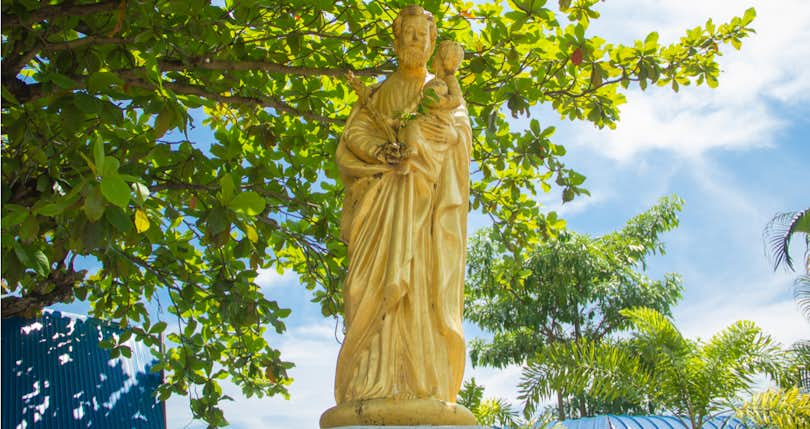 With home selling, it seems counterintuitive to think burying a small statue of St. Joseph in your front yard will bring droves of buyers to your property. Yet, thousands of home sellers over the past few decades have sworn by the practice, claiming it's led to miraculous sales on homes that were having a tough time getting off the market.
As intriguing as this myth is, there's only one way to take your home sale to the next level: working with a top-notch real estate agent. Lucky for you, doing so (usually) doesn't require digging any holes.
Get in touch to learn how Clever can help you sell your home for top dollar while saving you thousands on commission fees.
Not ready to put down your shovel? Let's take a deeper look at the St. Joseph statue myth.
What is the myth of the St. Joseph statue?
Like most urban legends, there is no definitive version of the St. Joseph Statue myth. Instead, there are many variations on a theme: bury a small statuette of St. Joseph in your yard, and buyers will come banging down your door with offers. Once your property sells, place the statue on your mantel.
Some versions of the legend say the statuette must be placed upside down near the "For Sale" sign because an upside down Joseph will be much more uncomfortable and work harder to get out of the dirt and onto the mantel.
Other versions stipulate the statue must be placed right side up or lying sideways. Others say he must be buried exactly three feet from the house, facing the house, facing away from the house, or exactly 12 inches underground. There are seemingly endless interpretations, many of which directly contradict each other.
A Brief History of the St. Joseph Statue and Real Estate
The origins of the St. Joseph myth are unclear. Some say that the legend originated with nuns in the Middle Ages who buried medals of the saint in hopes he'd help them expand their land.
Others maintain that the practice originated with a group of German carpenters who buried the statue under the houses they built and said a prayer for good measure.
Then there are those who attribute the rite to Brother Andre Bessette, a monk who lived in Montreal in the 1800s. As the story goes, Bessette wanted to build a chapel on a plot of land on Mount Royal, but the owners refused to sell it. Bessette began burying medals of St. Joseph, and the landowners had a sudden change of heart. They sold Bessette the land and he was able to build his chapel.
Unfortunately, there are no historical records that verify these accounts, so it's quite possible they were made up to create a more intriguing backstory. The first verified appearance of the myth was in 1979, but the practice caught on in the 1990s. Nowadays, burying the saint has become so commonplace that many realtors sell St. Joseph kits that include a statue, a prayer, and a booklet describing the practice.
Burying a St. Joseph Statue to Sell Your House: A Step-By-Step Guide
There are a few different specifications that have made their way into the myth over the years, but here's a general outline:
Buy a St. Joseph statue: Statues are available online, at Catholic stores, and even from some realtors.
Wrap the statue in a protective cloth: This keeps the statue clean and shows respect to the saint. When your house sells and it's time to place Joseph on your mantel, this makes things easier and tidier.
Bury the statue: Some versions of the legend say it needs to be buried upside down near the "For Sale" sign, others say it needs to be right-side up, or laying on its side, or three feet from your home, or exactly 12 inches in the ground. There's no right or wrong way to do this, so be creative and do what feels right.
Say a prayer: Many statues come with a prayer you can recite. If they don't, you can find one online. Some prayers are slightly threatening, saying that St. Joseph will remain buried until he sells the home.
What do you do with the St. Joseph statue after selling your house?
Once your house sells, legend says you need to dig up the statue and place it on your mantel. This is a way of thanking St. Joseph for the work he's done. As an bonus, it makes a nice addition to your home decor.
Does burying a St. Joseph statue really work?
There's no concrete evidence that burying a St. Joseph statue helps to sell a home in any way. That said, if the ritual makes you feel more confident and hopeful about your sale, there's no harm in giving it a go. It can be a fun practice to engage in, and if it makes you feel better, you may end up doing better with negotiations, staging, marketing, etc. because of your improved mood.
However, make sure you don't throw other verified sale-boosting practices to the side in favor of St. Joseph's divine aid. In the next section, we'll give you some tips that are guaranteed to help you sell your home.
Sell your home quickly with Clever!
Get full service for a low flat fee, save thousands on commission.
4 Guaranteed Tips for Selling Your Home
There's no harm in giving St. Joseph's services a try, but there definitely is harm in not taking these important tips to heart:
1. Work with a top-rated real estate agent
Investing in an experienced real estate agent is the best thing you can do to secure a better selling outcome. Period.
Real estate agents spend years honing their negotiation, pricing, and marketing skills. That means that when you work with one, you're partnering with an expert negotiator and marketer who will leverage their abilities to get you a killer price for your home.
Full-service real estate agents, like those who work with Clever, offer a wide range of services including comparative market analyses, staging advice, negotiation assistance, and general guidance throughout the complex home selling process.
Unless you're a seasoned real estate professional with knowledge of tax protocol, market trends, real estate law yourself, you need to work with a real estate agent if you want a good selling outcome.
2. Make Impactful Repairs and Improvements
Home repairs can go a long way in adding value and curb appeal to a home. The key is to work with your real estate agent to identify areas of your home that, if improved, will attract more buyers.
If there are any major foundational issues with the house or other significant issues, those deserve to be taken care of before anything else. Leaking pipes, damaged roofs, and a failing electrical system warrant immediate attention.
If everything is in good working order, consider making some low-cost, high-return renovations. Adding smart home tech can cost just a few hundred dollars but can boost your home's value by up to 5%. These gadgets can wow buyers and get your home off the market fast.
3. Price Your Home Competitively
No matter what you're selling, pricing plays a huge role in determining whether any buyers will bite. If you try to sell a home for a price that's surprisingly low, people will assume something's wrong with it. If you try to sell it for more than it's worth, buyers will think it's a rip off and won't be interested either.
A real estate agent will perform a comparative market analysis (CMA) before listing your property. This means they'll compare your home to other similar active, recently sold, contingent, and pending listings to come up with a price that fits right in the sweet spot. Pricing can make or break your a sale, so it's essential to work with a professional.
4. Market your home aggressively
Get the word out any way you can. Place a "For Sale" sign in your front yard, make posts on social media, put up flyers around the neighborhood, and make sure your friends and family know to refer potential buyers to you.
Listing your home on the MLS can improve its sales outcomes. Only brokers and real estate agents can do this, so it's important to work with one. Alternatively, you can sell your home FSBO and pay for a flat-fee MLS service, but these types of sales tend to have very poor results.
While St. Joseph may not provide the results you're looking for, top-notch real estate agents have an almost mystical ability to conjure buyers out of thin air.
Clever partners with thousands of top-rated real estate agents from major brands like Keller Williams, Century 21, and RE/MAX. These traditional full-service agents have agreed to a pre-negotiated low commission rate for referrals from Clever, which means you save thousands for the same great service.
If you're selling, you get the guidance and expertise of a traditional full-service realtor for a flat fee of only $3,500. If your home sells for more than $350,000, you only pay 1.5% in commission fees.
Want to learn more? Fill out this form to schedule a free, no-obligation consultation with one of our experienced Partner Agents. You can interview as many agents as you like until you find your St. Joseph.
Top FAQs by Home Sellers Considering Burying a St. Joseph Statue
1. How can I sell my house quickly?
To sell your home quickly, you need to price it competitively, market it aggressively, generate curb appeal, carry out repairs and renovations, and most importantly, work with an experienced real estate agent.
91% of home sellers work with real estate agents — and for good reason. Real estate agents have years of professional experience pricing homes, negotiating deals, and marketing houses to buyers. Hiring a real estate agent is the best investment you can make in the expediency of your home sale.
2. How do you attract home buyers?
You can attract buyers by:
Working with an experienced real estate agent
Generating curb appeal
Staging your home well
Performing repairs and renovations
Pricing your home competitively
Marketing your home through traditional and digital mediums
A top-rated real estate agent can advise you on the best ways to attract buyers based on your local market conditions.
3. Can I sell my house myself?
Homeowners can legally sell their houses themselves. This is known as selling the home "For Sale By Owner" (FSBO). However, selling outcomes are typically poor, and many FSBO sellers fail to get any offers at all, eventually leading them to hire a realtor.
Of all the millions of home sales in the US, 91% are fostered by a real estate agent. Unless you're a seasoned real estate professional with knowledge of real estate laws, market trends, and tax protocols, listing your home on your own can greatly jeopardize your home sale.
4. How much does it cost to sell a house?
Typically, sellers pay 6% of their house's closing price in commission fees. This is split evenly between the seller's and the buyer's agents.
However, there are cheaper options. Discount realtors will list your home for less, often for a low flat fee.
It's also possible to do away with the realtor and their commission fees entirely by selling your house FSBO, but this strategy is typically associated with poor selling outcomes. FSBO sellers often struggle to get any offers at all and end up either hiring a realtor anyway or paying back what they saved in commission in lost profits.
Related Articles
You May Also Like