When you sell a house, you'll need to remember to cancel your homeowner's insurance. But don't pull the trigger as soon as your home goes under contract. Use this guide to time your insurance cancellation to strike the best balance of protecting your home and saving money.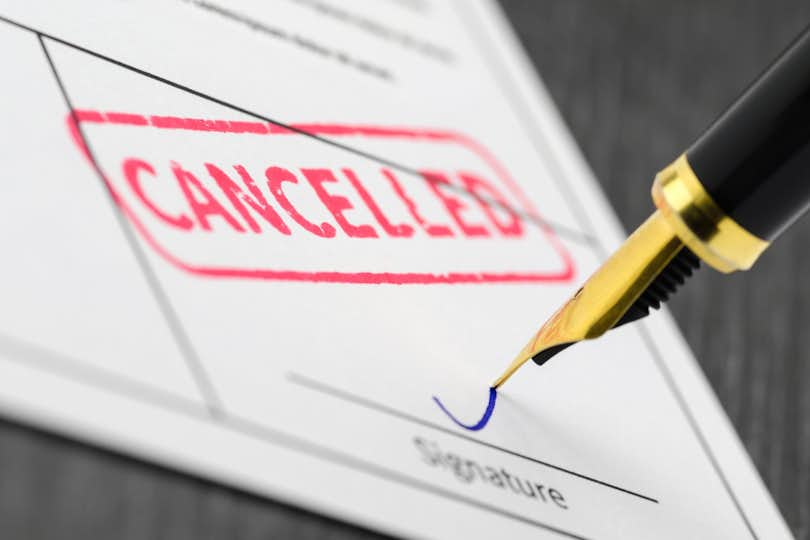 While you're caught up in the joy of getting a contract on your home, canceling your homeowner's insurance policy is likely to slip your mind. But this part of the process shouldn't be considered an afterthought, especially since it means one less bill to pay.
However, you'll need to time your cancellation just right, and the moment your home goes under contract isn't it. Even after you move out, as long as the home is in your name, you should keep your homeowner's insurance.
Work with a top agent to learn the best practices on canceling your homeowner's insurance. Your agent can help you set up a timeline or reminder to cancel so you don't end up paying more than you need to.
In the meantime, you can explore this guide to learn what you need to know about canceling homeowner's insurance when selling a house.
Do I need to cancel home insurance when selling a house?
Simply put, you must cancel your home insurance policy when you move. It does not transfer to your new home if you're buying another home right away because the two properties have different risks and will require a different type of coverages. Even a simple move across town could subject you to an entirely different price and policy coverage.
It's a good idea to delay reaching out to your insurance agent until your home goes under contract and you have a closing date set. Let them know when you're closing on the house and they can advise you on the policy cancelation.
You also need to let your insurance company know when you move out if you haven't yet sold the house. Homes are at a higher risk for damage when they are empty, and some insurance companies will only insure a house for so long before they cancel the policy. Ideally, you can remain in your current home until you have a contract to prevent an untimely cancelation of your homeowner's insurance.
» MORE: Get a free estimate of your home's current market value today!
How can I cancel my home insurance?
To cancel your home insurance policy, you will need to notify your insurance agent in writing. This letter of cancelation should include your name, policy number, the property's address, the date of desired cancellation, and your wish to cancel.
If you have paid for coverage beyond the date of cancellation, your letter should also include a request for a prorated refund.
It's best to wait until you have a closing date before submitting your request to cancel the insurance. Also, keep in mind that if you submit a cancelation request and the closing is postponed or the contract falls through, you will need to let your insurance agent know so they won't cancel the coverage.
Do I get a refund if I cancel my home insurance?
If you've prepaid your home insurance, you may be able to receive a refund for the unused premium, but this can vary by insurance provider and policy term.
Home insurance is usually paid by the month, quarter, six months, or a year. If you prepaid for six months or a year and you're not canceling during your renewal month, you will likely receive a refund of the difference. However, if you pay by the month, it's not likely you'll get a refund for the unused days.
Some insurance companies will short-rate the policy as a penalty for not carrying the policy to full term. Ask your insurance agent if you will incur penalties and how much of a refund you should expect.
Let's put this into perspective: you paid a 12-month premium and will be closing on your house in the 5th month. If you don't incur any penalties or fees, you should expect a refund for the seven months you won't own the home.
Get Help from an Expert
Knowing when to cancel homeowner's insurance when selling a house is just one part of the process. As the home seller, you have a number of obligations and liabilities from the time you list your home for sale until you sign over ownership, and it's not always as straightforward and smooth as you might like.
Working with a local real estate agent can be invaluable in helping you set realistic expectations and timelines not only for canceling your home insurance, but also for the selling process at large.
Need a local expert? Clever has you covered. Our Partner Agents are full-service, experienced real estate agents in their local markets that can help you seamlessly navigate every step of selling your home, including when to cancel homeowner's insurance.
Connect with Clever today for a no-obligation consultation and let us introduce you to a Partner Agent who can help you sell your home and save thousands in the process!
👋 Next Steps: Talk to an expert!
If you're weighing your options for buying or selling a house, Clever can help!
Our fully licensed concierge team is standing by to answer questions and provide free, objective advice on getting the best outcome with your sale or purchase.
Ready to get started?
Give us a call at 1-833-2-CLEVER or enter your info below. Our concierge team will be in touch shortly to help.
Remember, this service is 100% free and there's never any obligation.
Top FAQs about insurance and selling a home
Can I cancel my home insurance policy at any time?
Technically, you can cancel your home insurance policy at any time, unless otherwise specified by your lender. However, that doesn't mean it's a good idea. As long as you are the owner of the home, you are responsible for its condition. If you cancel your policy and the house catches fire or floods before you sell it, you'll be paying out of pocket for the damage.
Also, most insurance companies require you to give at least a month's notice of your intention to cancel. You may not be able to cancel on the spot, so check with your agent before making any changes to your policy.
When do I get home insurance when buying a house?
If you're buying a house, your lender will determine how much coverage you need for your home. But you have the ability to choose your insurance company and deductible amount.
Before your lender grants the mortgage, you will need to provide proof of homeowner's insurance to close. Otherwise, you won't be able to close on your home.
In a typical home buying transaction, you will bring proof of the insurance policy to the closing, or you can fax a copy to the escrow company or lender prior to closing.
Can you change home insurance after closing?
Changing home insurance after closing isn't just possible, it's also easier than you might think. Typically, the buyer will pay an entire year's premium up front, which means the policy won't renew until the following year. But you don't have to wait for renewal to switch policies or providers.
Instead, you only need to make sure you don't have a gap in insurance coverage. If you find a better insurance deal with another company, you can cancel your current policy and switch to the new one whenever you want. Your new insurance company should notify your mortgage lender about the change.
The best practice here is to make sure you can get a refund on the unused premium before you switch. If your provider short rates your policy or otherwise won't offer a full refund, you might be better off waiting for renewal before canceling your policy in favor of another.
» MORE: Common misconceptions about homeowners insurance
Related articles