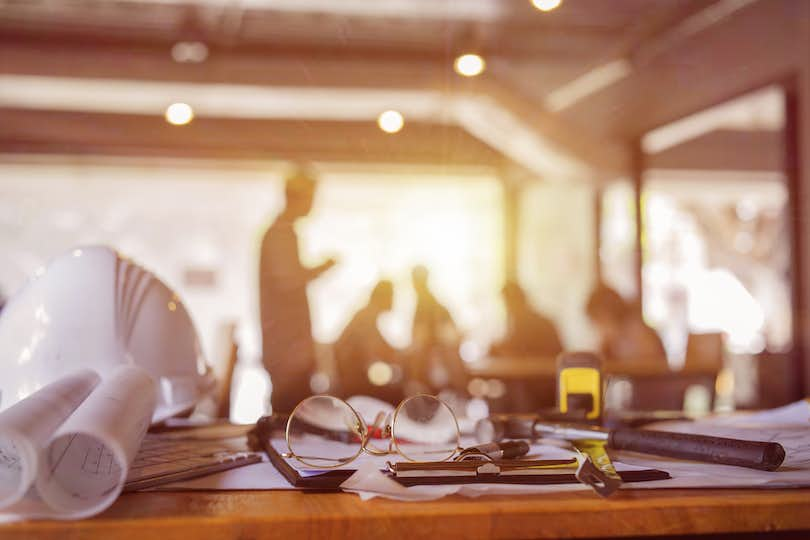 It's easy to see why exchanging your mid-size single-family home for a trendy, traveling tiny home or a modest retirement condo has such a wide appeal. A minimalist mindset can be an excellent jumping-off point for freedom from excessive, burdensome debt while discouraging the overuse of environmental resources.
But downsizing isn't always the answer. Perhaps you've already decluttered, utilized vertical wall space, and invested in multi-function furniture, and it's gotten difficult to coexist with your family the way you'd like. You need more — not less — living space.
There are three main options when it comes to upsizing:
Add to your existing home
Build a new home
Buy a bigger home
Each has its merits worth at least considering. We'll walk you through some of the key factors, benefits, and challenges to take into account when making this significant decision.
Add On to Your Existing Home
Benefits
Familiarity
If you're in love with your neighborhood, building an addition on your home is a way for you to create the space you need without saying goodbye to the location you adore and the memories you've made in your current home. Plus, you can keep the aspects you like about your home as they are while complementing those with the additional features of your choice.
Return on Investment
Adding on to your home will help meet your current needs now, but chances are it will also increase the resale value. A bathroom addition, for example, has an ROI of 50-60% on average. But even if you don't ever recoup the investment, you'll be the one to enjoy the improvements if you stay.
Costs
The service and material costs associated with a home addition may include the following depending on the extent of your addition:
Blueprints
Permits
Framing
Siding and trim
Roofing
Site preparation including demolition and excavation
Support beams and roof trusses
Drywall and insulation
Doors and windows
Electrical wiring
Plumbing
Flooring
HVAC
For a home addition, you can build out, extending your building further across your property, or build up, creating an additional story or basement. When you build out you need to pay for new foundation materials and when you build up you may need to strengthen the existing foundation to support the new structure.
In addition to hiring a contractor to manage the various projects within your addition, you may hire an engineer to guarantee structural integrity and an architect to ensure continuity of your original home's layout and style.
Costs vary widely but the national average cost for a 48-square-foot full bathroom addition is $47,000. This average estimate includes everything:
Shower and tub
Tile — vinyl, ceramic, porcelain, or natural stone
Toilet
Sink and vanity
Flooring
Plumbing
Electrical
The national average cost for a 190-square foot bedroom addition is $57,000, which includes all flooring and other finishes, HVAC work, and electric work.
Financing Options
There are some unique options here that you can take advantage of:
Home equity loan/HELOC
Cash-out refinancing
Personal loan
Fannie Mae's HomeStyle Renovation Loan
Regardless of how you finance your home addition your escrow payment will increase once the addition is complete, since property taxes increase according to the increase in square footage of your home.
Timeframe
A home addition project can take weeks to months depending on the extent of the work needed.
Challenges
Undiscovered issues
Unfortunately, it's best to expect unpleasant surprises when taking on a home addition. Think Fixer Upper horror story potential. As you undergo demolition and excavation you may find "bonus cost" bombshells including mold, water leaks, pests, or asbestos behind walls or in attics or crawl spaces.
Strict building code requirements
If you have an older home, you may end up needing to do plumbing and electrical renovations on parts of the house you thought were fine. For example, if you start working on the electrical system and see that the wiring in one area is substandard, you are required to bring that section up to code in addition to the new section of the house you're wiring.
Inconvenient labor
Throughout the demo and building process, subcontractors will be in and around your home working so your privacy is limited and dust and debris abound. You may need to make alternate living arrangements temporarily.
Build a New Home
Benefits
Creative outlet
When you build from scratch, you get to take the elements you love about your current home and make them bigger, according to your builder's restraints and your personal budget. This may include the layout, number of rooms, stylistic themes, and finishing touches. You can play a role in your home's birth from design to completion, oversee the details for optimal transparency, and take pride in the process.
Smart construction
Building a home is a good opportunity to prioritize energy efficiency like solar power, high-efficiency HVAC systems, and LED lighting for long-term waste reduction. It also provides peace of mind that your home will be new and likely to last.
Costs
Home building costs include:
Property/land
Site work—inspections, permits, and building plans
Framing
Foundation
Exterior finishes
Electricity
Plumbing
HVAC
Flooring
Drywall
Appliances
Lighting
In addition to paying for the construction materials and labor, you are responsible for the sales price to purchase the home, which is determined by your builder and multiple vendors. The sales price includes the finished lot costs, sales commission, financing, and builder and vendor fees.
If your home is built in a development with an HOA, you will need to pay a monthly HOA fee which may include some utilities but generally not all.
Financing Options
A construction mortgage is a short-term loan (usually one-year maximum) that covers the costs associated with building your home. When the construction is complete, the loan amount becomes due and you must pay it off either with an "end loan" or a refinance with your bank or lender to convert it into a standard mortgage.
Whereas to get a traditional mortgage you may only need to put down 3 percent of the loan amount for a down payment, a construction mortgage typically requires a down payment of 20-25 percent of the loan amount, determined by the cost of the land and the construction planned.
Timeframe
A new home construction typically takes six months to a year from start to finish.
Challenges
Construction delays
It can be difficult to predict a precise completion date that aligns that with selling your current house and making alternate living arrangements in the meantime. Delays or changes of plans may be caused by weather conditions, miscommunication between the buyer and the builder, and difficulty obtaining permits or other essential paperwork.
Additionally, every time you make a change order, or a request that departs from initial building plans, the agreed-upon timetable for completion is no longer binding.
Unexpected costs
Unplanned-for costs can arise in a number of circumstances. If your builder doesn't adequately monitor subcontractors' work for quality and completeness to a certain standard, you may end up bearing the cost to make completions or repairs as the buyer. If excessive rain means that water must be removed from your foundation hole, you may need to pay for that added labor cost if your builder's agreement doesn't address who's responsible in that situation.
Buy a Bigger Home
Benefits
Convenience
The main benefit to buying an existing home over building a new home or an addition is that the process can move quickly and, in some cases, with few or no hiccups. Decide what your priorities are dealbreakers are for your upsized home. From there, you can browse from the comfort of your home and recruit an experienced agent to assist you in the negotiation process once you've found the home you love.
Costs
Mortgage costs are easy to predict and include the following:
Down payment
Origination fee/lender fees
Title insurance
Appraisal
Home inspection
Earnest money
Closing costs for the house you're selling
Once the loan has closed, you'll be responsible for all of the typical costs associated with homeownership.
Financing Options
When you purchase an existing home, you'll have all of the traditional mortgage products as possibilities for financing in addition to the equity from your current home. Though there are eligibility requirements for each loan type, your potential home loan options include the following:
Conventional loans—fixed-rate or adjustable-rate (ARMs)
FHA loans
USDA loans
VA loans
Jumbo loans
Lender-specific signature loan types such as Quicken Loans' customizable term-length YOURgage
Timeframe
An existing home purchase can be completed in as few as 30 days but can take up to two months.
Challenges
Need for flexibility
When you buy an existing home, you don't have the luxury of deciding what the flooring is like or where the additional rooms are going. Unless you plan to renovate the new house you buy, you may need to let go of some of your specific upsizing dreams.
Timing the sale
Unless you're keeping your current home to rent it out, you'll probably be selling your home to put the equity towards your bigger home purchase. Selling a home involves procuring a good offer from a buyer and making it through the buyer's appraisal, home inspection, and loan approval prior to closing. Meanwhile, you're doing those same things from the buyer side and it's common to face delays on one or both of those ends.
Whether you're making room for another child, an aging parent, space to entertain, a home office, or an additional bathroom, you have options when it comes to upsizing. There are definitely ways to make do with a smaller space as you plan your next move, but you can act confidently once you've prepared financially for an addition, build, or purchase.