Split-level homes vs. bi-level homes l Characteristics of split-level homes l Types of split-level homes l Is a split-level house for you? l Pros of buying a split-level home l Cons of buying a split-level home l Tips for selling a split-level home l Frequently asked questions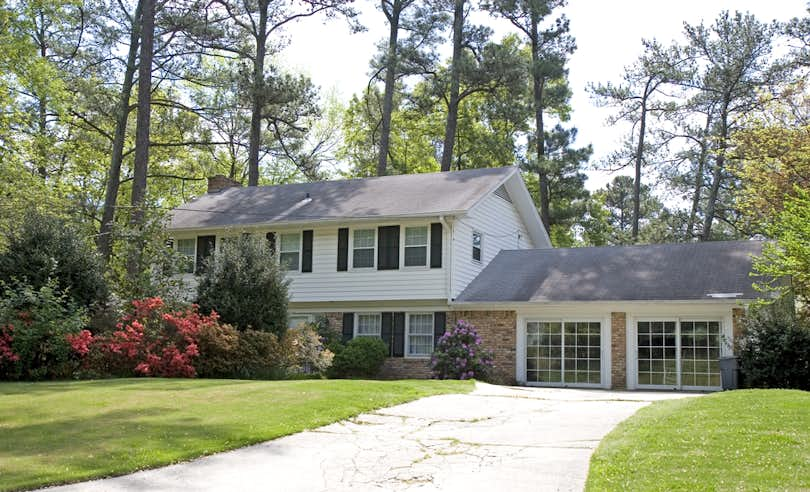 A split-level home is a house featuring multiple floor levels that are staggered. There are usually two sets of stairs off the home's main story, leading upstairs to bedrooms and downstairs to the basement. Split-levels are also called tri-levels since there are at least three levels of living.
Split-level homes first emerged during the 1950s as young families moved to the suburbs. They were produced en masse because they were cheap, easy to build, and offered more space for growing families.
These homes exploded in popularity during the late 1960s and early 1970s thanks to the split-level home featured in The Brady Brunch. Twelve percent of all new homes in 1975 were split-levels. They now account for only .5% of all new homes built. [1]
And while these homes may have been on the decline for the last few decades, they're making a comeback as Millennial and Gen Z homebuyers look for other alternatives to open space floor plans.
📖 Important Note: The Census Bureau began lumping split-level homes in with two-story homes a few years ago. They also report separate categories for three-plus story homes.
>>MORE: Find a Top Real Estate Agent
Split-level homes vs. bi-level homes
| | |
| --- | --- |
| Split-level homes include at least three distinct levels separated by short flights of stairs. | Bi-level homes only have two levels with an entranceway that gives access to both. |
Split-level homes and bi-level homes often get confused.
Split-levels include at least three distinct levels of living separated by short flights of stairs. The main living space connects to two other stories, often a basement and an upstairs area used for bedrooms.
Basements of split-level homes are almost always finished and can serve multiple purposes. They typically have a laundry room and a larger space that can be used as a bedroom, rec room, or home office.
Bi-level homes only have two levels, with an entranceway giving access to both. This home type is known for being a modified version of a ranch home. The main difference is that bi-levels feature an extra story.
🏡 Sell or Buy a Home with Clever and Save Thousands!
Enter your zip code to see if Clever has a partner agent in your area!
Characteristics of split-level homes
Characteristics shared amongst split-level homes:
Half stairs
Efficient use of space
Bay windows
Attached lower-level garages
Lower level basements
Low pitched roofs
Mix of materials
Each split-level home is different and has unique architectural features and characteristics. While their differences may be greater than their similarities, there are a few traits that all split-level homes are known for.
Half stairs everywhere
A typical split-level home features an entryway with two flights of stairs, one leading upstairs and one leading downstairs. There is also a set of stairs leading up to the home's front door.
Some split-levels include more than two flights of stairs depending on how many stories the home has. This means you'll never have to worry about heading to the gym because you can get all of your cardio done right at home. 💪
Efficient use of space
Split-levels are known for their efficient use of space — making them a great alternative to open floor plans.
The areas of split-level homes tend to be more private because each floor is divided for specific purposes. Many homebuyers use the basement as a private home office because it is set apart from the rest of the house and is soundproof.
Bay windows
Split-level homes share one common feature with ranch-style houses: big bay windows. A big picture window can be found in the living room on the main floor of all split-level homes, no matter the style.
Attached lower-level garages
Having an attached garage may seem like the norm now, but it was all the rage during the 1950s when split-level homes first hit the market. They were an attractive thing to offer to young homebuyers and offered a fresh take on the modern home.
>>READ: How Much Value Does a Garage Add to a House?
Lower level basements
Split-levels will always have a floor located below the point of entry. The basement was initially designed as a place to hang out with friends and family. And while they can still serve that purpose, they are most often used for home office or studio spaces in this digital age.
Lower-level basements also have a direct entrance into the garage.
Low pitched roofs
A pitched roof slopes downwards in two parts at an angle from a central ridge. Some pitched roofs slope downward at only one point from one edge to another.
This roof is popular among many home types because it allows water and snow to drain quickly into the gutters.
>>MORE: How Much Does a Roof Inspection Cost?
Mix of materials
Split-level homes usually incorporate a wide variety of different building materials. The lower exterior of the house is often made of brick, rock, or stone, and the upper levels are comprised of some type of siding or wood.
What are the different types of split-level homes?
Different types of split-level homes

Side split

All levels of the home can be seen from the curb

Back split
The different levels of the home can only be viewed from the side of the home
Standard split
Known for having an entrance at ground level
Stacked split
Home known for having four or five stories and just as many stairs
Split-level homes come in all shapes and sizes, with some houses reaching five or six stories. The wide variety of split-levels makes them commonplace in the suburbs across America.
And while there are many different architectural styles, there are a few that should be put on your radar.
Side split
Side split homes are the most common type of split-level houses. All of the levels of a side split can be seen from the home's curb.
This home type is typically divided into two sides, with the garage on one side of the house with bedrooms located above and the main living area located on the other side.
Back split
A back split style home is a type of house where the split is only visible from the side. The front of the home only shows a single story while two levels can be seen in the back.
Standard split
Standard splits are known for having an entrance at ground level leading into the main story of the home. Two short sets of stairs lead off the main level to the upstairs living area and downstairs towards the basement.
The bottom level is usually attached to the garage and is used as a playroom, den, or office. The middle level has the kitchen, dining room, and living room. The top-level has all of the bedrooms.
Stacked split
Stacked splits are known for having four or five floors and just as many flights of stairs. They are similar to standard splits because they have an entrance at ground level.
>>READ: What Is an iBuyer? (A Comprehensive Guide)
Is a split-level house for you?
| ✅ Pros for buyers | ❌ Cons for buyers |
| --- | --- |
| More affordable than other home types | Remodeling can be a challenge |
| Allow for better separation between upstairs and downstairs | Lots of stairs |
| More outdoor space | Awkward look |
Split-level homes are an excellent option for younger families. They offer a greater sense of privacy due to multiple levels of living that each have a specific purpose.
Those wishing to purchase a split-level home should know that they will be walking up multiple flights of stairs every day with laundry, groceries, etc. This home type isn't optimal for those that struggle with stairs and different levels of living.
Pros of buying a split-level home
Affordability
Split-levels tend to be cheaper than other homes because they've been out of demand for decades. This is because most homebuyers don't like the idea of having multiple split levels in a home.
However, if you can deal with the number of stairs, they make great starter homes and are suitable for families looking to expand.
The downside of split-levels is that while they may be cheaper to buy, they can be a pain to sell. Homebuyers may not like the idea of having a staggered floor plan that offers little to no curb appeal and no natural light.
It's important to keep in mind that the home could bring in a lower value than others of similar size and vintage in the area.
Selling a house? We can help!
Clever can connect you with top local listing agents who work for pre-negotiated low rates: 1.5% listing fees (half the usual rate).
You can interview your Clever agent matches, get free pricing estimates, and compare marketing plans — all with no strings attached.
Ready to learn more? Submit the form below for a free phone consultation with one of our Licensed Concierges.
>>MORE: A Timeline of Affordability: How Have Home Prices and Household Incomes Changed Since 1960?
Allow for better separation between upstairs and downstairs
Split-level homes allow for greater separation between levels than other home designs. It's easier to have a greater sense of privacy and less noise since the basement and garage are downstairs, the kitchen is on the main level, and the bedrooms are located on the top floor.
The downstairs basement is also soundproof and can function as a great office, gym, or hobby space. It can even be rented out as a bedroom if you are looking to rake in a little extra cash.
More outdoor space
Split-levels maximize vertical space — meaning there's more room to enjoy the great outdoors. You could build an outdoor barbecue or a playground for your little ones.
Cons of buying a split-level home
Remodeling can be challenging
There are fewer remodeling options available for split-level homes since the layout isn't built to handle changes. Each level of the home is constructed with a specific purpose in mind — recreation on the lower level, entertainment and eating on the main level, and sleeping on the upper level.
It's possible to continue building upwards, but a lot of work would have to go into creating a separate floor — including moving the roof and finding space to make even more stairs.
>>READ: Find Top-Rated Home Improvement Pros
Lots and lots of stairs
Life in a split-level involves a lot of indoor climbing. Since the home is broken into different levels, you can expect to go up and down stairs each time you want to use another part of the house.
The front doors of split-level homes are not usually located on the ground level, meaning more stairs to climb.
Awkward look
Split-level homes are not the most eye-catching or appealing type of home. And while they were once trendy, many homebuyers may consider their staggering levels awkward.
This can make them harder to sell than a ranch house or other traditional two-story house.
Tips for selling a split-level home
Split-level homes can be a challenge to sell. It's important to think about all that your home has to offer when marketing your home.
You can market your home by turning negatives into positives. For example, the staggered floor plan may be a big downside, but it does allow for greater privacy inside the home. It's also easy to make minor updates to your home, such as painting and updating the landscaping.
If you're looking to sell your home fast and are unsure of which way to go, Clever can help! Get in touch to speak with our team of real estate experts who can help assess your situation and connect you with the best solutions for your needs.
>>MORE: The Average Real Estate Timeline For Selling Your Home
FAQs
Why did they build split-level homes?
The staggered floor plan of split-level homes gained steam in the 1970s for many reasons. Homebuilders realized they could better utilize their lot with the tri-level because of its smaller footprint and maximum space. It was also a lot more affordable than other designs, which contributed to its popularity.
Do split-levels have basements?
Most split-level homes only have half a basement, although it's possible to have a full basement. Typically, the half-basement is under the middle level and raised slightly above ground level.
Is a split-level home considered two stories?
Though a split-level home consists of three levels, the house itself is considered two stories. The front entryway is placed between the levels.