A-Frame homes offer a unique and simple design that makes an incredible first impression. If you've been debating on purchasing an A-Frame home, learn more about how these homes are constructed, the pros and cons of this style, and the type of buyer and location that works best for this style home.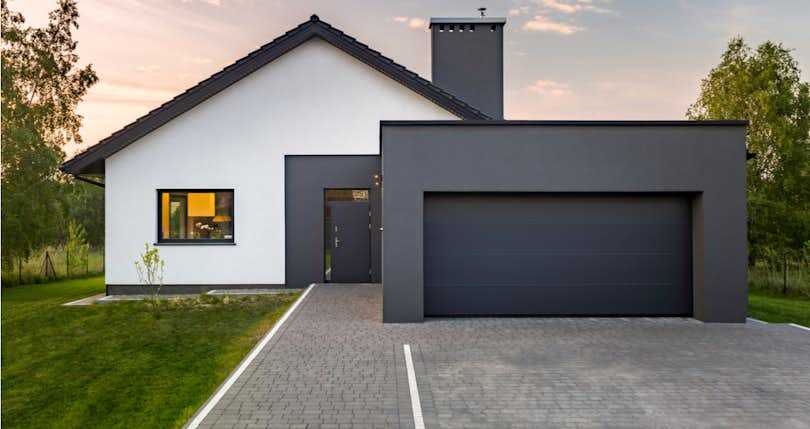 When shopping for your new home, there are many distinct styles you can look for, but none is perhaps quite as notable as an A-Frame house. A-Frame houses are named after the unique shape they create, forming a letter "A" in a triangle formation.
These homes are popular all across the country, particularly in scenic locations. They have a sleek, modern appearance, with the walls beginning near the ground and sloping upwards. A-Frame homes are also fairly affordable to purchase.
If you've been considering purchasing an A-Frame home, be sure to check out the pros and cons of this type of home first.
What Are A-Frame Homes?
A-Frame homes are symmetrical housing shaped like a capital letter "A." It was inspired by a cabin design created by R.M. Schindler, a Californian architect in the 1930s. In the 1950s, this style home became popular along beaches, thanks to famous architect Andrew Geller.
This type of home is generally constructed from wood and as a result is easy to build and scale. While most are single-story with loft spaces, some can be more grandiose with multiple floors and cathedral style windows. A-Frame homes are slightly harder to come by now, but still available and in high demand.
Pros of A-Frame Homes
A-Frame homes are often beloved for their charming appearance. There are many benefits to owning this type of home over other, more traditionally shaped housing. Some of the main pros of A-Frame homes include:
Large, scenic windows, from floor to ceiling
High ceilings
Open floor plan
Loft space for storage or a unique room
Uncomplicated design
Affordable
In general, these homes offer bright natural light, a simple, yet sleek design, and open plan that can feel elegant and cozy.
Cons of A-Frame Homes
While these homes can be breathtaking to withhold, there are some major drawbacks that should be considered before purchasing. A few of the main cons to A-Frame homes include:
More susceptible to termite damage due to wooden framing
Less likely to hold up in a major storm
Lack of storage space
Limited number of rooms due to roof size
Lack of privacy due to large windows
Overall, A-Frame homes can be difficult to manage in some climates prone to storms or termites and may not be the best pick for large families.
Who Should Buy an A-Frame Home?
Anyone who loves an A-Frame home should feel welcome to purchase one, so long as they consider all of the benefits and drawbacks to this type of housing. These homes tend to work best for singles who do not need a lot of storage, since the roof design doesn't allow for a lot of storage space.
Buyers looking for a vacation home or second home in a scenic setting might enjoy an A-Frame home design, as the large windows allow for quick access to gorgeous outdoor scenery. These homes also tend to work best when built away from other properties, to allow privacy for the homeowners.
Since the construction of an A-Frame home is fairly straightforward, they tend to run cheaper than traditional housing, which can be a major plus for buyers. If you're looking for an affordable house or investment property, an A-Frame home might be a good purchase.
Get Additional Information About A-Frame Homes
Still not sure if an A-Frame home is right for you? We suggest partnering with an experienced real estate agen t who can answer the most common questions buyers have about purchasing A-Frame properties. A qualified agent can help you find the right type of A-Frame housing within your budget, or offer alternative housing suggestions if you're on the fence.
In addition, a real estate agent can help you figure out the best financing options available to you, take you on home tours of houses you're interested in, help you place an offer and negotiate, and walk you through all of the paperwork and questions you'll have along the way.
If you don't already have an agent, you can team up with a full-service Clever Partner Agent who can help you find the A-Frame home of your dreams. Get connected with an agent near you today.
You May Also Like