Half bath l Vs. full bath l Value l Costs of adding a half bath l Ways to pay l Best places for a half bath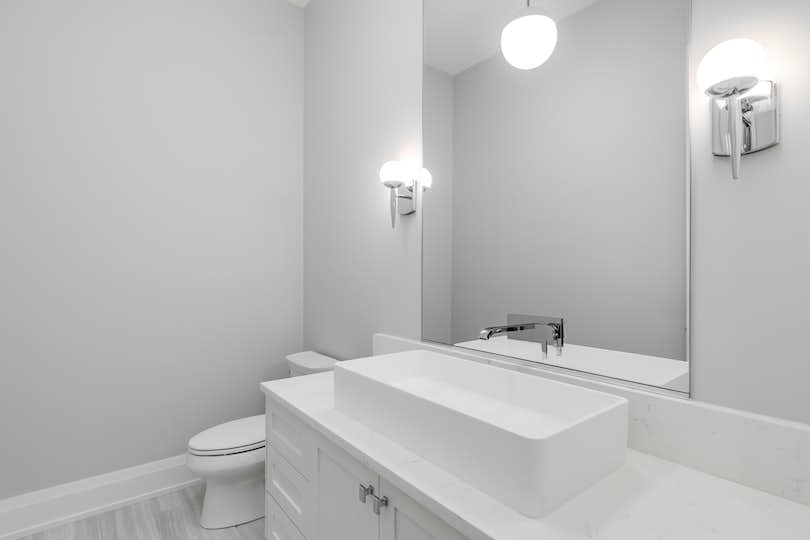 A half bathroom is a room containing only two components — typically a toilet and a sink. Although rare, other configurations of half baths exist involving any combination of a shower, bathtub, toilet, or sink.
Half baths are also known as powder rooms or guest bathrooms. They offer homeowners a greater sense of privacy, as visitors can use them without entering into any personal spaces in the home. They also come in handy for large families — there's no need to wait in line while your teenage daughter takes a shower!
Bathrooms are one of the most important factors for homebuyers when researching homes. The number of bathrooms can help homebuyers determine if they can comfortably accommodate their family. And as a home seller, the number of bathrooms can help influence the value of a home.
Half bath vs. full bath
| | |
| --- | --- |
| Half bath | Full bath |
| Incorporates two elements | Incorporates four elements |
| Normal combination includes toilet and sink | Includes a toilet, sink, shower, and tub |
| Typical dimensions are between 18 and 21 square feet for the entire space | Typical dimensions are around 40 square feet. |
Full bathrooms are one of the most common types of bathrooms in a home. They include four components — a sink, toilet, tub, and shower.
(There's also a three-quarter bath, which is less common. This includes a toilet, sink, and shower, but no bathtub.)
Full baths differ from half baths not only in the number of components but also in size.
Size of half baths vs. full baths
Half baths are flexible in terms of space, which is why they are favored over full baths. The smallest half baths are around 11-12 square feet while the average size can range from 18-21 square feet.
In comparison, a normal full bath averages around 40 square feet. This includes the space required for a combined bathtub and shower, toilet, and sink.
Some full baths tend to run larger depending on added amenities, such as a double sink or a separate bathtub and shower. The size of full baths with these additions can range from 75-110 square feet.
What value does a half bath bring
Adding a bathroom has one of the strongest impacts of any home feature on single-family detached home values.
A study conducted by the National Association of Homebuilders shows adding a half bath to an average-sized home increases the value by 10%. Adding a full bath can boost values as high as 20%.
Recouping costs
Homeowners who invest in adding a new bathroom recoup 60-70% of the investment when the house is sold.
A half bath addition is best for homeowners who plan to stay in their homes long-term. Building a half bath is not for those who are looking to make a quick sell right away because you're not profiting or making 100% of the investment back.
>> READ: What Can $50K to Renovate a House Get You? 5 Options
Costs of adding a half bath
| | |
| --- | --- |
| Building a half bath from an existing space | Building a half bath from scratch |
| Costs vary between $5,000 and $15,000 | Costs vary between $10,000 and $30,000 |
The average cost of adding a half bath ranges from $5,000-30,000. The costs vary depending on whether you can build a half bath from an existing space or if you have to start from scratch and build from the ground up.
The average cost of adding a half bath to an existing space is between $5,000 and $15,000. In comparison, building and constructing a half bath in a home is much more expensive, ranging from $10,000-30,000.
In some locations, adding a half bath is more expensive than others. In Beverly Hills, CA, adding or remodeling a bathroom costs $12,000 on average in comparison to Bakersfield, CA, which averages around $11,000.
Plumbing costs
Plumbing costs depend solely on whether the half bath can be built from an existing space or if a new space has to be built. Costs typically range between $1,000 and $14,000 and can easily continue to skyrocket.
When building a new half bath, plumbing costs can include:
Adding pipes and lines for both the sink and toilet: $1,000-10,000
New toilet and installation: $200-550
New sink and vanity, plus installation: $850-5,000.
Homebuyers and owners should also take into account access to water and electrical lines. If the new addition is built close to both, it will reduce costs significantly during construction.
Electrical costs
Electrical costs can range from as low as $500 to as high as $25,000. Costs are mainly determined by how close the new half bath is to existing circuitry in the house.
Electrical costs typically include:
Breaker panel upgrades: $500-1,800
Electrical panel and wiring installs: $500-1,800
Switches: $100-200 each
Outlets: $150-300 each
Lighting: $150-900
Exhaust fan installation: $250-550.
Flooring
The cost of adding flooring to a half bath can range anywhere from $2,400-7,100. The estimates include floor installation with costs varying from $1,500-4,500 and the flooring itself, which ranges from $900-2600.
It's important for homebuyers and owners to choose flooring that is resilient and durable.
The best types of flooring to purchase include:
Porcelain tile — which is durable and water-resistant: $3-15 per square foot
Luxury vinyl planks — which are waterproof: $5-10 per square foot; and
Vinyl sheets — which are good for buyers on a budget: $.50-2 on average
The types of flooring to avoid at all costs are:
Having carpet in a bathroom creates a breeding ground for mold and mildew. Hardwood floors also create further problems since moisture will slowly kill the wood over time.
Home Advisor suggests checking with your local professionals to determine the price range you can expect for adding a half bath to your home.
Bathroom installation cost breakdown
Plumbing costs
$1,000-10,000
Electrical costs
$500-2,500
Flooring
$2,400-7,100
Toilet installation costs
$200-550
Drywall costs
$1,000-2,500
Vanity
$500-3,800
Lighting fixture costs
$150-900
Towel racks
$20-100
Is a permit needed to build a half bath?
Building a half bath requires a permit due to the extensive amount of construction. Permits are needed for any work including:
electrical
framing
drywall
plumbing
Permit requirements vary based on location and can cost between $40-2,000, depending on the amount of work required. Homebuyers who are looking to add a half bath should contact their local code enforcement to find out the exact requirements for building a half bath.
Minor work such as replacing an existing sink, painting, or changing the flooring of a half bath does not require a permit.
Ways to pay for a half bath addition
Paying for an additional half bath doesn't have to break the bank. There are several options available that allow both homebuyers and owners alike to make their house more appealing.
>> LEARN: Best Grants for Building Buying or Repairing Your Home in 2021
Home improvement loans
One of the best options to finance a new half bath is through Home improvement loans. These personal loans are unsecured and offered by most banks, credit unions, and lenders.
The interest rate for home improvement loans is based on credit score alone, with funds available almost immediately upon approval. This type of loan also allows for shorter repayment timelines.
Home improvement loans feature higher interest rates in comparison to home equity loans and home equity lines of credit (HELOCs).
Home equity lines of credit (HELOCs)
Home equity lines of credit (HELOCs) are secured loans backed by your home. This means a home must have sufficient home equity in order to borrow money.
HELOCs offer homebuyers and owners lower interest rates than unsecured personal loans. However, payments can increase based on market conditions and a loan servicer can foreclose on your home if payments are not made on time.
Home equity loans
Home equity loans are often referred to as a second mortgage. These loans are often paid out in a lump sum that can be repaid over a number of years in regular monthly payments.
The downside to home equity loans is that loan servicers use your home as collateral. There is also less payment flexibility compared to other options, such as HELOCs and credit cards.
Mortgage refinance
Mortgage refinancing replaces a current mortgage with a new one and gives a new interest rate to the homeowner. Homeowners are able to pocket the difference if the new loan is bigger than the old.
While this may seem good on paper, extra costs are associated with refinancing including:
appraisal costs
origination fees
taxes
other closing related costs
Refinancing your mortgage is typically worth it only if you can secure a lower interest rate.
Credit cards
Credit cards are a good option for those who are looking to build a half bath from an existing space. Some credit cards offer 0% APR for a set amount of months and can be used to purchase portions of equipment and materials necessary to build the half bath.
It's important to consider that if you can't pay back the full amount owed before the 0% APR expires, you could be hit with a large interest rate that's subject to change based on market conditions.
Government loans
Government loans can help home buyers save on higher interest rates in the long term. Several loans allow you to borrow the money needed for a project without having any equity in your home.
Government loans are a good option for those that are looking to buy or have recently made a home purchase and need to make a few upgrades.
The majority of government loans offered have a stipulation that requires the money to go toward renovations that improve the livability of a home. It's important to check that the upgrades your planning to make to your new home qualify for assistance.
What are the best places to add a half bath?
Whether you're looking to build a half bath from an existing space or create one from scratch, there are a few key locations to take into consideration.
When building a new half bath, it's best to build next to existing water lines and electric circuitry. Building next to these locations means there is less work for plumbers and electricians, which will save on overall costs.
Closets
Closets are one of the best places to build a half bath. These small rooms are already enclosed and often located close to existing water pipes and electrical wiring.
When building a new half bath, it's important to check that the closet space is big enough to convert into a new bathroom. Experts recommend building in a closet that is at least 4 feet by 4 feet of combined space at the smallest and up to 25 square feet of space for a larger half bath.
Hallways
Building a half bath in a hallway offers the most flexibility when you're having to build from the ground up. It's possible to build a half bath in empty space between rooms or at the end of a hall.
When you're creating a plan with your contractor, it's important to keep in mind the rooms adjacent to where you're planning to make the addition and be sure utilities can support the area where you are building.
Garages
Adding a half bath to a garage can be a cinch. Most garages are built with extra space to accommodate two full-sized cars, meaning building a half bath is typically no problem at all.
Garages are also a great option since they are close to both water and power connections.
Under the stairs
Another great place to build a half bath is underneath a staircase in a multi-story home. Many staircases have built-in shoe closets or pantries on the first floor, making it easy to convert into a half bath with a sink and toilet.
This location offers accessibility to those entering the home and those looking for privacy.
Next steps
Whether you're a home buyer or home seller looking to make the right choice about adding a half bath, a real estate agent can help.
Real estate agents can help sellers decide if building a half bath will add value to their home based on location. Agents can also help those who are looking to buy by narrowing down homes that either include a half bath or those that offer a good layout to build an addition in the future.
If you're looking to weigh your options, Clever can help! Our fully licensed Concierge Team is standing by to answer any questions you may have and can pair you with a real estate agent in your area to talk about all of the options available. Click here to find out more!