Duplexes vs. other properties l Is renting a duplex apartment right for you? l Investing in a duplex l Ways to finance a duplex l Finding a duplex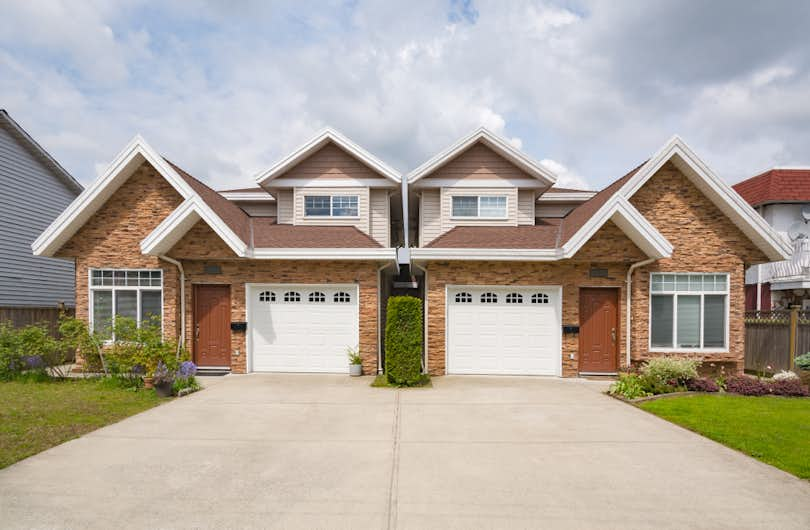 A duplex house is a multi-family home containing two separate apartments. They are typically owned by one person who is responsible for renting out and maintaining the property.
The duplex apartments can either be located side by side or stacked on top of one another. They also share one or more walls with each other.
Duplex units usually come with similar features found in single-family homes including bathrooms, bedrooms, a kitchen or kitchenette, and a living room. The two units share common spaces including the backyard, gardens, storage areas, and garages.
Duplexes are often mistaken for twin homes, which are attached houses located on two separate lots versus one.
Other definitions of a duplex
Duplexes have a more luxurious meaning in some parts of the United States.
In the boroughs of New York City and in some areas in Chicago, a duplex is a single apartment with two floors connected by stairs or an elevator.
Duplexes can also be confused with the French term "maisonette," meaning small house. Maisonettes are apartments that cover two floors and have their own entrance from the outside. They differ from duplexes since they only have one unit, rather than two.

What makes duplexes different from other properties?
Differences between duplexes and other types of multi-family housing
Duplexes
Typically have a single owner who can live in one of the units or rent out both for a profit
Townhomes
Each unit is separately owned on separate lots
Condos
Each owner owns the interior of the unit while a corporation owns the entire complex
Apartments
Multi-family structure with several units typically owned by one owner or a corporation
There are many different types of multi-family housing. It's important to differentiate each one since they all have unique characteristics and quirks.
The biggest difference between duplexes and other types of housing is the concept of ownership. A duplex is owned by a single person or entity that rents out both sides for a profit. The tenants of the duplex apartment do not own anything and have to ask permission to make any changes to living and shared spaces.
Townhomes
Townhomes are single-family attached dwellings that share one to two walls with adjacent properties. The unit and the land it sits on are typically owned by the homebuyer.
Most townhome owners have to pay homeowners association (HOA) fees to help cover maintenance costs. They are usually far less expensive than living in a condominium (condo) complex.
Condominiums (Condos)
Condominiums (condos) are individually-owned units located within a large complex. While the condo unit is owned by an individual, the entire complex is usually possessed by a corporation.
Condos tend to have more community amenities compared to townhomes. The extra amenities — including tennis courts, gyms, swimming pools, and rooftop gardens — are paid for through hefty HOA fees.
>>READ: What Is an HOA?
Apartments
Apartments are part of multi-family structures with several units. The entire structure is typically owned by one owner or a corporation.
The big difference between a duplex and apartments is the number of units. A duplex consists of two units located within the same structure, and an apartment is a single unit located in an apartment complex among dozens and dozens of other units.
Is renting a duplex apartment right for you?
| Upsides to renting out a duplex | Downsides of renting out a duplex |
| --- | --- |
| Renting a duplex can be cheaper than living in an apartment | Privacy boundaries can be an issue for those living in a duplex due to shared spaces and a common wall |
| Less sharing of amenities than apartment complexes | On-site maintenance services are rarely available at a duplex |
Renting out a duplex is all up to personal preference. There are upsides and downsides to calling a duplex apartment home.
Upsides to living in a duplex
1. Cheaper than an apartment
Renting a duplex can be cheaper than living in an apartment since the cost of living is usually split between both units. This means that both rent and living expenses tend to be lower.
Having lower rent means you can live in a better part of town or have extra money for other expenses.
2. Less sharing
In apartment complexes, amenities are shared between tenants ranging from the gym area to laundry facilities. Most duplex units come with their own laundry and dryer hookups and private parking spaces.
3. Live closer to your neighbor
If you're looking for a place to share with your BFF or family member, renting out both units of a duplex can be the perfect option. This allows you to still have your own home and privacy but be within close proximity to those that matter most.
There is one potential downside to living next door to friends and family. You could go from loving to hating them if they turn out to be a nightmare instead of a good neighbor.
Downsides to living in a duplex
1. Privacy boundaries
Privacy boundaries are a big issue for those living in duplex apartments thanks to shared spaces and a common wall. Backyards, gardens, storage spaces, and garages are typically shared between neighbors. This means that you have to trust your neighbor or set boundaries to avoid negative situations from happening.
2. No on-site maintenance services
Unlike apartment living, those living in duplex apartments do not have access to 24/7 on-site maintenance staff to help with repairs. You would have to call your landlord and wait for professional help, which can unfortunately take a long time.
Investing in a duplex
| Pros of investing in a duplex | Cons of investing in a duplex |
| --- | --- |
| The owner of the duplex can live in one of the units and rent out the other for income | There is not a wide selection of duplexes available |
| Renting out a single unit could pay for the entire mortgage | You may not get along with your tenants |
| Tax deductions are available for maintenance and upkeep of the duplex and the property | Privacy could be an issue if your tenants do not respect your space or follow rules |
Buying a duplex is a great opportunity for investors who are looking to get their feet wet. The purchase can ultimately pay for itself over time, making it a great investment property.
However, like everything, there are pros and cons to owning a property.
>>MORE: Real Estate Investing — A Complete Guide to Getting Started
Pros of investing in a duplex
House hacking is a strategy that involves renting out portions of your primary home to generate income to offset costs like a mortgage.
One of the biggest advantages of buying a duplex revolves around the idea of house hacking — where you live in one of the units and rent out the other. Living in one of the duplex units allows you to stay close and involved in case something happens to the unit you lease.
Renting out the other duplex apartment at the full cost of the mortgage will also allow you to live in the other unit for free. If you choose to live somewhere else, you can rent both duplex units out and collect rent from both.
One more upside to living in one of the duplex units? The ability to house friends or family. If you have a family member who needs support, you can keep a close eye on them without living in the same household.
Investing in a duplex can also give you certain tax perks. Property owners can take out deductions for extra expenses such as yard work, maintenance, and repairs since the duplex would be considered a rental property.
Cons of investing in a duplex
One of the biggest downsides of investing in a duplex is there is not as much inventory as single-family homes. This means there are fewer options to choose from.
Owning a duplex also means being at the whim of your tenants. For investors who choose to live in one of the units, this means dealing with noise or intrusions into your space and privacy. If an investor lives off property, this can mean dealing with constant requests for maintenance and changes to the property.
>>MORE: 5 Things To Know When Buying A Duplex For Sale In Los Angeles
Ways to finance a duplex
Financing a multi-family home like a duplex varies depending on whether the buyer plans on occupying one of the units.
An owner-occupant is someone who plans to live in one of the duplex apartments and also qualifies as an investor at the same time (since they are also using it as a rental property). An investor can also be someone who plans to use the duplex purely for rental income.
Owner-occupants can choose from a wide range of loans from the Federal Housing Administration (FHA), Veterans Affairs (VA) loans, or conventional financing. The only option available for investors is conventional mortgages.
On top of having only one financing option, investors also need to have more cash in the bank for a down payment compared to owner-occupants. They will need to put down at least 20% or more to qualify for traditional financing. This is because lenders typically assume more risks with investment properties versus owner-occupied properties.
>>READ: Investment Property Loans That Require 10% Down Or Less
Conventional mortgages
Conventional mortgages for duplexes work for both owner-occupants and investors.
You can apply for a conventional mortgage from a bank, credit union, or mortgage lender — the same as a single-family home. When you apply for the mortgage, the lender looks at your:
Credit score
Credit history
Income
Assets
Any other debts
Conforming loan limits for conventional mortgages are capped at $548,250 for 2021 nationwide. Higher limits are available for counties with higher housing costs with the limit capped at $822,375.
Projected rental income can sometimes help owner-occupants or investors qualify for a conventional loan. For rental income to be counted, renters must have already signed a lease contract with the owners.
Federal Housing Administration (FHA) Loans
Federal Housing Administration (FHA) loans are backed by the government and can be used for properties up to four units (quadplexes). These loans are not issued by the FHA but instead by FHA approved banks and mortgage lenders.
They can be used only by owner-occupants and not sole investors who plan to use the property purely for rental income. They are suitable for owner-occupants who are first-time homebuyers, have less than perfect credit, and don't have a large down payment.
Lenders are generally more willing to take on borrowers who have a limited credit history or a down payment which includes gift money since the loan is backed by a government agency.
FHA loans also offer lower down payments than conventional loans, lower closings costs, and easier qualification.
To qualify for an FHA loan, you need a credit score of at least 500 if you're making a 10% down payment. To determine if you are eligible for the lowest down payment percentage of 3.5%, FHA underwriters will look for a credit score of 580 or higher and a debt-to-income ratio of 50% or less.
In addition to a down payment, FHA borrowers need funds to cover FHA closing costs and the mortgage insurance premium. The mortgage insurance premium and closing costs can be rolled into the total amount of the mortgage.
To be granted an FHA loan, the property you wish to purchase must meet FHA standards and undergo an FHA appraisal.
Veterans Affairs (VA) Loans
Veterans Affairs (VA) loans are one of the biggest benefits associated with military service. They can be used to finance properties up to four units.
To qualify for a VA loan, you or your spouse would have to be active service members or veterans. These loans can only work for owner-occupants, not investors since the loan requires you to live in one of the units.
No down payment is required for a VA loan — along with private mortgage insurance and no minimum credit score.
If you want to know more about financing a duplex, talk to a mortgage servicer or lender who can help you explore your options.
So, how do you find a duplex?
Finding a duplex to invest in can be tricky. There are limited options on the market for duplexes, and they tend to get snapped up quickly.
Working with a real estate agent can help you find the right deal in the area you're looking for. And help you spot new properties as soon as they are listed.
Want to learn more? Clever can help! Our fully licensed Concierge Team is standing by to answer your questions and offer free, objective advice about how to sell your home, given your specific goals and situation. Click here to find out more!