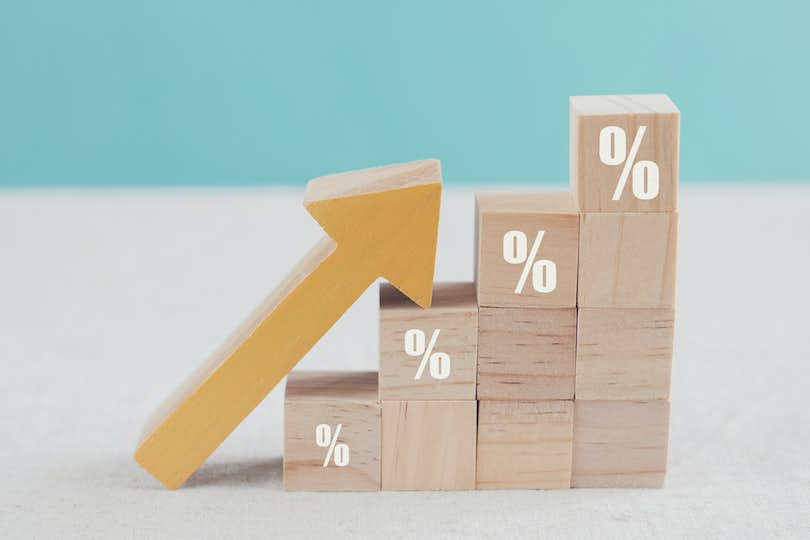 Inflation remains stubbornly high, with one key indicator showing concerning signs in January after months of milder price increases. The effects of this persistent inflation can be seen most dramatically in the U.S. housing market, where the average home value has shot up about 40% over the past three years.
That's been great for homeowners. But inflation — the general increase in prices that erodes your savings and purchasing power — tends to have a pretty corrosive effect on the economy, so there are some significant downsides here.
Let's get into what inflation rates mean for new homeowners — the good and the bad.
Home values will likely stay high in some markets
The most obvious effect of inflation is that prices go up, and that includes home prices. If you're a new homeowner, that means you can continue to enjoy some very healthy appreciation in the coming months or years — if you're in the right market.
In an effort to bring down inflation, the Federal Reserve has been raising interest rates, which has translated to higher mortgage rates. This has led to many potential home buyers being priced out of the housing market — with mortgage applications falling 41% since last year.
Recent data shows that, among the 400 largest U.S. housing markets, 276 markets have seen home prices drop from their 2022 peak, while 124 have stayed at their peak. Furthermore, many of the markets that saw drops were driven by high iBuyer activity, as these high-tech companies quickly slash prices to unload inventory when the market fluctuates.
Some markets will see prices flatten or dip — not experience a 2008-style crash
High prices tend to lead to economic burnout, which is why so many experts are predicting a recession. But even if that does come to pass — and there's definitely no firm consensus that it will — the housing market could come through in pretty good shape.
A big reason for this is that housing inventory is historically low. Many homeowners are staying put right now, and high prices for labor and materials have made new construction extremely expensive, so there's not a lot of new housing in the pipeline. The upshot? No matter how much demand drops, it will probably still exceed the very low supply of housing. Homeowners in hot markets are having no problem selling right now, with many even conducting "for sale by owner" sales, with no help at all from an agent.
And even among the gloomiest prognosticators, there's agreement that we're unlikely to see home values crater à la 2008, when they ended up dropping 26%. That housing crash was completely different — driven by poor lending practices and out of control financialization. This time around, the economic fundamentals are much firmer.
Although some high-priced markets are transitioning from seller's markets to neutral ones, we've got a long way to go before we get into buyer's market territory. One telling data point — average real estate commission rates remain low, which indicates a competitive, fast-moving housing market.
» MORE: Americans' Pessimism Darkens 2023 Economic Outlook
Sellers can cash in, but only if they act fast
Maybe you need to sell your house now because of a new job or life change, or maybe your gut is just telling you that now is the time to cash out. It's not too late to sell if you want to take advantage of the booming market — but you should move quickly.
A recent survey of top economists found that, while many of those experts still predict a recession in 2023, they now believe it won't set in until later in the year. (Previously, many thought the U.S. economy would enter a recession in the first quarter of this year.) The economy is proving to be resilient, even in the face of skyrocketing interest rates, so homeowners looking to sell may still have a window of opportunity if they can quickly find an agent and get their home on the market.
However, the news isn't all good.
After you sell, you have to turn around and buy
The great thing about selling in a market like this is that sellers have a ton of power. You'll likely have multiple buyers competing for your home, which gives you the ability to command top dollar.
And because many of these buyers have probably already been outbid on two or three homes, you'll be able to demand some concessions, like getting them to waive the home inspection or cover your closing costs. In a strong seller's market, you can even negotiate a commission discount with your agent.
However, don't forget that after you sell your present home, you'll have to buy your next one in the same hypercompetitive market. Once you're on the other side of the table, you'll have to contend with sky-high mortgage rates, a limited number of listings, and sellers who know they have leverage over you. And because of inflation, the money you just made from your home sale probably won't be able to buy as much house as you think.
» MORE: Ways High Inflation Could Impact Your Next Move
New homeowners with an adjustable-rate mortgage will feel the heat
Homeowners with a fixed-rate mortgage have an interest rate set in stone. No matter how much mortgage rates go up, their mortgage stays the same. That's a great source of security in times like these, when mortgage rates are shooting up.
But some homeowners have adjustable-rate mortgages (ARMs). These mortgages have interest rates that start low and then, after a certain period of time, increase according to certain economic benchmarks.
Current holders of ARMs have seen their mortgage payments increase, some to unaffordable levels. These homeowners may need to rent out portions of their home to cover their monthly mortgage payment or, in the worst case scenario, sell quickly to a cash buyer. And with the Federal Reserve signaling its intention to keep hiking interest rates, it's unclear when homeowners with ARMs might get some relief.