Outdoor lovers love the unspoiled beauty of Alaska. The state offers economic opportunities to those in the oil and gas industry, the ability to work part-time but collect an annual salary, and a climate that's warmer than you'd expect. Find out what there is to know about moving to Alaska.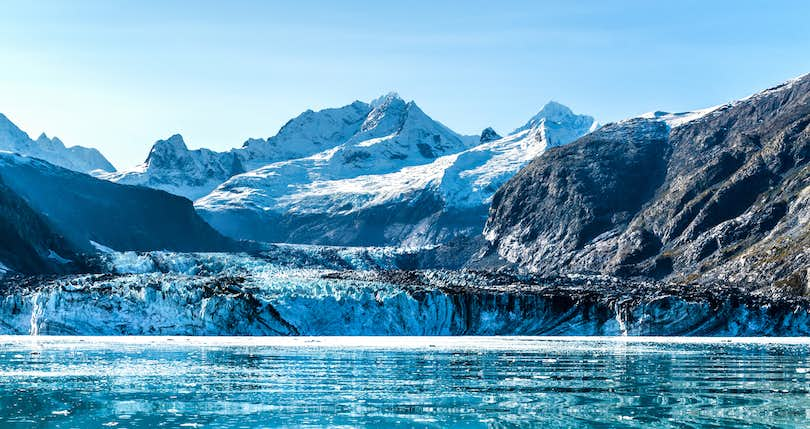 Alaska is the land of gold, oil, and snow — or so the stereotypes would have you believe.
But in reality, there's a whole lot more to this state than frigid winters and grizzly bears! Alaska has become a top destination for outdoors enthusiasts, entrepreneurs, energy workers, researchers — people of all types, really.
If you're considering a move to America's Last Frontier, here are the key things you should consider before pulling the trigger.
Top 5 Reasons to Move to Alaska
If you are the type of person who thinks of moving to Alaska, you likely know about its rugged beauty. But there are other reasons to consider making Alaska your new home.
1. Beautiful, Clean Environment: Deep snow on the mountains, crystal clear rivers and lakes, glaciers, and the deep greens of evergreens, Alaska is a truly beautiful state.
2. Work Part-Time and Collect an Annual Salary: Tourism and oil are the two biggest industries in Alaska. Work only a few months, or half the year, but get paid a full year's salary. Spend the rest of your time exploring the Great Outdoors.
3. Hunting and Fishing Are a Big Deal: It's possible to live almost entirely off the land in Alaska. Hunt bison, caribou and wolves. Fish for salmon and halibut downstream from a bear. Parts of Alaska are unspoiled by modern civilization.
4. Friendly, Rich Culture of Natives: Alaska has a variety of climates and environments, which have shaped different cultures. With a population always in flux, people are generally friendly and helpful. Over 120,000 Native people live in the state.
5. It's Not As Cold As You Think! Summers in Anchorage can reach up to 70 degrees, and with 24 hours of daylight, you'll have plenty of time to explore. Fairbanks gets up to 90 degrees!
Quality of Life in Alaska
How you feel about the quality of life in Alaska will depend heavily upon your hobbies, temperament, and interests.
If you favor rugged individualism and living off the grid, Alaska is definitely your state. If you like big cities and culture, you might want to look elsewhere.
Alaska is both the largest and least populated state in the U.S. Introverts and privacy lovers rejoice! It's made for a rugged outdoors person to spend their time hiking, climbing, and fishing, with some of the most unspoiled nature you'll find left in the world.
If you're a major sports fan, sorry: there are no professional teams in Alaska. While the state has a few minor league teams, you'll have to root for your home state's team instead.
Economic Outlook of Alaska
Alaska has been a slow path to recovery since a recession in 2017. The state's economy is heavily influenced by oil, with that industry primarily responsible for high job loss rates since 2016.
Oil, tourism, the fishing industry, mining, and timber are the state's top industries. This reflects its history as a Gold Rush state.
Employment losses are expected to stabilize in 2019, and from there annual growth will be 0.5% per year through 2021. Healthcare is a growing industry, with employment growth of 20% since 2013.
Defense and civil construction projects are supporting the construction industry's stabilization and growth. Oil and gas are responsible for more than 80% of the state's annual revenues, however, these industries and job opportunities are highly concentrated in specific areas.
While this outlook is not very positive, median household income in Alaska is $79,090, which is much higher than many other states. If you can get a job in Alaska, it will be well-paying.
Housing Market Forecast for 2019
If you think that Alaska would be a cheap place to live, think again. The median home price in Alaska is $279,900. Home values dropped -0.2% in 2018 and will drop another 2.5% in 2019, though, so you can expect to find something more affordable soon.
In Anchorage, where 40% of the state's population lives, the median price for homes is $309,000. The market dropped a little last year but will make up that loss with a 1.5% rise in 2019.
Fairbanks' home prices are much lower, with a median price of $203,477. While they rose 1.3% in 2018, they'll lose all that growth by dropping 1.6% this year. The population hovers around 30,000, so it is much smaller than Anchorage.
Home prices take a big jump if you're thinking of moving to Juneau. The median price of currently listed homes if $369,000, and they're expected to rise slightly in 2019.
Alaska's housing stock is older, with 75% of homes in Alaska built between 1970 and 1990. High prices are a function of inventory shortages and restrictions on building permits.
Anchorage only approved 196 single family builds in 2017. These pressures on the housing market are expected to continue for the foreseeable future.
This isn't all bad, however. If you are moving to Alaska for a high-paying engineering job in oil and gas, these prices are affordable. And, because the housing market is tight, if you have to move away again you're guaranteed to be able to sell.
Next Steps
Alaska is like no other state in the union. While it is beautiful to visit, many people who relocate find it difficult to handle the 24 hours of sunlight during certain seasons.
Before putting your house on the market and moving, plan for an extended visit, and bring the family with you.
It's always a good idea to talk to a local real estate agent about market conditions, housing prices, and the best places to live. Enlisting local expertise will help you decide if relocating to Alaska is the right move for you.
Related Articles