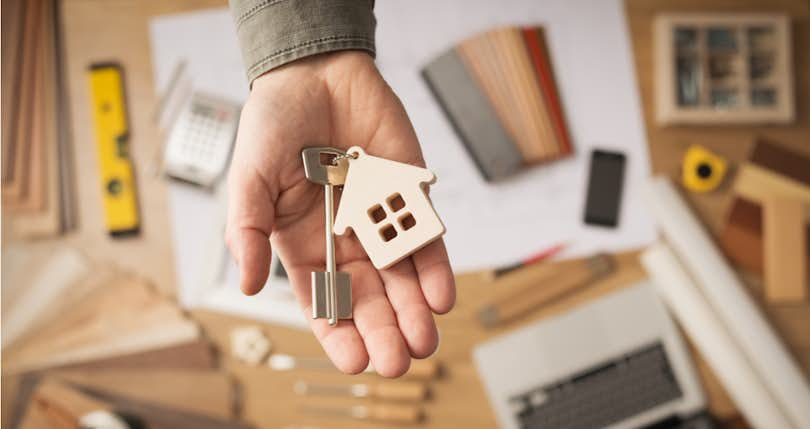 Between managing tenants and contractors, scouting new properties, and running the day-to-day needs of your portfolio, growing your real estate investing business can seem never-ending.
The common phrase "work smarter, not harder" has never been more necessary when it comes to the real estate investing industry. Savvy investors utilize real estate investing tools to help them simplify daily tasks. That way, less time is spent on tasks that can be outsourced or automated, leaving you to work "smarter" on your to-do items that have the biggest impact.
I know there are many tools and technologies to choose from out there, which is why I've done the research to find you the best real estate investing tools you need to help grow your business.
HouseCanary provides listing information for properties currently on the market, but it offers unique data points you won't find on websites like Zillow. It'll provide data that's helpful for purchasing property based on the fact that it'll be an investment, so it can save you money and time to help you make a smart investment decision.
You can filter properties by various factors in HouseCanary to see which properties would most likely be the most profitable for you. You can also search for off-market properties to check which areas have the most profitable properties or rentals.
Structurely is real estate software that uses a proprietary chatbot named Aisa Holmes—aka artificial intelligence—to help you qualify leads. Asia will message leads within a minute after they contact you through live chat, Facebook, or a website. The chatbot will then ask a few qualifying questions and offer to schedule an appointment if and when it's appropriate. You can also keep on top of leads on the go since Structurely also has a mobile app.
In addition, if you want to talk to leads manually, you can pause the chatbot whenever you want to continue the conversation or allow Asia to finish qualifying the lead. There are three packages that cost anywhere from $179 to $499 each month. When deciding whether this fits your business and financial planning, you may want to think about how this can cut down the time you spend talking to leads who don't pan out.
Call Porter will help you answer phones for you if you're busy or assisting someone else. Whatever the reason, it's important to answer a call from a tenant or a qualifying lead. Call Porter is designed to help set up appointments and help investors. It uses proprietary software to know who is calling, so whoever is on the other end of the phone will receive a personalized experience.To hear a recording of all the calls for your properties, you can log into the software to do so.
Roofstock is a marketplace that helps you invest in rental properties without thinking about finding new tenants for them. You can search for cash-flowing properties without having to disrupt tenant occupancy. In other words, if you want to invest outside of your state, you can purchase properties that don't need a lot of upfront work and one where you can't manage it yourself.
This is technically a real estate agent software, but it can be useful for investors. Basically, it helps you facilitate showings of our rental properties without needing an agent. You or your property manager can use the software to help potential tenants tour your properties based on their own schedule—no need to coordinate times which will save everyone from a lot of frustration. You can use Rently's self-showing software either using Rently Blue using Bluetooth technology) or a standard lock box.
Seasoned real estate investors know that bidding against other investors when buying a property typically drives up the price. That's where DealMachine comes in—you can use this app to purchase properties that aren't necessarily on the MLS and nobody else knows are for sale. So that means if there is a property off-market but it looks like a good deal, you may be able to see if you can purchase it.
How it works is you take a photo of the property you're interested in and it'll provide the information about the owner instantly. It'll also send the photo to the owner in the mail, including your offer to purchase it.
DealMachine also offers batch skip tracing software to quickly pull the contact information of homeowners. It makes it possible to find and verify more homeowner records in less time.
Even if you have one investment property so far, growing your online presence and building your brand is still important. That's where Carrot comes in. It's a website provider that helps real estate professionals, including investors. You simply pay a monthly service fee and Carrot will help you create a website that's optimized to collect information that you need for seller and buyer leads. In other words, your website design and copy are all created for you, so you can free up that time to work on other parts of your real estate business, like working to close more deals.
Using a customer relationship management or CRM tool is a great instrument to help you create a system to nurture and build relationships with prospects and other real estate professionals. If you don't continually work to build these relationships, it'll be hard to find someone that you trust to help lease your rental properties or sell your flipped homes. That means without a CRM, it can be difficult or time consuming to remember or on top of mind when it comes time to make deals.
REIPro can take a lot of the manual tasks away from you by setting automated reminders or even do some of the outreach for you to nurture these relationships. It'll also help keep track of people you interact with. Other CRMs have these features, but REIPro does so based on what real estate investors need. You can start for free and give it a try before committing.
You can use Parkbench as a way to learn more about the neighborhood you want to invest in by having access to hyper-local content. You can go to their online platform to look at local events, deals, news, and other relevant content intended to attract real estate professionals. While technically, it's for real estate agents to create a neighborhood page to look like neighborhood experts, I use the information to decide whether a local area is worth investing in.
There are so many factors to look at when trying to figure out if a piece of property or house is a good deal, especially for new investors. Of course, even if the purchase is a good deal, renovations and repairs can mean you're losing money in the long run after purchasing materials and working with contractors.
That's where I use DealCheck. This real estate analysis software helps you forecast profits for a certain deal, as well as estimate repair costs. You can analyze different types of properties. All you need to do is enter details such as purchase price, rental income, and loan terms to see your monthly cash flow or ROI—within a minute or less.
It might be fairly simple to balance property management tasks and finding new deals when you have a small amount of properties under your belt. However, most investors struggle if they're balancing too much, such as a full-time job, numerous properties, and other obligations. While tasks like accounting, leasing, marketing, and tenant communication might not seem like a lot on its own, it can easily be a full-time job when done altogether.
Instead, use AppFolio which can help you tackle many of these tasks within minutes. It's for those who are doing full-service property management. AppFolio uses AI technology called Dynasty to help automate tasks like tenant follow-ups and lease renewals.
---
These tools are available to help you easily get when you need in order to grow your real estate investing business—no matter what your pain point is. These services don't just provide information, but they ultimately save time, so you can get to focusing on your business in a smarter, more efficient way.
Disclaimer: The content on this page is provided for informational purposes only. Information described here is for illustrative purposes only. All third parties listed on this page are for demonstration purposes only and are not affiliated with LendingHome. All views and opinions expressed in this post belong to the author. NMLS ID: 1125207 Terms, Privacy, and Disclosures. Copyright LendingHome Corporation 2020.
Related links